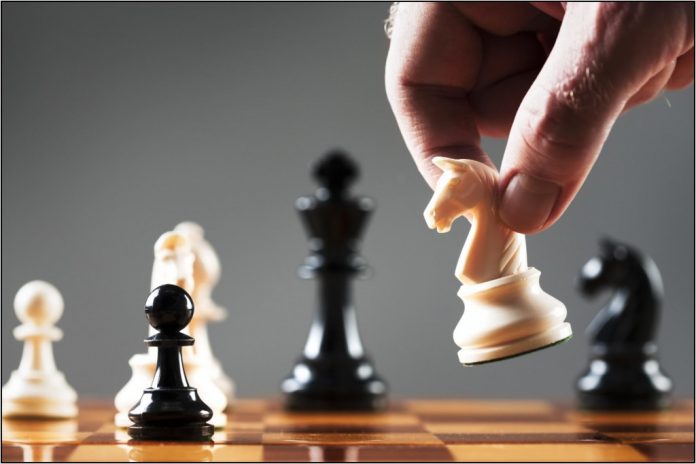 Blinding fluorescent lights reflect off the the dry pupils of the chess novice, as a loud cacophony of a ringing shakes the table. Blinking, the young jesuit boy's mouth creases upward as he realizes he won.
Chess, considered a game for kings, came to Jesuit Dallas. The Chess tournament, which took place February 3, seeked out to find who would be "king of the school," as said by the Head supervisor of the club, Mr. Nava. The whole setup and organization of the tournament was directed by the relatively new Jesuit Chess Club.
The games were divided into Swiss rounds, rounds part of a Swiss-system tournament. The Swiss-system tournament is a non-eliminating tournament, which holds various rounds of competition, but a decent amount fewer than the more common round-robin tournament. Friday's tournament had a total of 4 rounds. Where all participants had a chance to play. In total, over 16 people showed up to play at 6:00 Friday night of the tournament. Everyone had a great time, and by 9:00 the winner was established. In a Swiss tournament, competitors play each other in each round based on their similar score. Never do the competitors play one another more than once. The student director of the chess club, Reed Zimmerman, said " We had a very successful turnout. It was hard to get people involved, but we eventually had enough for a great competition." The winner of a Swiss-system tournament is the competitor with the highest total points earned in all his rounds.
Everyone was invited to participate in the Chess tournament for a humble fee of $15. Not only this, but Friday's tournament had a benevolent and noble motive: all the funds accrued were going to a refugee charity organization. In total, over 250 dollars was raised for the refugee children in need.
Chess is a game of strategy and discipline. Friday was a testament of great minds playing each other. The tournament's winner, Kota Ueshima '19, proved to be the best, winning all of his rounds.
Chess Club is always looking for students to join and want to improve their skill. From the success of the tournament, the Chess Club wants to expand and invite many more students to join to have fun and serve others. There are plans to have more tournaments and especially a summer chess camp that would teach kids in the Jesuit community how to play and improve their skills in chess.
Although relatively small, the chess club embodies a beautiful Jesuit principle of solidarity for helping others, whilst promoting the practice of a renowned game of high culture and virtue. While this in mind, the Chess club wants to invite anyone interested in their club. Perhaps next year, you will be king of the school.