Basketball is one of the most popular sports in the United States. Driving down the streets of suburban America, you can see kids playing in their driveways alone or with friends or siblings. High School basketball games are large events and attract lots of fans. It's fast-paced and exciting: what's not to love?
At Jesuit, JBDL allows athletes of all skill levels compete on court, yet only few win the highly coveted championship trophy.
How JBDL Works
This league is only permitted for underclassmen to play, and this year there were eight teams. First, students must sign up to join the draft on Feb. 19 in order to be selected, and the captain of each team makes their selections similar to that of the NBA draft. Each team gets 8-10 players, and these teams play in a series of tournaments on weekends to determine their ranking. The top team gets 8 points, 2nd place gets 7, and so on. After the first tournament, the teams can add free agents and make transfers. Whichever team obtains the most points wins.
In the tournaments, each team plays best of 3 games until one team emerges victorious. There are two groups, and after each team plays each other in the group stage, the top two finishers play for the championship, while the bottom two teams play for consolation.
Season Recap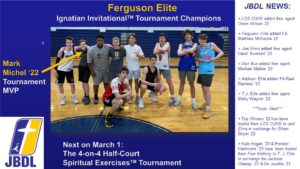 Team Ferguson Elite came ready to start the season by winning the first tournament of the year, the Ignatian Invitational, on Feb 23rd, while DART Bus came in a close second place. Entering the playoffs, both teams secured a perfect 3-0 record in their respective group stage matches. Ferguson Elite comfortably defeated Fear Nothing 13-6, while DART Bus defeated TJ Elite 13-5. The finals was a close match-up, as Ferguson Elite slightly nudged DART Bus 15-13. Mark Michel' 22 won Tournament MVP, securing eight points for his team.
Benoni Mesfin '22 gave his thoughts on the championship win: "When we were in the championship game, everyone focused on the game going on. Our team played great together and didn't get selfish."
However, their winning streak did not last long, as their crown was soon taken from them. Team Joel Elms came out on top in the Half Court Spiritual Exercises tournament on Mar. 1, with Sean Johnston '22 as MVP, as Team 1 came a close second. Joel Elms and DART Bus finished group-stage matches with 3-0 records, looking to take the tournament title and eight points to their name. Joel Elms vanquished Addison Elite in a close 14-12 victory. However, in an exciting turn of events, Team 1 (2-1) upset the undefeated DART Bus 13-8, heading into the final round. Ultimately, their Cinderella story soon ended, as they lost to Joel Elms in the final.
Santi Diaz '22 briefly commented on their run to the finals, "[The key was that] we were more athletic than most of the other teams, and we had a 260-pound 6'3′ lineman that carried us in the post."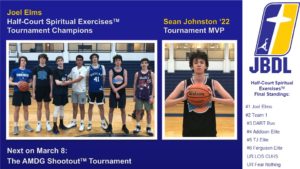 A week later, Ferguson Elite, embarrassed by their sixth-place finish stole back their well-deserved crown by winning the AMDG Shootout with Joel Elms' 22 as Tournament MVP. While the majority of teams finished with a 1-2 record, Ferguson Elite and Team 1, ready to avenge their loss, finished with 3-0 records. Ferguson Elite and Team 1 both beat their opponents Addison Elite and LOS CUHS 13-11 and 14-8 respectively. Nevertheless, Ferguson Elite won their second tournament of the season, comfortably defeating Team 1 13-6 in the championship.
Unfortunately, the coronavirus has temporarily canceled school for a long time, and so the final two tournaments on March 29th and April 5th have been postponed till further notice. As of now, Ferguson Elite, on 19 points, is in 1st place.
Student Reflections
"The JBDL was awesome, and the best games were the close ones. My team got to the finals 2 weeks in a row. [The games] were very high intensity, especially when the score went past 13, because the rule was that you had to  win by two and a three-pointer would basically win you the game. " Santi Diaz '22 (Team 1)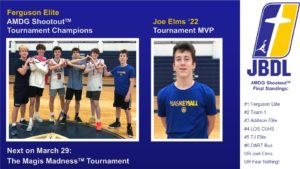 "I would recommend it because it's a fun way to spend your Sundays with your friends. We played like 2 times. We only won three times out of ten games and never made playoffs. We sucked. It was hilarious!" -Julian McDoniel '22 (Addison Elite)
"One good moment [I remember] was when your team started celebrating a win or good play. Overall, I thought it was a good season." -Benoni Mesfin '22 (Ferguson Elite)
Stay tuned to The Roundup for more coverage of JBDL!