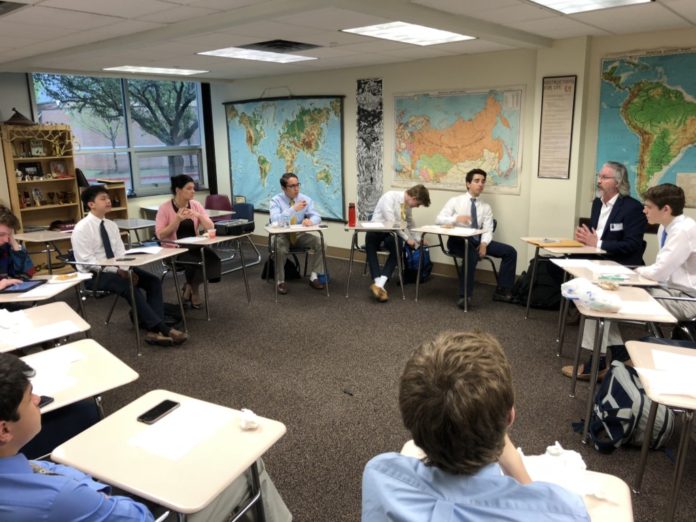 An entrepreneur: someone who operates a business with a chance of catastrophic failure. Entrepreneurs must be fully committed to their dreams, or else they may risk all that they have. Entrepreneurs must additionally attain certain skills like perseverance to keep their dreams fueled.
On Tuesday, March 27, Mr. Robert Hoover, the founder of Hoover Projects Inc., spoke to the Entrepreneurship Club about the importance of resilience in entrepreneurship because it is an inherently risky venture. It is crucial to be able to quickly recover from any losses and keep pushing forward.
Background

Mr. Hoover founded and currently owns Hoover Projects, which is a national project management and real estate development firm. Their mission is to deliver critical corporate real estate projects on time and on budget for corporate users.
Growing up, Hoover learned the importance of being independent in the world. "If you want it, go make it," his mother told him early on. Even as a child, Mr. Hoover had learned important life lessons that would allow him to be as successful as he is today.
As a teenager, Hoover hated high school and he did not really know what he wanted to do after graduation.
"I really hated high school. I was not a good student. My grades were terrible, and so I couldn't get into college anyway, and so what I decided to do was keep working. So, when I got out of high school, I kept working."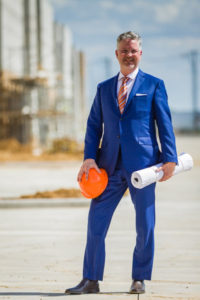 However, after awhile, he realized that he needed to go to college to be able to pursue his dream of owning his father's company. Hoover recalled the story of when he decided to go to college.
"[An older man working for my father's company and I] were both wearing our tool bags. I had already sweat through mine, and I looked at this guy, and he's just dying. And I just decided I didn't want to be doing this when I'm his age. So, I called the office, and I asked my mom if she still wanted me to go to college, and she said absolutely."
After this, Hoover attended Texas A&M and graduated with a Bachelor of Science in Building Construction in 1986, but afterwards, he decided to start his own business.
This was the time when Hoover faced most of his hardships. However, he found his stubborn personality to be advantageous for him.
"You have to be more stubborn than the situation you're dealing with," noted Hoover. "You have to be able to take wise counsel from other people, and so you can't just walk everything out. You have to be able to make choices and to make good judgements."
Student Reception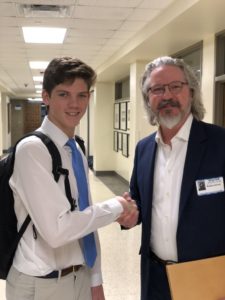 Matthew Freeman '20, President of the Entrepreneurship Club, enjoyed the Speakers' Forum.
"Mr. Hoover gave the club a great presentation last week. I definitely learned that sometimes being an entrepreneur and a good person can be difficult. He shared his struggles as he began to develop his commercial real estate company and choose always to take the high road. Mr. Hoover has been a hard worker since day one and told us that you are never too young to become an entrepreneur. Also he shared advice on how he has been able to maintain his company and a solid relationship with his son and wife, which might have been the most valuable part of his presentation in my opinion."
Additionally, Mark LaPenotiere '20 found the presentation interesting.
"I learned that there are always ups and downs financially while being an entrepreneur, but you need to keep your head up."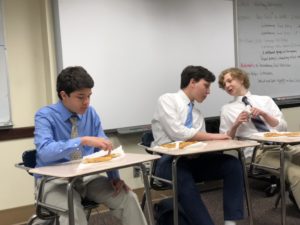 Alex Rivera '20 was another Sophomore who learned a lot more about entrepreneurship.
"Mr. Hoover's account of his path to success was quite interesting, for he was very candid about it by not only sharing the high points, but also his low points. The useful advice Mr. Hoover gave to our club definitely helped us understand that in our lives it is guaranteed that we will encounter low points. The people that are willing to take on these obstacles by taking initiative and giving more than their 100% are the ones that will overcome them and achieve success."
Above all, Mr. Hoover also prides himself on being a philanthropist. He and his son visit the Genesis Women's Shelter on a regular basis, and have learned a lot from that experience.
The moderator of the Entrepreneurship Club, Ms. Ochs,commented on Hoover's success.
"Mr. Hoover stressed to the Entrepreneurship Club the importance of attending college. He was very honest when he shared that he did not particularly like high school. Over time, Mr. Hoover realized he needed a college degree in order to achieve his goal of founding and running his own business."
Mr. Hoover ended the forum by sharing one of his favorite poems to the class: "If" by Rudyard Kipling. This poem highlights the qualities necessary for a good leader: humility, diligence, perseverance, bravery.
Check back to The Roundup for more news about the Entrepreneurship Club!