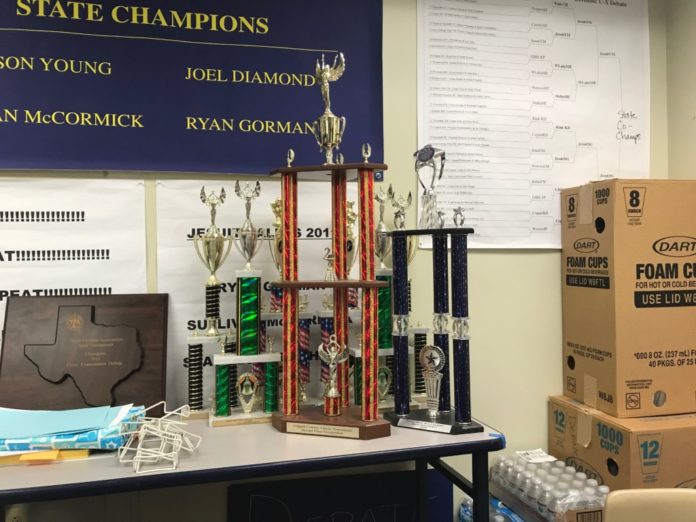 April 24th, 2018.  The big day had finally arrived.  The day Jesuit debaters had been waiting for since March.  The new 2018-2019 debate resolution was announced: the United States federal government should reduce its restrictions on legal immigration to the United States.  With ideas abound and nervous energy in the air, Jesuit debaters started the research process again for another year of debates. Instead of taking the summer off, the Ranger debaters began preparations for a year of debates at some of the most prestigious colleges in the country.
Jesuit students went to debate camps over the summer, ranging from two to seven weeks, trying to hone their skills.  Jesuit sent students to Dartmouth, Georgetown, Emory, UT Austin, Gonzaga, and Michigan State in the pursuit of improving their debating skills.
Camp Life
Jesuit Debaters experienced the life of a college student over the summer: dorms, cafeteria food, nightlife, laundry, work, and lots of fun.
Ashik Amar '19 described a normal day in the 5-week Gonzaga Debate Institute (GDI) in Spokane Washington:
"I would usually wake up at 7:30 or so and get ready for lectures at 9:00.  We would have lunch from 11:30 to 1:00 and afternoon lab (class) from 1:00-5:00.  During lab, we did practice debates, speaking drills, research, or lab-wide discussions about different topics.  We had dinner from 5:00 to 7:00 and then night lab from 7:00 to 9:00.  After that, we had three hours of free time to do whatever we wanted, and were expected to be in bed by 12:00."
Jack Moore '19, a 7-week veteran of the Hoya Spartans Scholars (HSS) camp that took place at both Michigan State and Georgetown, said there was "good food and good weather" and was "grateful to be out of the Texas heat."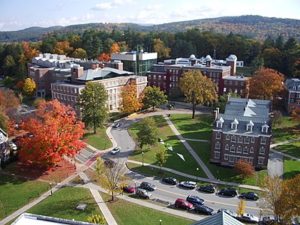 Summer Highlights
Everyone who attended one of these camps had a favorite part.
For Adam Hall '20, his was "dressing up like my lab leaders and imitating them for a day."
For Ethan Jackson '19, it was "hanging out with friends past when lights were supposed to be out."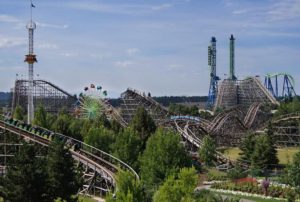 Ashik Amar said his favorite part was "our trip to Silverwood, an amusement park in Idaho."
Beyond enjoying the camp life, Jesuit Debaters were also competitively successful at their respective camps.  Jack Griffiths won the Gonzaga Scholars tournament, the most prestigious division at the Gonzaga camp.  In the Gonzaga Open tournament, Garret Nagorzanski '20 was the first-place speaker and Jack Martin '21 placed 5th overall.  At the Dartmouth Debate Institute (DDI), Adam Hall finished second overall, losing to debaters from Oregon and Massachusetts.  Jack Moore and Riler Holcombe '19 went 4-2 in their 7-week division at HSS, losing only to the best teams in the country.
Season Aspirations
Entering his final year of debate, Riler Holcombe '19 wants to "make an impression on the debate community and qualify and succeed at the State tournament" this year.  He "hope[s] to use the skills [he] learned at HSS."
Qualifying for state requires teams to get twelve state points; two points are earned from quarterfinal appearances, four for semifinals, six for second place, or eight for finals.  Therefore, qualifying for state is not an easy task.
Along with qualifying for state, Giovannie Ferrer-Falto '19 hopes to "succeed nationally at tournaments that we fly out to" and "earn a good reputation in the community."
A Note to Freshmen
For any freshmen planning or thinking about joining debate, I would highly encourage it.  I personally love how competitive the activity is, and the feeling of satisfaction knowing that work you've done has helped you to beat other teams.  Here is what some other people have said:
Jackson says he likes debate because of the competition. "It's competitive which makes it really fun, the people are cool, and we get to travel more than any other club."
Amar said "it's just fun to learn about stuff.  Debate teaches you a lot about both the most relevant and random things and forces you to make connections between them.  And in the process, it makes you smarter, which I personally think is pretty valuable."
Read The Roundup for updates about Jesuit debate throughout their season!