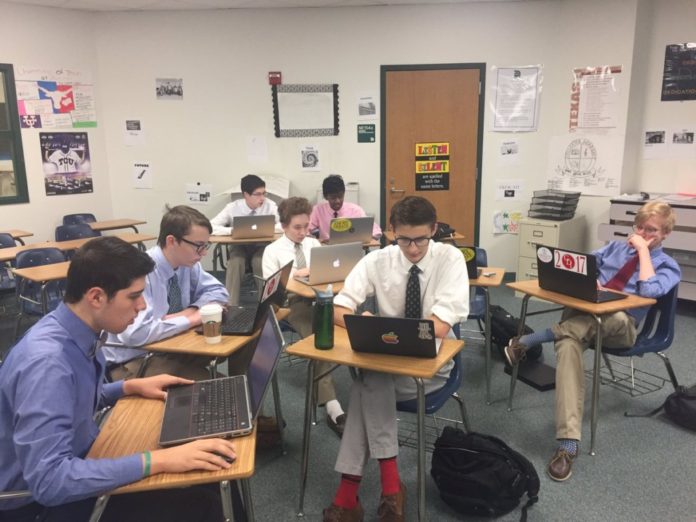 Jesuit Dallas continues its successful competitive streak in January, achieving accolades and victories at the Coppell Invitational, Guyer MLK Invitational, and Montgomery Bell Academy Southern Bell Forum in Tennessee.   Over 50 debates happened in the varsity division, and even more in the novice division, with unabated competitive success at both levels.
Jesuit has picked up the pace in the second half of the season and Jack Moore '19 commented that "Jesuit is doing fantastic."
At the Coppell Invitational in Texas, six Jesuit teams earned valuable state points, and two of the teams earned the requisite points to qualify for the state tournament.  The team of Ben Miller '18 and Pete Weigman '19 got 2nd at the tournament, losing by a heart breaking 2-1 decision to Greenhill, but still qualified for state.  Jack Griffiths '19 and Chris Tran '19 finished 3rd place, also losing on a 2-1 decision but likewise qualifying for state.
The Guyer MLK Invitational in Denton was also a success.  Ethan Jackson '19 and Giovannie Ferrer-Falto '19 made it to the semifinals and qualified for the state tournament.  Teams of Ben Miller and Pete Weigman, and Chris Tran and Kyle Cribbins '20 were also in the elimination rounds.  Chris Tran was ranked first speaker in the varsity division, and Jack Martin '21 was also first speaker in the novice division.
Jesuit Debate also traveled to Tennessee for the Montgomery Bell Academy (MBA) Southern Bell Forum, competing at one of the most prestigious tournaments of the year.  Jack Moore and Riler Holcombe '19 placed 17th, losing in the elimination rounds to the team that would eventually win the tournament.
As Jesuit debate enters the second half of its season, the debaters reflected on their future goals.
Jack Moore aims to "make it far in elims," or elimination rounds at upcoming tournaments, hoping to continue his triumphs.
His debate partner, Riler Holcombe, also wants to "make another run at elimination rounds at another big national tournament."
Ethan Jackson gave a simple but effective goal: "Win."
Max Arroyo '20 voiced the season-long pursuit of "qualifying for state," believing that the team is "doing well but need[s] to push forward" in the second half of the season.
Garrett Nagorzanski hopes to "come in first place" at the next tournament.  He also expressed confidence in the debate teams' success at state, "as we have a good number of teams qualified."
Stay tuned to the Round Up for more debate updates!