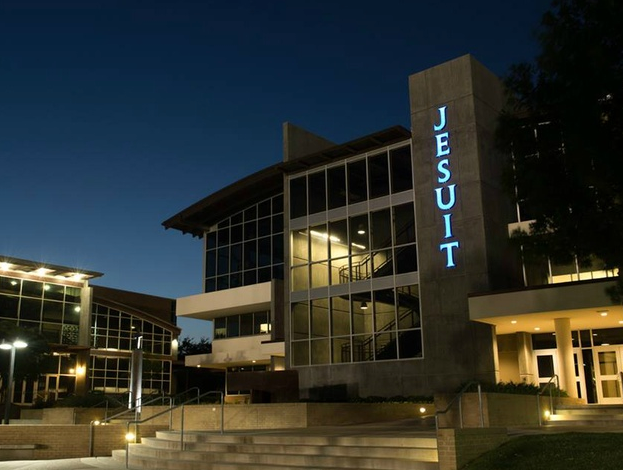 In a crowded classroom, a teacher trudges in, dark bags under his eyes, and stands in front of his students. He asks them for the homework from last night, and everyone turns it in except one. That one individual looks at the teacher defeated, exhausted from a delayed baseball game the previous night, but the educator merely scolds the student for his seemingly lazy behavior. Minutes later, someone asks the teacher if he has finally finished grading a test from a week ago, and he grudgingly says no, expecting complaints and protests from the class. He then begins his lesson, trying to fight off a lack of sleep due to his new child.
At Jesuit, students and teachers are far too familiar with situations like this. Maybe not to such a degree, but both groups too often overlook the other side's perspective. As the saying goes, they need to walk a mile in the other's shoes.
To address this, the school started a shadowing program that immersed a handful of teachers into the daily lives of students. Teachers were selected during August, each academic department identifying four members to participate in the program. Some of them were then paired with a junior or senior and asked to mirror that student's schedule during one day, following them around to classes, lunch, and free periods, observing their experiences. Others were given a freshman or sophomore schedule that took them to a variety of electives, classes, and extracurricular activities. Ultimately, the goal of these experiences, as the head of the program Mrs. Williams stated, was to help "build empathy for those we serve as educators."
The program engaged multiple teachers into a part of Jesuit they're not used to, and many of them had unique experiences, each learning something new about the school and the students.
Explaining his motivation for the program, Mr. Howell, who shadowed Connor Thomas '18, stated "it's been many years since I've been a high school student. I wanted a way to see what the students go through on a daily basis, understand what's it like going from class to class, what they have to do before and after school. I was very excited to be in a classroom not as a teacher and to go to classes of other subjects."
He then shared an important lesson he gained from the day as well as his appreciation for the school's resources; "In switching between classes, the students have five minutes to change theirs brains from math to English and other subjects, which can be difficult. That helped me understand the stresses they have, not fully, but I can see where a student is coming from when he says 'my brain is torched from the class before.' Also, something else I noticed was the level of work seniors do. When I was sitting in class, I was thinking about how some of these courses were college courses, and that I never had the chance to take them."
Similarly, Mrs. Jones, who shadowed Ian Winson '18, described her reason for participating and what she observed from the program; "I wanted to be able to experience what the day in the life of a student was like so I could use that experience to improve my classroom environment. During the day with Ian, one of the things I really noticed, that struck me especially after lunch, was that I started feeling sleepy, and I almost wanted to go to the bathroom even though I didn't have to just so I could leave and get some blood flowing so I wouldn't be sleepy."
Now, because she was immersed within a different perspective, she stated that "I want to provide lessons that are more interactive rather than lecture based, or if I'm planning on doing a lecture-style lesson, then I want to try to incorporate more discussion that will help the kids who are trying to blend into the background or who are sleepy engage with the classroom more."
Offering his own perspectives on the program, Ian Winson '18 explained that "During the day, I learned more about Mrs. Jones and how someone may perceive my day to day life.
Connor Thomas '18 stated, "I didn't learn much myself, but I think that's because this activity was aimed at the growth of the teacher, so regardless, I was happy to help."
Overall, the program sought to bridge perspectives between student and teacher at Jesuit, and by doing so, help the community develop empathy for not only those within the school, but also those throughout the world.