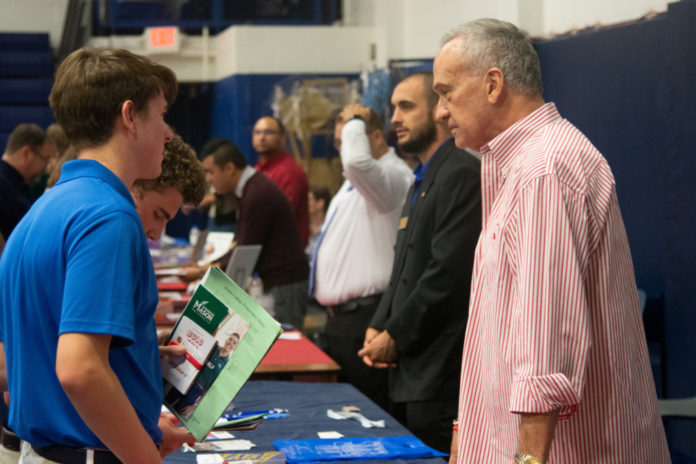 Photography by Nahum Najera '22
"I learned law so well, the day I graduated, I sued the college, won the case, and got my tuition back." (Fred Allen)
On September 10th, 2019, tables full of colorful pamphlets, representatives from colleges across the nation filled the Terry Center, gym, and cafeteria, as eager students began the process of selecting a home for four years.
Students at both Jesuit and other Dallas high school attended College Night at 12345 Inwood, meeting college representatives from all over the United States and beginning their college journey.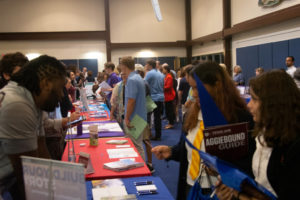 Mr. Jack Fitzsimmons, one of the senior and college counselors, commented on the event as a whole, reflecting that "College Night was a great success for the Jesuit community this year…We were able to bring students and their families from seven Catholic high schools in the area to meet with over 270 representatives."
"It's one of the largest events that we have on campus during the school year and we certainly appreciate the efforts that all the people in our community made to make this a reality for our juniors and seniors," commented Mr. Fitzsimmons. 
What did students think of the event?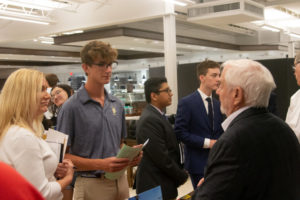 Kyle Kassen '21, getting a first glimpse at the colleges, explained his feelings during College Night. He acknowledged that he "learned a lot of new things about the college process that [he] wasn't aware of." He went on the describe the different schools' tables that he visited and how "I looked at OSU, Texas A&M, Butler, and others."
Kassen also illustrated his goals for the rest of his high school career, hoping "to get all A's, do well on my standardized tests, and do well in cross country this year."
One of the seniors taking a final glance at prospective colleges before deciding where to apply, Gavin Martinez '20, mentioned his experience at College Night: "My experience…was great. I knew which universities I wanted to talk to and each one was able to answer all of my questions."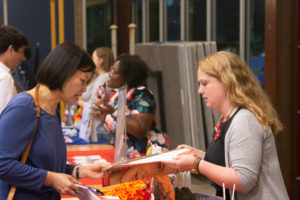 Martinez commented on his goals while getting ready for his next four years in college. He explained how he wants to "find the perfect match [for college], apply, and get as much scholarship [money] as possible and get into a university that I will want to spend the next four years at." He expressed that he "talked to the University of Louisville, Arkansas, and Houston."
Check back to The Roundup for more news about upcoming events!