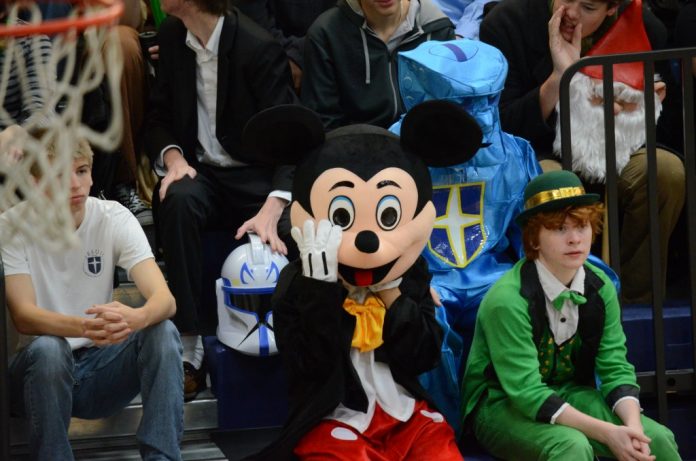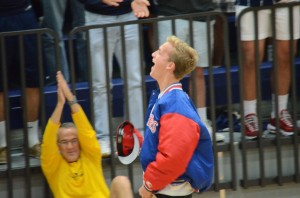 Ranger Day fell this year on Halloween, blending celebration of a favorite Jesuit tradition with the costumed zaniness of the holiday.  Mr. Mark Knize, Jesuit's assistant principle, described Ranger Day as "One of my favorite Jesuit traditions… It's a powerful day that offers something for everyone. It allows students to take time from the academic rigor and busy schedules." A collaboration between all Jesuit and Ursuline students, Ranger Day gives them the opportunity to express their school spirit in various competitions and activities on the day of the Homecoming Football game. Mr. Knize went on, saying "There is so much pride and spirit on that day. I love the creativity and energy of all the activities."  The day's schedule included dodgeball, soccer, arena football, powder-puff football, and Chariot Races.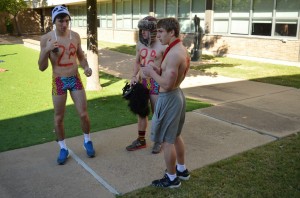 Students of all grade levels are allowed to participate in the activities, often to represent their grade, while playing against members of other grade levels. As part of a growing tradition, the Jesuit seniors enjoy "rigging" several activities to ensure a victory for their grade. Speaking about his experience in playing dodge ball, Dean "Gater" Sayers '16 explained, "I had a blast playing dodge ball because it brought back memories of games I would play with my dad when I was younger." The activities throughout the day gave students a variety of choices, leading to some raised spirits and unexpected results. Bobby Wunderlick '17, describing his experience in arena football, said "Going into the game, I expected big numbers from myself, but three passing TD's, wow! That's amazing!"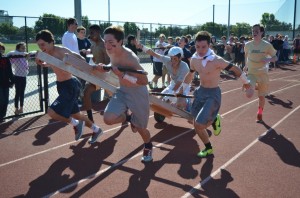 The powder-puff football game is a Ranger Day tradition like no other. The Ursuline juniors play against Ursuline seniors. This year, the seniors won the game for the first time in six years, with a final score of 12-0. Ryan Brooks '16, who helped coach the junior team, said "Our girls came out physical and fired up, but it really came down to execution. I thought we had [the seniors] in the beginning, but our offense couldn't move the football and gave the defense terrible field position, which I blame entirely on Luke Laufenberg (who also coached the junior team)." Brooks added "You know, they say stats are all that matter, but then you look at players like Margret Gehrki and Julie Delarosa that step up and make freaking plays. It's a little thing I like to call smash-mouth football, and I think once we come together offensively, this could be a championship team."
Jesuit freshmen homerooms compete in the annual chariot races. Each homeroom must design a chariot using any materials that they can find. On Ranger Day, each team races their chariot against another in a 100 meter race. The race helps students become closer with their homeroom peers and even make new friends. Josh Marshall '18, who helped run the chariot for Mr. David Wright's homeroom, said "The chariot race gave me the opportunity to make new friends, and it was a great experience not only racing the chariot, but throughout the entire building process." The day came to an end with grilled hot dogs, which were served to the students by several Jesuit staff members, including Mrs. Karen Lahey. Ranger Day was an overall success this year, and the students look forward to seeing what's in store for next year's Ranger Day.