It's 3:20 on a Thursday. You are bored in math class, when all of a sudden, you check a friend's Snapchat story. On the story, you see Luka Dončić, a 2019 NBA All-Rookie and probable Rookie of the Year, playing soccer with some fellow NBA friends. As soon as the bell rings, you run toward the field to see Luka, Salah Mejri, Wesley Matthews, and more playing around on Jesuit's own field.
This was the scene at Jesuit on Thursday, May 23rd after school.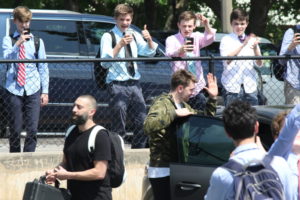 Although no one really knows why Luka was at Jesuit, one of Dončić's friends who was with him commented that Luka and a friend "wanted to see who could score on who."
"We needed a field fast, so we came here," he commented.
According to Mr. Croskey, Coach Hill helped organize this event.
As seen in the video, the students were very hyped for Luka's appearance, as many students stayed to give him a high-five or take pictures with the basketball player as he was leaving.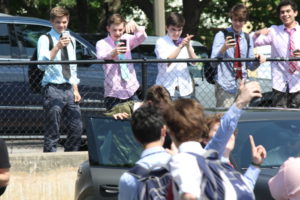 Will Risinger '20, an avid Lakers fan, was very excited after this surprise visit. "Seeing such a great basketball player is amazing, especially Luka Dončić who is a hometown hero."
Risinger, who allegedly began the MVP chant, was proud of his work. "Starting the MVP chant was also really cool, and I hope that chant pushes Luka to win the MVP."
Patricio Chapa '20 was also ecstatic to see the Mavericks' leader in points, rebounds, assists, and steals per game from the 2018-2019 season.
"We have absolutely peaked as a school."
Below is a video by Kyle Heckel '21 that shows Dončić high-fiving some students:
Although the school has been a bit slow as classes have begun to wind down, this surprise appearance sparked excitement within the Jesuit student body.