With swarms of anxious middle school students and their parents walking around campus, these folks got a glimpse at what Jesuit has to offer at this year's Open House. On Sunday, November 10, prospective students and their families from all across the metroplex got a glimpse of all of Jesuit's amazing curriculums and programs. The goal was to present the academic, athletic, and extracurricular sides of Jesuit.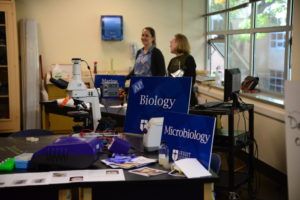 Prospective students and their parents were able to take student-led tours of the school and then walk through the cafeteria and gym to preview all the activities. From the summer abroad programs and immersion trips to clubs like Jesuit Political Society, all the activities on campus were well represented. Jesuit student representatives helped to market their clubs, sports, and activities to the guests, highlighting how even traditional high school activities such as band create a truly unique experience at Jesuit.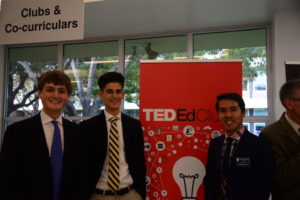 Many of the students helping market their respective clubs and activities voiced great optimism and positivity regarding the event. Dagmawe Daniel '20 commented, "it was so amazing! I got to talk to so many prospective parents. It was so exciting to be able to share my experiences with them and their children."
Penn McCormack '20 also noted in response to his impression of the event, "it was incredible. We really had a great turnout. Really looking forward to Jesuit's future. It was some really awesome stuff!"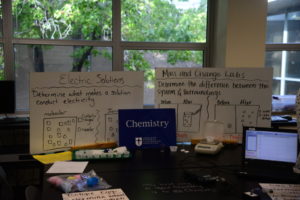 Daniel Moore '20 conveyed his appreciation for the event, saying, "I thought it was really neat to be able to talk to potential students about all that Jesuit has to offer. I feel proud that I am able to represent such a diverse and exciting community. It really gives me a sense of pride in my school."
Jack Walker '20 added, "overall, I think this was an amazing experience. Hopefully, we got to expose a lot of the eighth graders to what Jesuit has to offer, and hopefully, we can get them to apply for next year."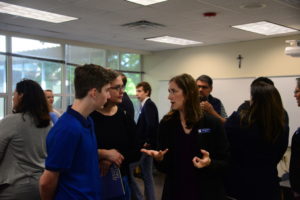 Jesuit faculty also weighed in on their impression of this year's Jesuit Open House. Mr. DuRoss stated, "wonderful to see all these prospective students coming to tour our wonderful school."
Mr. Earsing also reflected on how the event went: "It went very well in terms of a lot of great questions about the potential students. The parents seemed to be engaged. Our students here at Jesuit really did a great job of making everybody understand that Jesuit really is home."
Stay tuned to The Roundup for more on Jesuit events!