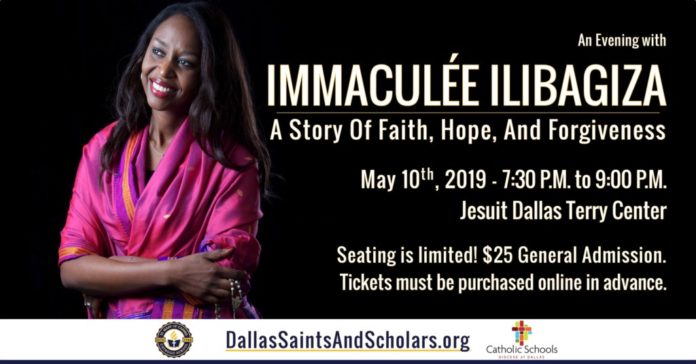 Imagine it's the spring semester of your junior year in college. You decide to venture home to visit your family over the Easter break. You're refreshed to reunite with parents and siblings and sleep in your own bed for the first time in months. It's just like old times until your brother wakes you up at 6 AM the following morning to relay news that will change your life forever.
Your president has just been assassinated, and genocidal killings ensue. Soldiers, police, and villagers who once had your back are now hunting for your head. If you're a man, an insurgent will find you in your home days or weeks later and immediately kill you. Women suffer the same fate but will be raped first.
This became Immaculée Ilibagiza's reality during the 1994 Rwandan genocide.
Immaculée and Her Story
Immaculée Visits Jesuit
Last Friday, May 10, Ilibagiza shared her story with the Jesuit and greater Dallas community in Jesuit's Terry Center.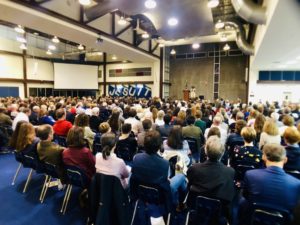 DallasSaintsandScholars.org, who organized the event, explained "the purpose of this one-time event to inspire families to courageously form saints & scholars. Our mission is to educate and transform our community through Immaculée's story of faith, hope, & forgiveness."
Generous donors provided tickets for 2 teachers from every school and 12 students from every high school to attend the presentation. Guests came from all over, representing 102 different ZIP codes, 45 different cities, 3 different states, and 68 different schools or churches. The Roundup interviewed several juniors about their experience at the presentation:
Max Arroyo, Jesuit '20
"When she spoke about how the genocide started on her Easter break from college, it made me realize how these things happen to folks not so different from me, and how normal, good lives are interrupted, destroyed, forgotten.
My biggest takeaway was the incredible power of faith and trust; when she spoke of the soldiers searching the house, combing through every room, and finally sparing the bathroom, I was confronted with a true miracle of faith.
I expected it to be so much darker than it was. When you go to a presentation about the Rwandan genocide, you don't expect the smiles, the laughter, the kindness of Imaculeé and the joy she maintained despite the horrors perpetrated against her."
MeiLi Garza, Ursuline '20
"I read Immaculée's book my freshman year, but seeing her speak in person made everything resonate on a more personal level. One thing that really stuck with me was the fact that she was able to forgive the man who killed her family. Before I read the book, I would hold grudges really easily, but the book along with her presentation really opened my eyes and heart to the compassion I need to channel to forgive people without being petty.
Her talk was really inspiring and gave me a more open-minded perspective of where others are coming from. Immaculée is a living example of how God works in mysterious ways, and the strength of being able to survive the genocide, speak about it, and forgive her former oppressors is incredible."
Maddy Johnson, Ursuline '20
"Immaculée's talk resonated with me because it made me realize that God is love, and He truly is all we have, so if we don't have love in this world, we won't survive.
It also really made me realize that God is able to do anything, and faith the size of a mustard seed is all you need to move mountains. Her talk deepened my Christian faith because it made me think about how I sometimes doubt God, and if he can work incredible miracles within the Rwandan genocide, he can guide me through my minuscule challenges.
The way she spoke so genuinely about her faith and growth through the hard times really exceeded my expectations beyond words."
Giving Back
The proceeds from the $25 admission ticket benefit Catholic education by supporting St. Mary of Carmel Catholic School, a beacon of hope in West Dallas. The event raised over 77k from generous donations and the 957 seats filled.
Stay tuned to The Roundup for more Jesuit Dallas news!