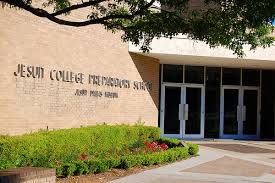 This past Sunday, crowds of grandparents flocked to the halls of Jesuit to see where their grandson is being educated. In fact, over five hundred grandparents and students came to Jesuit to explore the building and learn about all the ways education has changed over the years. Since 2003, Jesuit has been opening its doors to the grandparents of Jesuit, beckoning them to come back to school once again.
At the start of the day, both students and grandparents attended a mass held in the Terry Center which was led by Father Huete. Afterwards, Jesuit provided a plethora of refreshments for the guests before they went off to explore the school. In fact, over seventy dozen donuts had to be ordered to feed this year's large crowd. Following their grandsons, the grandparents were then led into the halls of Jesuit with open access to almost anything that they wanted to see. In addition, docents from the Jesuit Museum were present to give information on a few select art pieces that drew the interest of guests. By midday, grandparents and grandsons started to trickle out of Jesuit, having seen all that there was to see.
Jan Deck, Jesuit's Event Coordinator, called Grandparents Day a "very casual" and "very impromptu" day for grandparent and grandchild to simply spend time with each other, something that is becoming all too rare in today's busy world. "Being able to share in the experience" of exploring school together is seen as the most memorable part of the day by Mrs. Deck because "it's a nice way for them to get to know what it's like for their grandchildren during the day." Looking toward next year, Mrs. Deck hopes to see more student and music ministry involvement in the mass. "The grandparents have said that they would want to see it."
Having led his grandparents around school on Sunday, Alex Frey '16 noticed that his grandparents "loved seeing a contemporary high school and comparing it to what their high schools had looked like when they were teenagers." New and surprising to them, Alex's grandparents were blown away at the integration of technology in daily school life. From SMART Boards to iPads, the availability of technology "kind of surprised them." However, next year, Alex would like to see some of the teachers present in the classrooms so they can "meet the grandparents and talk with them and about the class," giving them an even better understanding of Jesuit student life. Overall, Alex thought that it "was a great experience for me but an even better one for my grandparents. I definitely loved showing them our 28 acres."
At its core, Grandparents Day is centered on teaching the grandparents about Jesuit's mission and building connections with a different part of the Jesuit Community.