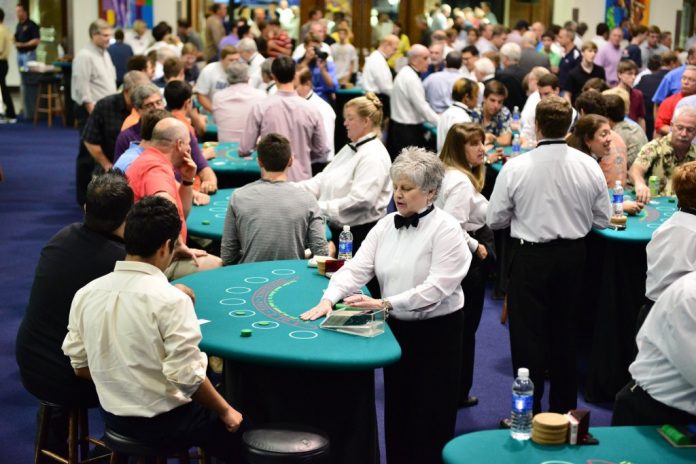 Fiddling with his red and blue poker chips, the Jesuit student looked at his cards one last time. "All in," he said confidently only to reveal three-of-a-kind aces, bringing in the pot! Looking over to his dad, he got a big high-five and a pat on the back.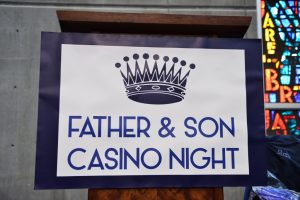 On September 18, this was the scene in the Terry Center as fathers and sons came for Jesuit's seventh annual Father-Son Casino Night. A fun, bonding event for all who attend, Casino Night raises money for need-based scholarships for Jesuit students while allowing players to win great prizes and just have a good time. This year was a huge success among parents and students!
The casino games comprised of  Texas Hold 'Em, Blackjack and Poker.  According to Mrs. Ann Tyler, a coordinator for the night, "Prizes included $250 and $100 Visa gift cards, Beats Headphones, and an iPhone 6," among other items.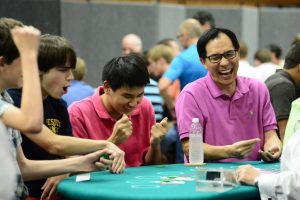 Mrs. Tyler also commented that the casino night went "Great, it was sold out!" Jack Hall '17 reiterated the impression when saying he could not even estimate the amount of people attending, but "The room was very full!"
Students shared the same feelings about then night, Jakey LaRoe '17 exclaimed, "It was a lot of fun." Judging by the reaction of students, everyone seems to agree it was a great time.
Even more exctiting, Father-Son Casino Night is a way for fathers and sons to spend time together, Hall said, "It was a really great time to get closer with your parents." The night allows students to spend time playing the games of their choice with their father, and try to win prizes together.
Dominic Iannelli '15, a veteran of Casino Night, commented, "This was my fourth and final Casino Night. My dad and I have had a blast every year. The food is always great and it's great fun…There's a reason why the tickets sell out every year."
Father Son Casino night works with other events like the Auction Gala and the car raffle to raise money for scholarships. The yearly drive kicks off with the Father Son Casino night in the fall, the car raffle in the spring, and the annual Auction Gala in March. These grants help more people be able to attend Jesuit because it allows students the oppurtunity to attend Jesuit regardless of their finances. Thanks to the wonderful events like the Gala, Casino Night, and many other events, more students are given the gift of Jesuit.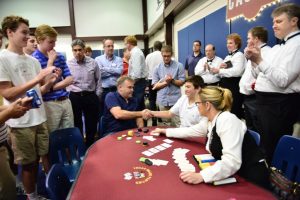 So remember next year that tickets go on sale the first day of the school, so buy your tickets before it sells out!