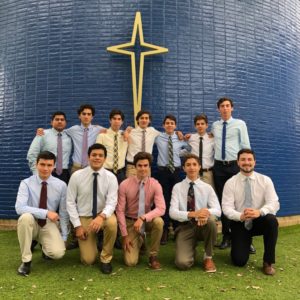 "Ay, ¿qué ónda? (Hey, what's up?)"  A group of excited students in red t-shirts burst through the terminal doors and flocked to their new families.  New friendships were beginning and old friendships were strengthening as the Mexican students were welcomed into the Jesuit Dallas community.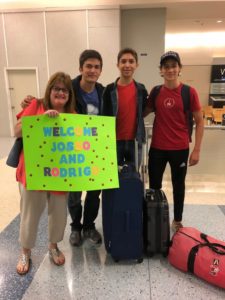 For three weeks this April, eleven students from the Jesuit school, Instituto de las Ciencias in Guadalajara, Mexico joined the Jesuit Dallas community. The exchange students stayed with Jesuit families, went to class, participated in extracurricular activities, and attended Wednesday senior service.
After two days of following his "twin's" schedule, each  exchange student received his own schedule to embark on his Jesuit journey.
"I had an amazing time at Jesuit, the classes are really good, I like being with the American people in the same area, sharing the Jesuit spirit, you can really sense and feel the Jesuit principles in each class, every teacher and most importantly every man, men for others really describes what this school has been for me in the past two weeks and I am glad I had the opportunity to be here, it's been an amazing program and I look very forward into coming back to Dallas," remarked exchange student Santi Hernández.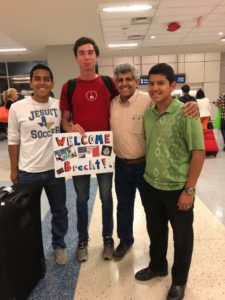 Men for Others | Hombres para los Demás
The exchange students not only joined our community, but they served it as well.  The students worked along side their Jesuit brothers in the Dallas HIV resource center as well as in a downtown food pantry.
"On Wednesday we volunteered at a food distribution center, where food was also being served to people living with HIV. Both the teachers and the students had the opportunity to meet in person as the teachers and local students carried out their social service engaging in all the operation of these facilities. We were all helping in the kitchen, food service, packing, stowage, in the freezers and dispensing the pantry to the people who were attending. Even at one point, we had the opportunity to talk with Mexicans who have lived in Dallas for many years and who came to the help center and who identified us as Mexicans and who were obviously happy to have compatriots participating in the Program," said visiting Chemistry teacher, Mr. Arias.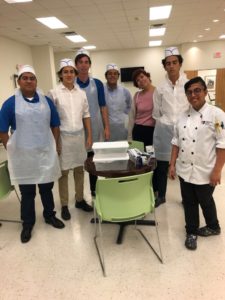 Student José Federico reflected:
"Throughout this cultural exchange, we not only went to school and to classes, we also engaged in community service, which made us see how difficult or complicated life can be, but at the same time the happiness that is in it.  I really liked our visit to the HIV center and the collection center.  We were taught that many things that we can see as an obstacle, other people can see it as a step towards new friendships and experiences."
In addition, the organizer of Jesuit's cultural exchanges, Mr. Perry was impressed with this year's group of students.
"The Mexican students were committed to serving the community and representing their school's values as a Jesuit Catholic institution," remarked Perry.
Open to Growth | Abierto al Crecimiento
While in Dallas, each student was immersed in the culture of his new host family, experiencing a new way of life in each household. Also, the exchange students learned about Texan culture and history, whether that be through an elaborate walk through historic Downtown Dallas, touring the Bush library or simply enjoying a classic plate of Texas BBQ.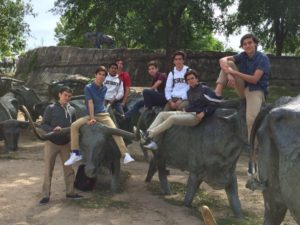 "All of this trip without a doubt has been the best experience that I have had in all my life as I enjoyed each one of the moments that I have had in Dallas from my great experience in Jesuit to the great moments that I passed with my family," commented visiting student Diego Morán.
José Alejandro Pérez Cid made the most of his cultural exchange:
"In my trip to Dallas I learned all sorts of things. At Jesuit I realized the great diversity of cultures that can be in a single place, each student has his own but everyone knows how to show the world the principles of the Jesuits and their love for each other. With my family I learned many things, among them, I learned to be humble. Dallas is an incredible place in which you can meet lots of people and learn more about yourself."
Sharing Experiences
Additionally, two teachers from Ciencias came to Dallas to join our community.  The two teachers shared what life and education is like in Mexico with Jesuit Spanish classes.
"Several Spanish teachers gave us at least one of their class sessions, inviting Karla and me to give a presentation on how to live the academic, cultural, sporting and social life at the Institute of Sciences. Most of the time the students were curious about it, especially, of the extracurricular activities that are offered. The Spanish teachers, all of them, expressed their enormous gratitude to us as guests and to have the opportunity for their students to listen to foreign teachers who speak native Spanish," remarked Mr. Arias.
Intercultural Comparisons
Of course, one of the main purposes of a cultural exchange is to compare and contrast the underlying culture in daily life.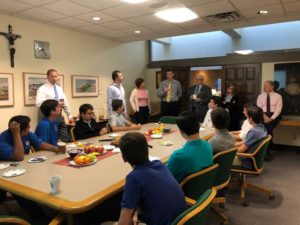 Mr. Arias explained:
"The life in the school has certain similarities to Ciencias, but the differences predominate, in the sense that for obvious reasons the school is a complex of closed buildings, i.e. without open spaces, as we are accustomed in Mexico. I have seen several class sessions, and in all of them it is observed that the students are quite willing to start the classes and to listen to their teachers in general.  Order, cleanliness and discipline are observed in class sessions throughout the school. In general, students do not seem to socialize "too much" as they do in Mexico, although being teenagers, they also like those little healthy jokes that some local teachers do allow them and make the Class a little more dynamic. In general, teachers are very committed to fulfilling class plans in time and form. They have small groups of students (15 to 20)."
"The local culture is very different from the one we have in Mexico; And while that was already expected, to come and live the local culture and contrast it with ours is an experience that enriches you and makes you explore, recognize and reinforce your identity. It was a truly enriching experience to have been these three weeks in Dallas, a city clearly multicultural, progressive and opportunities," concluded Arias.
While the eleven exchange students only attended Jesuit for three weeks, they have continued to form the bond between Jesuit Dallas and Instituto de las Ciencias, through good times, laughs, and learning.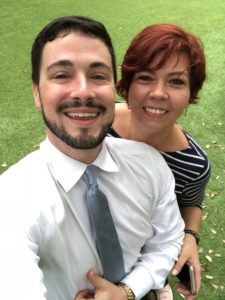 (For students interested in participating in a cultural exchange program to Guadalajara this summer, please contact Mr. Perry. He will be happy to talk with you.)