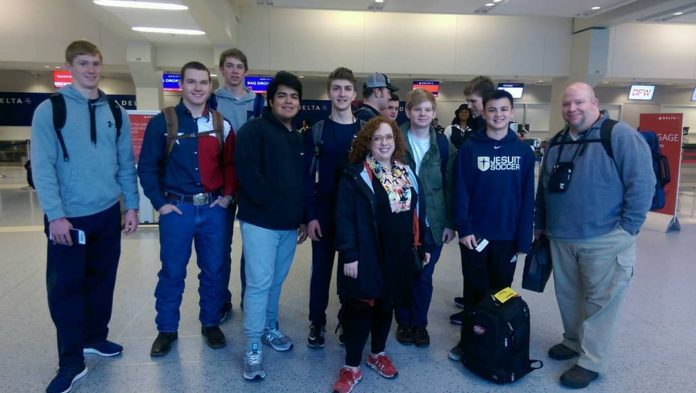 "It's an experience like nothing else at Jesuit." That's what Junior Carl Quist had to say about the Italy exchange program, which took place from March 4th to March 11th.
During the two-week exchange, 10 students, seniors Reid Allison, Caleb Longwell, Parker Towns, Carson Ward, and juniors Mac Jordan, Mac McCormick, Chandler Fong, Carl Quist, David Reichert, and Gabe Guerrero, traveled across Italy from Milan to Rome and Verona to Florence.
The students were accompanied by Ms. Druebert and Mr. Profitt.
The students spent the first two days in Milan with their host families, where they attended the Italian Jesuit high school and toured the city.
On the third day, they took a day trip to Verona and then to Venice, where they stayed overnight. On the fourth day, they returned to Milan and then went onto Florence.
After Florence, they returned to Milan, said goodbye to their host families, and headed on to Rome, where they spent their last week in Italy. During their time in Rome, they took a trip to the ruins of Pompeii.
Finally, they left Rome and headed back to Dallas and Jesuit.
Ms. Druebert was happy with the second year the Italy exchange. "I thought the guys had a really great time. I think the Italian students really enjoyed it and the Dallas guys really enjoyed it."
McCormick enjoyed the Italian culture he experienced. "Traveling in Italy was amazing and a once in a lifetime experience, I would highly recommend anyone that wants to travel to go on this trip. The history, food, culture, and bonds that you make with your exchange student and fellow Jesuit brothers all made it a trip to remember."
Reichert was "reminded why I took things like Latin and history."
For coverage on next year's exchange programs and all things Jesuit, stay tuned to The Roundup.