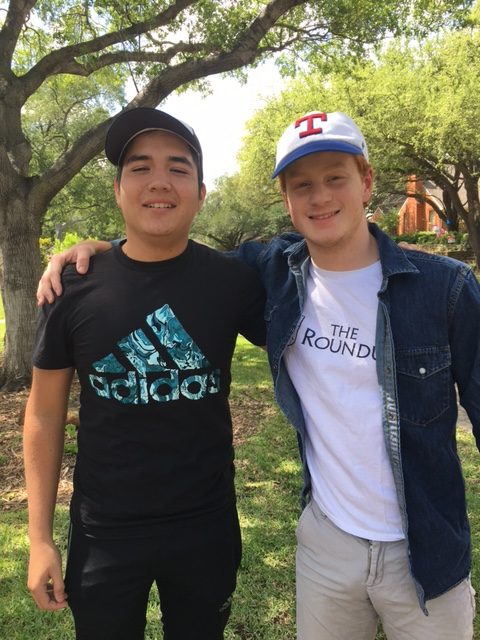 One of the many benefits of being a Jesuit school, Jesuit Dallas has once again participated in the exchange program with Jesuit schools from Mexico, this year from Guadalajara and Torreon.
In April this year, 7 students from 3 different Jesuit schools in Mexico came to our school for one month. The students arrived in early April and attended the annual welcome party and the Popolo's house that evening. There the Jesuit host students got to know the other students in the program.
The exchange students shadowed their host brother for their first two days, accompanying them to all their classes. Afterward, each was given his own schedule, often sharing classes with other students who had come from Mexico.
Over the course of the month, the exchange students not only attended classes and participated in numerous service activities, but each also had a unique experience with his host family. Michael Miramontes '18, the host of a student from Guadalajara, said, "We had a lot of fun conversations, would go to the mall together. We would get food a lot, and I'd correct his pronunciations. [I] took him to the FC Dallas game, and that was a lot of fun."
Michael added, "My favorite part about the program is getting a first-hand look into the culture of someone else, really getting to know someone who's life has a lot of similarities and differences with me."
Will Fynes, another junior and host brother commented, "Having [my exchange student] Mario stay with me for a month was one of the highlights of my Jesuit career. I really formed a special connection with him."
The boys returned to Mexico on April 30th, but it may not be the last we see of them. For the first time in Jesuit Dallas history, students will be offered to go to Guadalajara for a week next fall to study at Ciencias, one of the Jesuit schools in Mexico.
And as always, Jesuit will again be hosting students from Mexico next spring. If you are interested in either of these opportunities, contact Mr. Perry in the service office. Until then, hasta luego!