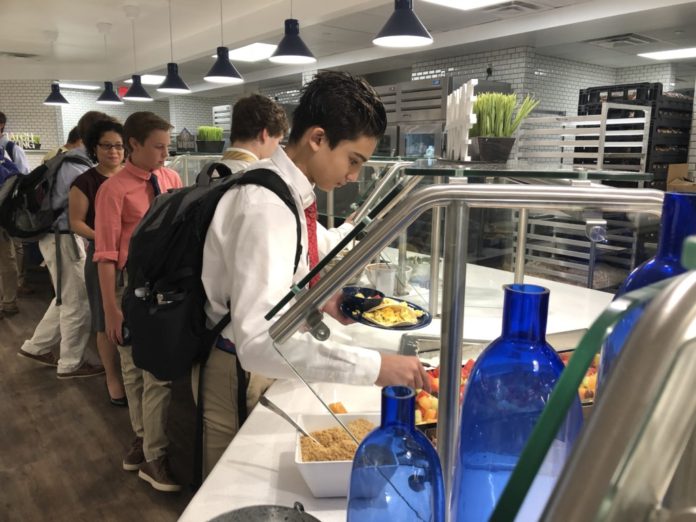 Who's hungry for options? After a sit down with Coach Weeks, our athletic trainer, I've learned that the Jesuit athletes, as well as the entire student body, are getting ready to have more options.
Not only will we have a main hot meal, but also the cafeteria will offer a sandwich bar with a selection of bread, meats, cheeses, and fixings. In addition to that, there will be a loaded salad bar. Most important to the health-conscious student body, there will be a new option called the "performance spotlight program." This will be designed for anyone who enjoys eating healthy, including student-athletes. It is centered on health and performance and will benefit everyone both in the classroom and in sports.
If you are curious what a performance spotlight program includes, Coach Weeks has the answers. There will be a lean meat option, ie, chicken, clean cuts of red meat, and fish. Then they will offer good carbohydrates, i.e., fruits and vegetables, as well as pasta for those who need it before an athletic event.
I asked Coach Weeks what was the most important meal of the day and, as you might guess, breakfast. I guess what our moms have been telling us all along is true.
Coach Weeks said that first, breakfast requires you to get up and start moving. Second, it helps jump-start your metabolism and gets the body burning energy. Third, it helps curb your desire to snack in between meals. If you eat breakfast, you will not be as hungry when you get to lunch and you will not overeat. When you eat breakfast, your calories will be spread throughout the day and not just consumed in one meal. Due to the importance of breakfast, and because of the value Jesuit places upon it, students will now benefit from its inclusion in tuition, along with lunch.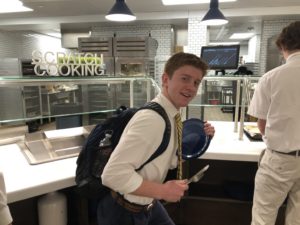 In addition to the nutritional benefits of serving breakfast, there are social benefits as well. Students now are arriving early to school to gather in the cafeteria and eat breakfast.
Coach Weeks is really excited to see how the new cafeteria evolves organically. "It has been cool to see all the boys gathered in the cafeteria, whereas in the past kids would pick up Chick-fil-A or not even eat breakfast at all. The new cafeteria has provided a new social space which is an added benefit."
After many lengthy discussions by the Jesuit faculty and staff about the future of the cafeteria, it looks as though everyone is in for a big treat and lots of options. For most high school male students, meals are a big part of our routine. We are fortunate to attend a school that not only cares about our academic development, but also our nutritional needs, and is willing to invest the resources to have more nutritionally sound options.
Make sure to stay tuned to The Roundup for the latest Jesuit news!