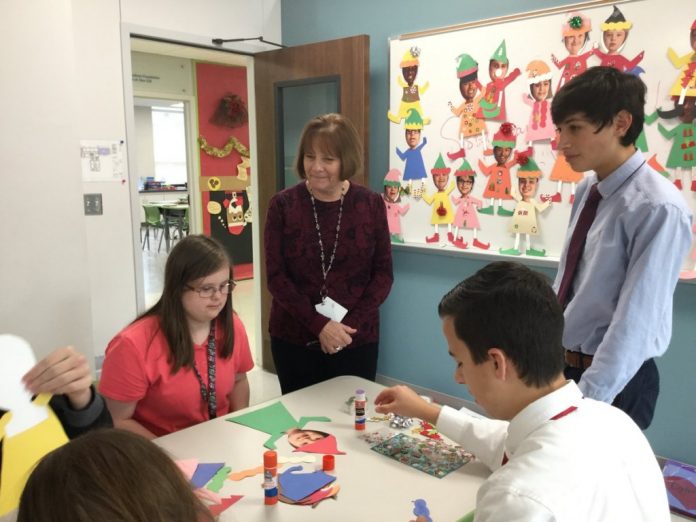 Shining lights, good food, better dance moves all come together in one room. Pausing momentarily to laugh with joy at the sight of the room of dancing students, one young person then quickly resumes his rendition of the macarena, rejoining the festivities.
On December 9th, Jesuit and Ursuline students helped to host the 9th annual Notre Dame Christmas dance. About 50 students from the Notre Dame School of Dallas attended the event, enjoying food, fellowship, and dancing throughout the transformed Jesuit.
The Notre Dame School is one of the service locations where seniors can help every Wednesday as part of their service commitment for their final year at Jesuit. The seniors go to the school to help out in classes and to form bonds with the special needs students. Helping them to host the dance was the Interact team, a Jesuit service organization for juniors.
Interact helped to put the dance into action, putting in days of work to prepare for the event. The members were charged with planning the festivities, constructing the decorations and finally transforming Jesuit into the perfect location for a winter dance.
Michael Miramontes '18 noted that "Interact planned a few months in advance for this dance, and put a lot of thought into the decorations. We decided to do Elf the movie as our theme, and based all of our decorations around that." The Interact members' months of hard work certainly payed off as both Jesuit students and Notre Dame students alike had great times. Michael continued, describing that his favorite part, besides the dance, "was finally seeing the Hall of Honors decorated with stunning white lights and our snowflakes; it really left me speechless."
Ryan Macalanda '18, an Interact officer, agreed that it "was a success, and you could tell everyone had an amazing time because they were all smiling during the entire dance. The Jesuit students got really involved which made the whole dance. I think that a lot of Jesuit kids made new friends while having a blast."
The dance was a huge success thanks to the fun-loving Notre Dame students and the hard work and dedication of the Jesuit and Ursuline students, who not only helped to prepare the festivities but were also able to enjoy them on that Friday night. The 10th annual Notre Dame dance is certainly something that Notre Dame, Jesuit, and Ursuline students have to look forward to in December 2017.