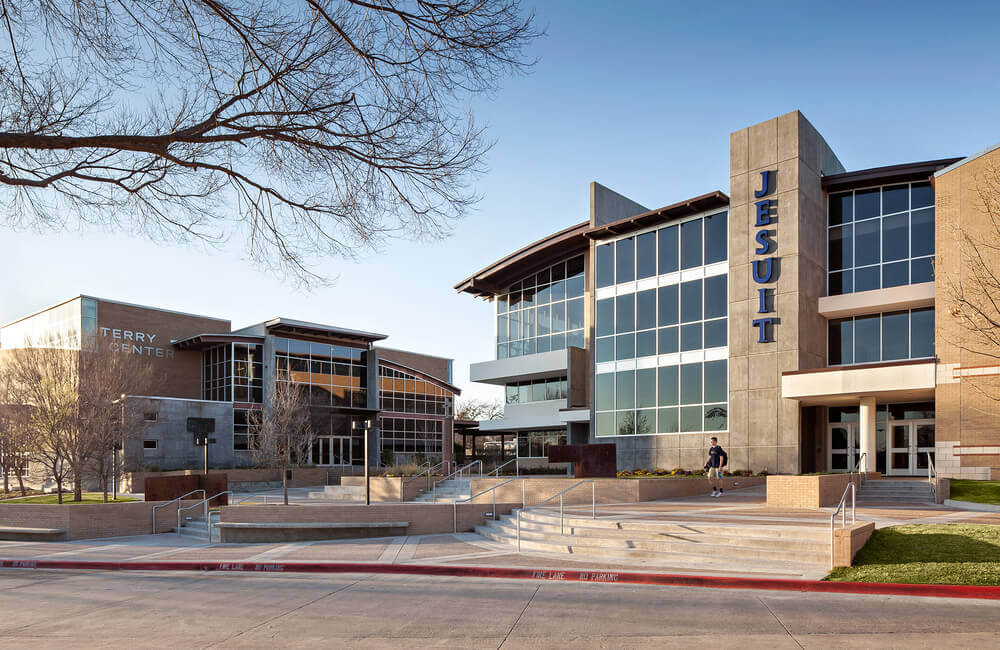 A couple of weeks ago, Mr. Garrison announced his plan for both cohorts to return to in-person learning. This news stirred up a variety of reactions, with some people optimistic and others worried. However, with the first day now complete, I decided to gather a handful of faculty and student opinions on how they felt the first day went.
What was the day like for students?
There were good and bad aspects of today, so let's start with the good ones. One of the best parts of all in-person learning was getting to catch up with people that you hadn't seen since March. As Jason Davis '21 stated, "While it was a bit overwhelming, I think everyone was overall excited to go back. Lots of people were overjoyed with seeing their friends again, and the Jesuit community felt reunited once again after so many months apart." Grant Kostos '22 added, "I really enjoyed being able to interact with all my friends from the gold cohort, and I hope that we can keep this going throughout the rest of the year."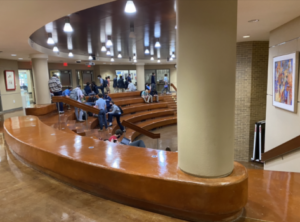 Another benefit of all in-person learning is having access to your teachers at all times during the week. In hybrid learning, specifically on online days, it was pretty hard to ask your teacher questions about confusing concepts. Emails and Teams Meetings might have helped you slightly, but ultimately, asking teachers for help in-person is a much better experience.
However, there were certainly some things about in-person learning that were not exactly great. The main problem was undoubtedly the hallways. It was near impossible to stay six-feet apart from others during the passing periods, and that is a serious problem that will detriment our ability to safely stay in-person. Honestly, the hallways were a problem even before all in-person learning, so something needs to be done soon in order to increase the physical distance between students.
On the topic of safety, Dr. Knize talked about ways we can prolong in-person learning at Jesuit. He stated that "the key thing is the masks. It is imperative that the students are in compliance with wearing masks in the school building, and even outside when they are not socially distanced. We just need to keep following the protocols that have been in place since day one and approach this with a team effort."
What was the day like for the faculty?
After talking to multiple faculty-members, I have put together a list of quotes on how the teachers felt the day went.
"It was the first class period of the day, and standing in the middle of the room, I looked around and thought to myself, 'Mr. Berry, this is the first time you have had a full classroom full of students since March. Let's do this thing.'" – Mr. Berry
"It was good to see everyone. I feel like the school is moving back towards normalcy while also prioritizing student and teacher safety. I also like how the audience for my dumb jokes doubled." – Mr. DuRoss
"I was really happy to see all my students in one classroom. I hope that everyone continues to follow the health and safety protocols so we can stay all in-person as long as possible." – Mr. Ferguson
"I think I realized how much I missed the noise and energy of a full class." – Mrs. Farrell
"I think this first day went about as well as it could have. Everyone seemed to be happy, there was a lot of energy, and it was nice to see all my students in one classroom." – Mr. Vu
"The energy level of the students makes it seem as if it's the first day all over again. I find it amazing that this is the first time that the freshmen have all been together, and it's great to see how the class of 2021 has been reunited on campus. It's also great how the weather has been fantastic, so guys have been able to go outside and catch up with one another." – Dr. Knize
Overall, I believe that the first day of school was a success. I'm optimistic that as long as we continue to stay safe and follow the health protocols. Hopefully we will maintain in-person learning for the rest of the year.
Remember to check The Roundup for more breaking news!