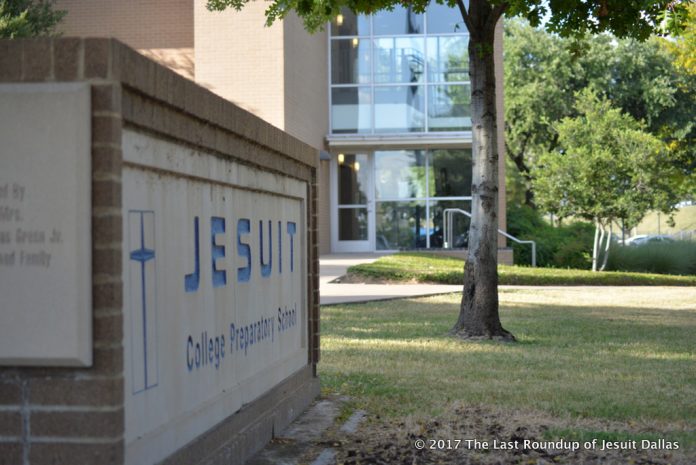 Summer school at Jesuit College Prep officially began on Wednesday, June 12, three days after a violent storm whipped through the DFW area, causing over 300,000 locations, including the Jesuit campus, to lose power. Despite the two-day delay in the start of summer classes, the campus was abuzz with activity on Wednesday, with close to 600 students attending a variety of summer classes.
According to Dr. Ben Kirby, Assistant Principal of Academics, Jesuit is offering 19 different classes this summer, the most popular being Rhetoric and Civics with 172 students enrolled. Kyle Hogan '23 is one of the freshmen taking Rhetoric and Civics. Hogan, who attended middle school at Prince of Peace Catholic School, was looking forward to starting summer so that he could "kick off his four years at Jesuit." He decided to enroll in summer school so that he could "meet new people and get an early glimpse of what Jesuit will be like."
Jack Betz '23, an incoming freshman who previously attended St. Rita Catholic School, is also taking Rhetoric and Civics. Enrolled in Mr. Casey Profitt's class, Jack says that his first week of summer school was "a really good week," adding that he really enjoyed getting to finally attend Jesuit.
Jack Blase '20 is taking advantage of the fact that rising seniors are allowed to take two courses in summer school. Enrolled in both Christian Relationships and Marine Biology, Jack says he is happy to be getting a head start on the coursework for his senior year and is especially looking forward to traveling to Grand Cayman in July with his Marine Biology classmates. Marine Biology, a unique course open to rising juniors and seniors, includes two weeks of classroom instruction at Jesuit plus one week of classroom and fieldwork on the island of Grand Cayman. While on Grand Cayman, Jack will learn about the impact of humans on coral reefs and marine ecosystems and how to how to identify Caribbean fish. Jack tells The Roundup that he recently has developed an interest in marine life and that he is looking forward to exploring this interest while on Grand Cayman.
Ms. Ann Morton has taught summer school at Jesuit for 16 years, which matches the 16 years she has taught at the school. This summer she is teaching both the morning and afternoon sessions of Music Appreciation, and her students include a mix of rising sophomores, juniors, and seniors. Ms. Morton enjoys the relaxed vibe of summer school, telling The Roundup that she enjoys summer school because "the guys can concentrate on one or two subjects without the stress that tends to occur during regular school year." She adds that summer school provides a unique opportunity for students to give music a try, stating that she particularly enjoys "getting to know students who otherwise would not participate in music activities at Jesuit."
Echoing Ms. Morton, Dr. Kirby also enjoys the relaxed atmosphere at Jesuit during summer school. Noting that students are only going to one or two classes instead of the nine periods that make up each day during the regular school year, Dr. Kirby explains that "everything seems more relaxed…yet the learning remains the same caliber as during the year."
Stay tuned to The Roundup for more Jesuit academic news!