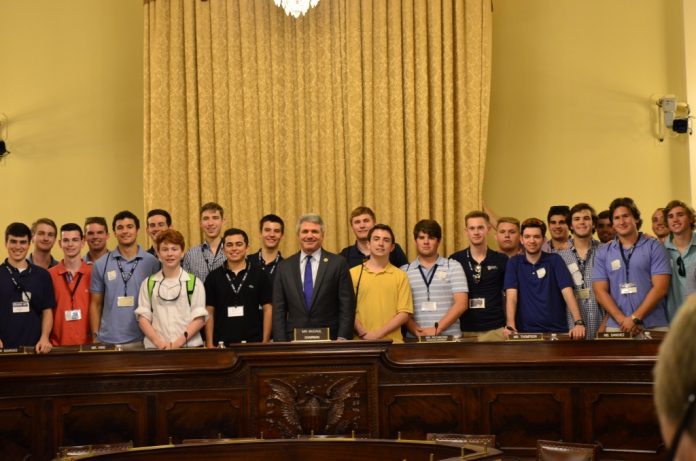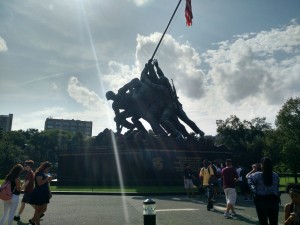 The rhythmic thuds of helicopter blades cutting through the air draws the attention of the students below, momentarily distracting them from their history lesson about the monuments which surround them. From schools around the country, students have come to learn about the formation and function of the government right where it happens, Washington D.C.
Rising Jesuit seniors were among the students who traveled to D.C. this past June as a part of the educational program called Close Up. During the week-long trip, students had the opportunity to travel all around the nation's capital, stopping at numerous monuments and memorials to learn more about the events and people they represent. Jesuit students in particular got the added advantage of speaking with Congressman Michael McCaul '80, the Chairman of the House Committee on Homeland Security and the 2014 Distinguished Jesuit Alumnus. In addition, students also spoke with Mr. Black '05 and Mr. Brooks '08, alumni who both now work as aids on Capitol Hill. As an added bonus, the trip counted as the third week of the seniors' summer government course. Two weeks prior to the trip, students worked diligently to learn a mountain of material that would normally take a full semester to cover.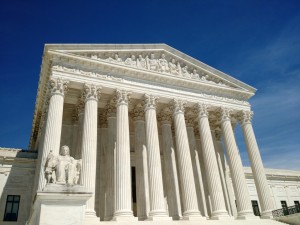 George Rodriguez '16, without knowing much about the program beforehand, was convinced to go on the trip by a few of his friends. Originally, he "thought we were just going to sit in a classroom" during the D.C. trip, just like the first two weeks of summer school. It was a pleasant surprise when "we actually got to go to all the monuments and learn there…that was really cool." Specifically, George appreciated how the group took the time to "analyze the symbols used in the Lincoln, Vietnam, and Korea Memorials," such as the thousands of names engraved in black marble on the Vietnam War Memorial. "That was very heavy and very real." When it came time to visit Capitol Hill, George found that alumnus Mr. Brooks, brother of Ryan Brooks '16, was "defiantly the most informative" when it came to learning about the day to day work of a congressional aid. Overall, he "gained a lot of perspective on issues that didn't seem real until you got up close." He quickly followed up, exclaiming "That wasn't a pun!"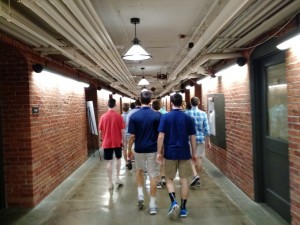 During the Close Up trip, students spent the day with the program's own instructors, leaving the Jesuit instructors, Mrs. Segal, Mr. Segal, and Mrs. Ochs, free to explore the D.C. area. This does not mean, however, that they were freed of all duties. "We spent most of our time scoping out activities for next year's trip. For example, as a result of this trip we will likely add the Newseum to next year's program," recalled Mrs. Segal, creator and organizer of Jesuit's summer Close Up government class. The teachers were also able to sit in on a few Supreme Court rulings that were taking place throughout the week. To be exact, Mrs. Segal and Mrs. Ochs were part of the select few that were able to hear the court hand down the Affordable Care Act ruling. "​​It was a very surreal experience. We stood in line for 3 hours hoping that we would hear a big case come down. When the Chief Justice announced King v. Burwell everyone in the court began to stir. Political views about the issue aside, it was great to hear such a landmark case. The issue was not the act itself but how to properly interpret written statutes and it was thrilling because the majority opinion, and the dissent, which was read by Scalia, were so passionate."
After a successful first year in 2014, Mrs. Segal was excited to welcome 30% more students this past summer in an effort to expose more people to the American government. "It's one thing to tell young people that they can make a difference in the American political system, but that statement is much more believable once they have been to the capital and physically seen all the ways in which they can play a part in our government." This opportunity is especially beneficial to Jesuit students who learn the value of service and can find a constructive way to implement it in the government like Congressman McCaul, Mr. Black, and Mr. Brooks have done. In fact, Mrs. Segal doesn't believe "it's a coincidence that so many alums have chosen public service as a career. Jesuit does an amazing job teaching the value of service, encouraging students to make a positive impact on the world." Already recognized by Jesuit for his unprecedented commitment to serving and impacting the world, Congressman McCaul in particular stands out as a shining example of a Jesuit graduate living out the values instilled in him through his work in Congress and as a Chairman. Mrs. Segal went on to say "I also think it that it says something beautiful about the school that so many alums are so willing to help out and use their connections to educate current students." Emphasizing this willingness, it should be noted that it is no small measure for any of the three alumni to pause their vocation to service in order to help their Jesuit brothers. To all involved, the Close Up trip was yet another reminder of how Jesuit ideals follow graduates into the wider world as well as a reminder to never cease to assist other's in their Jesuit journey.
If you want more information on next year's Close Up summer government class, contact Mrs. Segal.
For more on Congressman Michael McCaul's recognition at Jesuit click here.