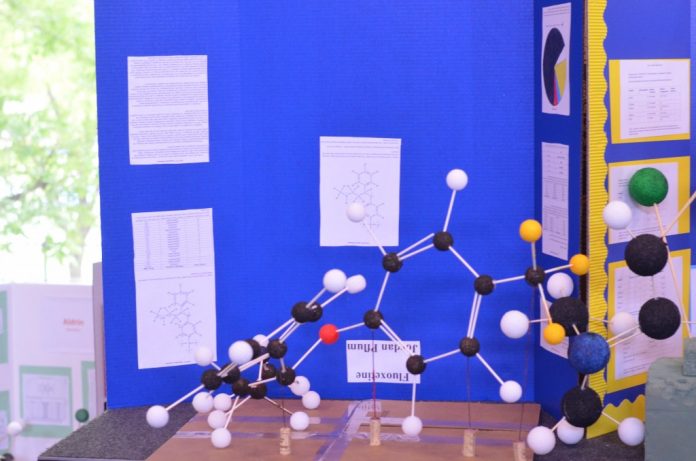 Enduring the strong gusts of wind, the sophomores carried their completed molecular models into the Terry Center last week. The construction of these models is one of the final portions of the annual, sophomore molecule project, assigned by Jesuit's Chemistry teachers, and taking place over the course of the entire second semester.
The annual molecule project has been a part of Jesuit's Chemistry curriculum since the 2009-2010 school year. In turn, it has become a well-known part of Jesuit's tradition. Jesuit's Chemistry teachers assign a unique molecule to each individual sophomore. Then, during the second semester, the students research and examine the molecule, its history, and its uses, while incorporating various topics they've learned over the year, such as solubility and molecular geometry. Finally, the sophomores construct a molecular model, display their projects in the Terry Center and present it to one of Jesuit's Chemistry teachers.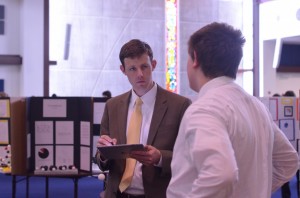 The sophomores conduct research for about a two months  to fully understand their molecule and its relevance in today's world. However, the model's construction sticks out as most interesting to most students. Sophomore Harry Smith said, "Even though the molecular model took a while to make, it was worth seeing the finished product." This sentiment seems to be  shared by many Jesuit sophomores.
Chemistry Teacher Mr. Matt Jones is the lead designer of the molecule project, and has overseen the process ever since its introduction to the Jesuit curriculum. He hopes that by completing the molecule project, the sophomores will be able to "see how the different aspects of Chemistry tie together into one complete picture". Although the project's primary objective was to allow students to learn more about molecules and how they affect their life, it also helped students in a variety of ways during the rest of their Jesuit career. Looking back on the project, senior Brice Tsao explains, "The molecule project helped me develop my work ethic, be more able to manage my time, and set checkpoints to prevent procrastination."
The molecule project has become a staple to Jesuit's curriculum, helping students learn about  the various building blocks that exist in the world, and also providing a way to tie together all of the concepts they've learned over the year. The project will undoubtedly educate many Jesuit students in the future, and, according to Mr. Jones, it "gets better and better with each year."