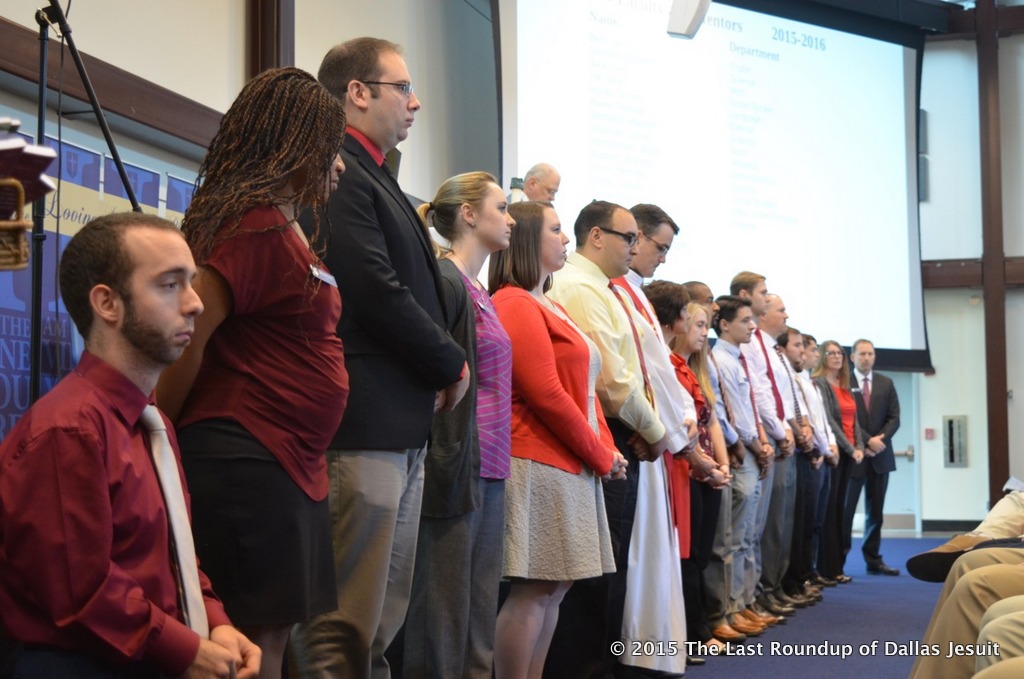 A staple of the beginning of every year, Jesuit welcomes a wide array of faculty this school year, ranging from the ASC Corp, to new instructors to fill the gaps of retired teachers and teachers who have left, and to new behind-the-scenes faculty in the athletic wing and the front office. For  many teachers, this is their first experience teaching high-school students, while, for many, it's the next chapter of their teaching careers. The uniting factor between this diverse group of teachers is their respective desires to help students achieve the Profile of the Graduate, to grow intellectually as a brotherhood, and to fulfill the mission of Jesuit.
This year, Jesuit welcomes a total of eleven new teachers, as well as four, brand-new Alumni Service Corp Members.
[divider style="normal" top="20″ bottom="20″]
The Alumni Service Corp is typically made up of four graduates of Jesuit who have just finished their Senior year of college. These four men give a year of service back to their alma mater, live in simplicity in a house provided by Jesuit behind the school, and teach at least two classes of The Service and Justice Capstone Course.
For Mr. Michael Bellinger '11, he's "always wanted to teach and to come back to Jesuit to do that. This is the best way to get my feet wet in the environment of Jesuit, the way the faculty works, and I thought it would be a great experience for me to get to know everything." Before this year, Bellinger was a student teacher and filled in as a substitute teacher at Prince of Peace Catholic School. Aside from his numerous responsibilities as an ASC, he works as a coach for the Volleyball team and participates in The Lone Rangers, a spirit organization. Mr. Bellinger added that he has enjoyed "getting to know some teachers that I've known for a long time more personally and that seeing their personal lives has been interesting."
Similarly, Mr. Sullivan McCormick '11 feels that he was called to come back to Jesuit because he "wanted to do a year of service after college and I thought that this would be a great combination of teaching, but also being around the Jesuit influence that I liked so much in college." McCormick feels as though he's on stage; he explains, that "Mr. Knize and Mr. Fitzsimmons talk about being 'on' in that you're on a stage and the play lasts the entire day, every day… There's a visibility that I have not experienced before." Mr. McCormick enthusiastically devotes most of his time with extracurriculars to the Debate Team, an organization he was a part of not too long ago. Although early in the school year, McCormick cites his experience in early August at Vow Day as one of significance, saying that "[Mr. Ornelas] had talked about it being similar to a wedding for the moms and the dads in the sense that they're sending their son off to the next phase of their life where they're committing themselves to something." Indeed, the ASC Corp are re-committing themselves to Jesuit, this time, in service and simplicity.
Along with Mr. McCormick and Mr. Bellinger, Mr. Anthony Tarzi '11 believes that coming back to Jesuit means giving "back to my high school by doing a year of service."  For Mr. Tarzi, the ASC program has allowed him to "[set] an example for the Seniors and the other students that walk this campus." Although the experiences shared by all members of the ASC Corp are mostly positive, Mr. Tarzi feels that adjusting to a professional setting after college has been the toughest adjustment to make. He expounds, "When you go off to college, it's kind of like organized chaos – everything happening at once. Whereas back here, it's kind of like, 'Alright, you know the schedule, and you have to follow it.' People are looking to you to be responsible enough to handle it. So, going from chaos to order has been an adjustment." Despite this obstacle, Tarzi recognizes his role in the Jesuit Community is "To give back to the community: that's pretty much what we're doing for an entire year… That's all that really is required, is just giving back your time."
Transcending the traditional responsibilities of the ASC, Mr. John Thompson '11, the final ASC member profiled, willingly adopts a full course load due to the absence of Ms. Stephanie Boyle who is on maternity leave. Taking on her classes consisting of two Forensic Science and three Pre-AP Chemistry sections, Thompson is "really happy that I'm able to do it because it gives me that much more direct interaction with students that I'm not going to see otherwise." He adds, regarding the differences in the teaching roles from the other ASC members, "I feel like the [other] ASC guys are really getting that experience of meeting more Seniors because they're working at their service sites and they're hanging out in the commons, whereas I get a good look at the Sophomore class." Mr. Thompson is not only enthusiastic about his position but also merits multiple teaching experiences as well as the background that makes him the perfect fit for the position. Having taught at the Higher Achievement Program [HAP] over this past summer, Thompson, amidst the process of applying to medical school, shows his alacrity to teach multiple courses because he has the opportunity "to come back, hang out with a bunch of high-schoolers, do something I really enjoy, [and work] with the teams that I work with. What better way than to come back and give a year to Jesuit," he adds.
Although a new face to many, Mr. Ian Berry's '07 experiences at Jesuit extend far beyond the expected. Mr. Berry graduated from the school in 2007 and joined the ASC program several years later; however, his focus shifted towards adventure and Europe in the summer of 2012. Spending the last three years abroad, he "taught English to elementary school kids in France, where I got my masters degree and I've taught English in Jesuit's HAP [Higher Achievement Program] for the past three summers." Jesuit has been the axis around which his multitude of experiences revolved, bringing Mr. Berry home to teach Pre-AP English 1 and English 3. Having taught Summer Argumentation and Debate in 2012, Berry found it "interesting to see someone as an incoming freshman and then to see him as a senior. It's like I missed everything in between." Eager to make up for lost time, he values "the rapport that forms between students and teachers here," participating in extracurriculars and forming these relationships so integral to the Jesuit community. Mr. Berry's new role as faculty moderator of the Jesuit Journal will help bring the school's creative voice to print and branch out beyond even the meticulous iPad art competitions and impactful college essays.
Although not a native of Dallas, Biology Teacher Ms. Elizabeth Bramlett feels at home at Jesuit. First hearing positive things about Jesuit from her boyfriend, a 2008 alumnus, "I thought that it was odd, because I don't have those feelings about my high school. I'd consider myself to be an introvert, but when I came in to interview, I was surprised at how energized I felt afterward. Everyone immediately made me feel right at home." This is Ms. Bramlett's first experience teaching at a high school level. However, Ms. Bramlett enjoys "how funny the students are. Someone always says something that makes me laugh. I also love getting answers on assignments that I don't expect but are surprisingly insightful. I have had a couple of instances where one of my students thinks of a good way to answer a question that I didn't even think of." With this energy inside of five sections of Biology, Ms. Bramlett plans to help out with the Quiz Bowl team due to her past involvement in high school.
Ms. Alice Dyer, a Pre-Calculus and Algebra 2 teacher, finds herself at Jesuit because she felt called to the culture and mission of the school, saying, "I decided to move to Dallas because my three children were here. When I saw the opening at Jesuit, I knew that this was where I wanted to teach." Going off of that, Dyer accredited her interest to her "[wanting] to teach where education is important to families and that all of the students are wanting a higher education and to move on, and I love that challenge. I'm challenged here and I love that." Teaching three Algebra sections and two Pre-Cal sections, Dyer observes the welcoming and loving culture of Jesuit students because "everybody wants to work together, everybody wants to share ideas and I love that camaraderie." Ms. Dyer, in her 24th year of teaching, finds "the love and compassion that's here" very unique. She concludes, "everyone is very, very genuine. When someone says "good morning," they're not just doing that just because they're passing you by, they're really wanting to know, 'hey, good morning.'"
Mr. John Hill's '08 return to Jesuit teams with "hope and excitement, it was roughly 10 years ago that I was sitting in the classroom and I'm now teaching." A graduate of Harvard University, Mr. Hill is no stranger to academic rigor and a strong desire to learn from a mature student body. However, he was pleasantly surprised to see these traits reflected in his own students, proud of "how well-mannered and prepared our students are, and it's actually encouraging as an alum to see that the quality of Jesuit students is still very high a decade later." Rather than the predictable classroom issues, Mr. Hill often struggles balancing his student's zeal for learning, saying "the hard thing in having such an excited and prepared bunch is staying on task and not going off on a tangent talking about something that's interesting, but not quite related to what we're currently discussing." Mr. Hill uses his impressive background in both political science and history to revitalize the past into modernity, teaching an impressive five sections of sophomore World History. Aside from his teaching responsibilities, Hill remains committed to the debate team, a program integral to his Jesuit years. He views both his teaching and out of classroom involvement as a harmonious blend of his passions, "happy to dedicate [time] to the activities that made such an impact in my life."
Mr. Ramsey Kweik unearthed a new home at Jesuit after several years in the geophysics field. Experienced in both the classroom and industrial application of physics, Kweik begins a new career path teaching five sections of the class to juniors. High school offers a very different pace than college, focusing on learning through a teacher's guidance rather than individual research. What differentiates Jesuit from other institutions for Kweik is dedication and genuine passion, "everybody from the students I have, the students I've met, and the faculty, is very polite, well-mannered, and professional in how they deal with each other…but there's also a certain amount of love." This enthusiasm for education transfers to the classroom setting, each student "excited to be at school, excited to see their friends, but [understanding that] they are here to learn." Not only from a personal standpoint but also from a workplace perspective, working at Jesuit offers a host of resources and opportunities to faculty. Teaching offers a unique opportunity for Mr. Kweik to share his wealth of knowledge with others, complimented with a program with a "much better layout even at a professional level than anywhere else I've seen." As with many teachers listed, he will remain active in the community, joining both Car Club and Robotics as a faculty moderator. In addition, Kweik hopes to reactivate the school's WeatherBug station, connecting Jesuit even more closely with the outside world.
A native of Plano, Ms. Lauren Meissner is no stranger to Jesuit. Meissner has a great understanding of Jesuit because she saw her younger brothers, graduates of Jesuit, go through their high school careers. Ms. Meissner teaches one section of Algebra I and three sections of Geometry. She assists Mrs. Gerber with Interact, a service organization, in the time she doesn't spend teaching. Having previously taught 6th grade in Tulsa, Oklahoma, Ms. Meissner comments that "In general, it's difficult adjusting to a new school, because there's all sorts of new policies and ways of doing things… But, there's so many people who help you through everything; everybody is there for you when you need it, which is amazing." From her four sections of Math, Meissner appreciates that "It's not just the people from faculty but the students as well. You really see a level of respect and a level of wanting to be here and wanting to contribute to the community of Jesuit. [Everybody] wants this place to be great."
Ms. Madison Mathews stepped out of her comfort zone, interviewing at a school she didn't know much about after only a semester of unpaid experience. Despite these challenges, she fell in love with Jesuit, finding it "not that difficult once I got here…it's been a lot of fun and [her students] are a lively group." Mathews found the all-male classes an interesting perspective, her student's zeal superseding any difficulties adjusting to the environment. She continues to teach her passion, covering an impressive five sections of regular chemistry this school year. Discussions peppered with non-sequitur comments, Ms. Mathew's classes keep her on her toes with quick banter and an even greater desire to learn. Using her cheerleading roots, she has taken responsibility as co-moderator of The Lone Rangers and plans to bring spirit and energy back to the club.
Mr. Brandon Rushing has experienced multiple facets of Jesuit through his involvement both inside and outside of the classroom. An Algebra teacher and Assistant Football Coach, Rushing must fulfill a wide variety of responsibilities, but he says that "A lot of people have asked if I've been overwhelmed, but I really haven't just because everybody is so supportive and the guys in class have been really awesome… It's been a really positive experience thus far." Athletically, Rushing sees that "everybody is so coachable." He explains, "You explain something – they get it. We don't have to keep going over things over and over. It's been really awesome." When he's not coaching linebackers and special teams for the Rangers, Rushing sees that "every young man in the room is eager to learn, eager to ask questions, to do their homework, to make a good grade. It seems like every kid, not just a few, come from public school." Having taught and coached at Richardson High School and JJ Pearce High School, he recounts his first taste of Jesuit as the "opportunity to work with Coach Hickman and Coach Short who have both been here for several years, and I've heard nothing but great things about Jesuit. They say that you don't know how good it is until you're in it."
Mrs. Michelle Smith, a Chemistry and Biology instructor, finds herself at Jesuit due to her numerous years of teaching experience, and a little bit of chance; she explains, "My husband is an alum and I was at an alumni event with him when I started talking to Mr. Donahue and Mr. Berend and that conversation ultimately led me here." Previously, Mrs. Smith taught at Greenhill School in Addison for twelve years, as well as Louise S. McGehee School (all-girls) for two years as well as Isidore Newman School (co-ed) for one year. Mrs. Smith also comments that she has "truly enjoyed" the spiritual life at Jesuit and that she will be assisting with the Mad Scientist Club. The Mad Scientist Club, also moderated by Chemistry Teacher Ms. Mathews, travels to middle schools and performs small, but fascinating Science demos for the children. Mrs. Smith concluded by commenting that "culturally, Jesuit College Preparatory School of Dallas is very different than my previous teaching experiences." Even though Mrs. Smith, like all other new teachers, will notice a difference in pace, scheduling, and culture of Jesuit, she will undoubtedly make an impact inside and outside of the classroom through her teaching experience and extracurricular involvement.
Emerging from another hemisphere, Mr. Joseph Wood '06 experienced both classroom teaching and the American lifestyle for the first time in years. Wood spent six total years in Beijing, one as a Junior in college and five consecutive years after graduating. Acclimated to a new lifestyle, he experienced a drastic shift from "teaching educational travel programs in China" to leading five history sections at his alma mater. The primary virtue which has guided Mr. Wood's experiences is flexibility, "things don't always go according to plan while you're teaching a lesson or students have lots of questions and you get backed up for even good reasons." Life in China riddled with inconsistency, the culture shock of readjustment has been aided by his admiration for the school. From a global perspective, Jesuit prepares students to look at issues beyond the 28 acres, helping "learn how to make sense of things at Jesuit and outside in the world." Returning to Jesuit truly symbolizes new life for Wood, leaving China requiring him "to sell or give away almost everything I had there except for a couple of bags." However, he anticipates getting involved with Jesuit outside of his four World History classes and single Economics class, taking on an assistant coaching position for the cycling team.  
[divider style="normal" top="20″ bottom="20″]
Make no mistake, the process of becoming a new teacher is a grueling one to say the least. According to Mr. Tom Garrison, Principal of Jesuit, you can't just "snap your fingers" and hire a prospective teacher. Indeed, the process is much like the admission process students undergo, but the interview process is far more intense.
The process starts when the prospective teachers submit their applications to either Mr. Patrick Naughton, Director of Curriculum, or Mr. Garrison himself. After the application is submitted, Jesuit sends a series of documents regarding The Profile of the Graduate and the Mission Statement of the school. Then, Jesuit will send personal reflections for them to fill out regarding those same topics. After the responses are received and considered, only a handful of candidates is invited to come in and interview. The interview process is broken down into three interviews. The first interview is with either the Department Chairs, Mr. Naughton, or Mrs. Elise Stewart, Director of Faculty Formation. Following that, each teacher must give a practice lesson to a panel of faculty, and then the soon-to-be instructor sits down with Mr. Garrison.
One of the key characteristics in a potential teacher, according to Garrison, is "openness."  He elaborates, "I don't expect anybody who applies here to know everything about us… If they come across as genuinely interested in learning about who we are and what we do what we do, that's almost good enough." The group of teachers hired this year, along with every teacher, undergo a year-long formation process. Along with frequent conferencing with their respective department chairs, all new teachers are assigned a veteran teacher to serve as their "mentor." When asked about this process, Garrison describes it as "a formation process' rather than an 'evaluation process.' We've all got to be evaluated, but we all have to be formed."
The invaluable nature of the faculty is characterized by the diversity of the staff. Whether the teachers have only student-taught before or have been teaching for upwards of twenty years, Mr. Garrison believes that "I think this place is nothing without the faculty… These are teachers who bring special, individual, and unique gifts, and that's what makes us what we are. I think there's great power and strength in that."
Please welcome the new faculty in some fashion by either greeting them in the hall, or visiting them in their office and introducing yourself. Either way, they will greatly appreciate the gesture!