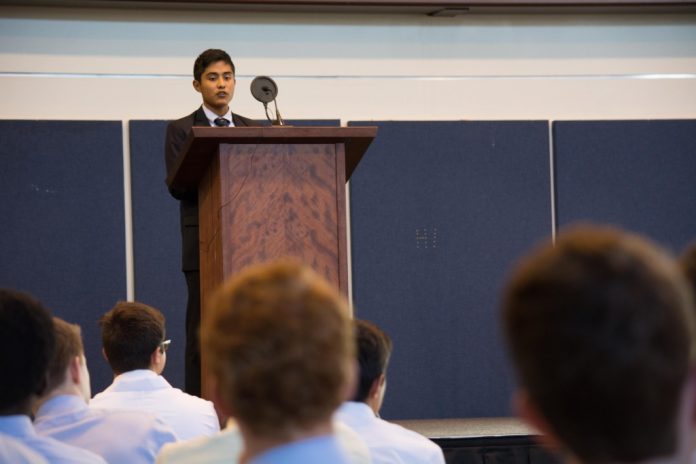 When one envisions a traditional summer job, activities such as observing genetic mutations in mice, identifying how certain pathogens use virulence effectors to infect eukaryotic cells, and quantifying the functional activation of the dysplastic cortex of the brain don't often come to mind. But for three Jesuit seniors, Erik Sanchez- Perez, Noah Sherer, and Joe Carver, these activities are exactly what their summer jobs entailed.
This summer, these three participated in UT Southwestern's STARS (Science Teacher Access to Resources at Southwestern) Research program which provides students with a hands-on experience with proper medical technology in a modern biomedical research laborat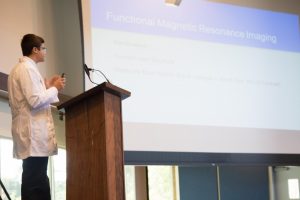 ory. The eight-week summer program was founded in 1991 to "encourage students in North Texas with excellent academic records and a love of science to pursue science-related fields." Click here for more information.
Each year, members of the Jesuit Medical Society are encouraged to apply to the program, working with Society moderators Mr. Max von Schlehenried '06, Mrs. Stephanie Boyle, and Mrs. Enid Sanchez on perfecting their application, resumes, and interview skills before applying to the program. Traditionally, Jesuit has about three rising seniors accepted each year, and this summer was no different. Likewise, after the conclusion of their work in the lab each student prepares a exhibition summarizing their experience, presenting to the Medical Society once the school year begins. The 2016 participants presented in late October, drawing a large audience of students, teachers, administration and even STARS program lead, Dr. Stuart Ravnik.
Dr. Ravnik, Associate Dean at UT Southwestern Graduate School and Associate Director of STARS, described the program as giving "each participant [a responsibility to] carry out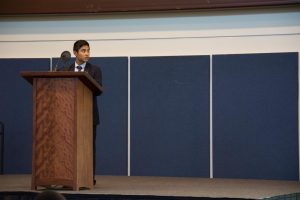 independent, novel, biomedical research under the direction of a more experienced day-to-day mentor." Commenting on the Jesuit participants, he noticed that, over the summer, "they all grew in confidence and poise." More specifically, "Joe became more easy-going around adults, Erik showed that he can be both serious and fun, and Noah learned how to become more independent." Also discussing how Jesuit participants stand out, he identified their "strong academic skills," and a "[quickness] to grasp new ideas," easing their "initial learning curve."  Speaking on his general interactions with STARS participants, Dr. Ravnik especially enjoys "watching a naïve, never-been-in-a-lab high school kid blossom into a creative, thinking junior scientist at the end of 8 weeks," showing the future of research to be promising.
Presenting first, Erik Sanchez-Perez described his research objective as "to learn more about how vibrio parahaemolyticus, a human pathogen that causes acute gastroenteritis (stomach flu), using a specific virulence effector to inject virulence proteins, known as effecto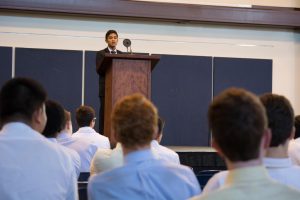 rs, directly into eukaryotic host cells. Understanding how this works can help researchers determine which organism is vibrio parahaemolyticus's natural host, since humans are merely accidental hosts." After going into great depth about the technicalities of his assignment, he discussed his exposure "to the intricacies of working as a scientific researcher every day, while realizing the good and the bad of science. I realized that science can be interesting and exciting, especially when an experiment yields the results that you intended to get. However, I also realized that science can be boring at times and incredibly wasteful in terms of materials. It made me think about what area of science I would like to be involved in by giving me the experience to make a more informed decision."
Though his days were long, often "arriving at UTSW before 9am and departing sometime between 4-7pm," Sanchez-Perez viewed his experience as a unique opportunity, both "incredibly exciting, yet intimidating at the same time! Knowing that you are basically working alongside such talented and brilliant minds that exemplify the utmost professionalism and dedication to their work is rewarding to say the least." Erik encourages all students interested in the medical field to "do [STARS]! Apply early! Show who you are in your essay and practice being yourself for the interview. Don't let the program intimidate you to the point that you don't apply, because in the end, it is all worth it."
Noah Sherer shared a similar positive experience when presenting on his research, citing "the experiences and the connections I got from STARS were most important. Sure I did some clinical research, but I more importantly I learned that I like the research proces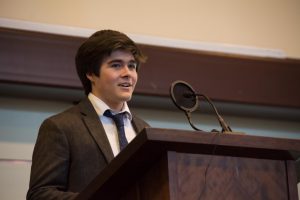 s. I also met a number of research professionals and other like-minded students, while immersing myself in the medical world/way of life." Sounding like a true research professional, he described the nature of his project: "We quantified the functional activation of the dysplastic cortex. This means that I quantified the activation within abnormal lesions in the brain when they became activated do to various tasks. I then compared the data from the abnormal cortex to activations within normal homologous eloquent cortex." Sherer built a number of lasting relationship while participating in STARS, stating that he "still keeps in touch with both doctors I worked with, and they even asked me to present our research paper in front of a neuro-radiological conference, which was actually surprisingly fun to do."  Additionally, he was even offered a job in his research lab when he turns eighteen.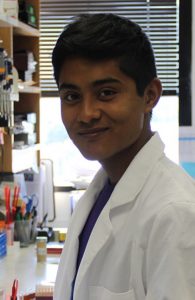 Lastly, Joe Carver presented on behavior analysis of mice with certain mutations that could potentially affect their anxiety level. He was tasked with the unfortunate, yet necessary job of counting rat droppings, which provide evidence to researchers of each mouse's anxiety level, i.e. more droppings produced indicate high anxiety. Through his work, he "got a lot of experience on the various methods and procedures professionals use when conducting research," even hoping "to use my experience for potential research opportunities in college." He was also tasked with "doing data analysis on the computer, creating a series of graphs to better analyze the data collected in the field tests." Joe found his STARS experience to be "very interesting," and described his work load as "not too bad; I was given plenty of work, but nothing I couldn't handle." Like his fellow participants, he suggested all those "interested in medicine, science, or hoping to pursue undergraduate research" to try the program.
The STARS program provides unique exposure to an often isolated portion of the medical field, in which it is rare to gain experience prior to college. However, Dr. Ravnik provided some sage advice to any hoping to pursue medicine, encouraging students to, "chill out, relax, and enjoy learning. Stop trying to do everything now in high school and just keep learning and getting some exposure. You don't have to have clinical or shadowing experiences as a high school student. You don't have to take medical classes as a high school student. Just learn about learning, developing strong study habits and get ready for a well-rounded college experience. And have some fun along the way!"
Ravnik closed by saying that when interviewing applicants for STARS, he looks for those possessing not only a "love of science," but also "willingness to take a risk, flexibility, engaging personality, maturity, and a sense of fun and wonder in discovery." So if you are a Junior who has these qualities, and is interested in medical research, apply to STARS, it could open a door to your future!
Visit http://www.utsouthwestern.edu/education/programs/stars/programs/summer-research-opportunities.html to find out more about STARS research, or talk to Mr. Von, Mrs. Boyle, or Mrs. Sanchez about applying.
Photography by Sam Cormier '17