On Wednesday, September 25th, students, parents, and teachers gathered in Hughes Hall to celebrate the Class of 2020's academic achievement at the annual Academic Recognition Ceremony. Seniors were honored for their accomplishments on both the PSAT and their respective AP Exams.
AP Scholar Awards
The AP Scholar Awards recognize students who have demonstrated exemplary achievement on college-level AP Exams. In addition to the thirty from the Class of 2019, nineteen seniors were recognized as AP Scholars. The award is granted to students who score a three or higher on three or more AP Exams.
Class of 2020 – AP Scholars
Jack Barton
Ermias Belay
Ryan Boyle
Jack Carroll
John Casey
Jacob Clarkson
Thomas Cluck
Will Florer
Aidan Hoofard
Thomas Johnson
Liam Leahy
David Lee
Trevlan MacGregor
Liam McColgan
Daniel O'Brien
John Pattee
Cameron Pham
Duc Pham
Jacob Phillips
Ricardo Ponte
Jack Rahlfs
Matteus Schmidt
Stephen Staples
Juan Tellez
Michael Turner
Matthew Yerrington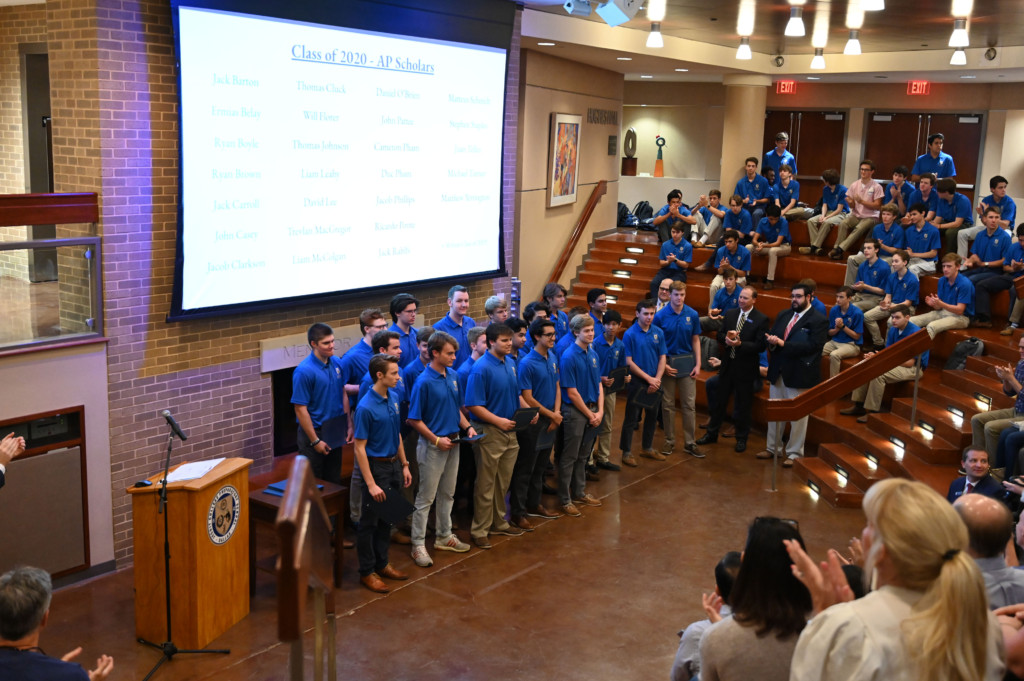 The AP Scholar With Honor Award is granted to students who receive an average score of at least 3.25 on all AP Exams taken, and scores of 3 or higher on four or more of these exams. In the Class of 2020, 18 students were recipients of this award.
Class of 2020 – AP Scholar With Honor
Jacob Bartholomew
Ford Buckner
Ashton Casey
Patricio Chapa
Dagmawe Daniel
Joseph Ferri
Adam Hall
William Kelton
Marshall Mann
Garrett Nagorzanski
Matthew Owens
Zachary Pendola
David Ritter
Michael Scheibe
Rawley Schott
Asher Smith
Michael Turner
Stephen Walker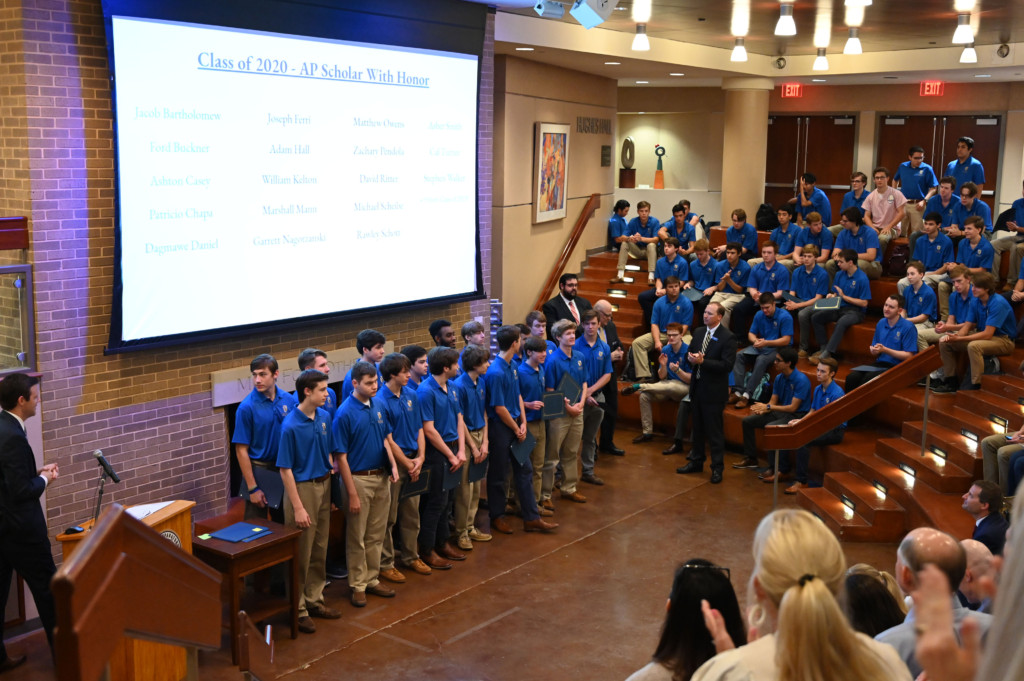 In the next level of recognition, the AP Scholar with Distinction Award is granted to students who receive an average score of at least 3.5 on all AP Exams taken, and scores of 3 or higher on five or more of these exams. Eight seniors received this esteemed award.
Class of 2020 – AP Scholar With Distinction
Javier Arroyo
Frank Ashmore
Matthew Cox
Samuel Dayton
Patrick Gehan
Silas Hartman
Antonio Marques
William Nickols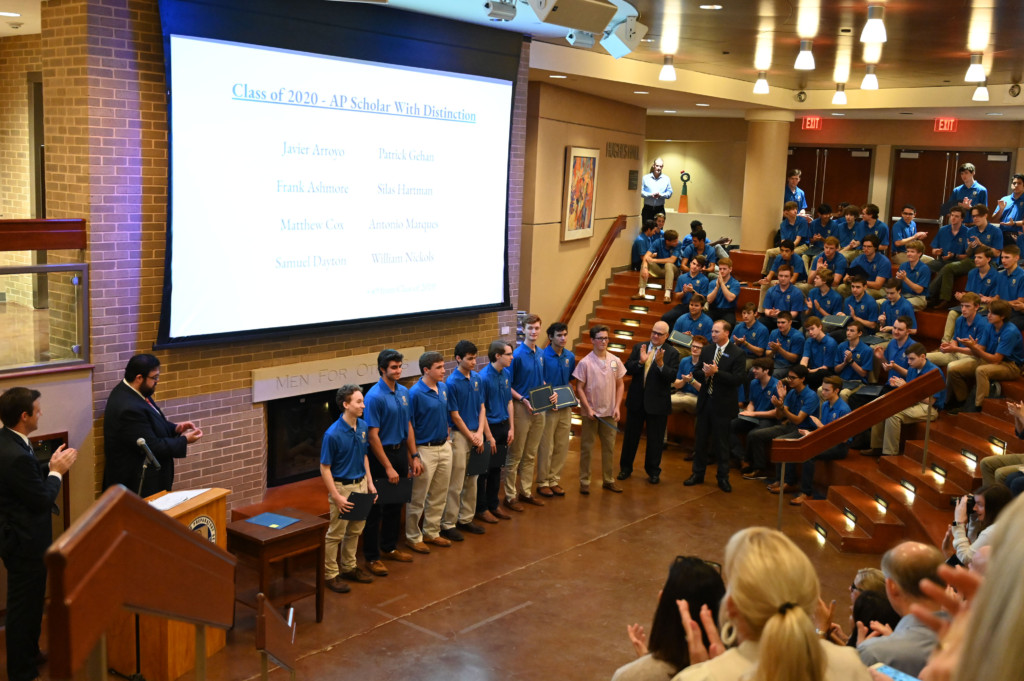 Lastly, the National AP Scholar Award is granted to students who receive an average score of at least 4 on all AP Exams taken, and scores of 4 or higher on eight or more of these exams. One student in the Class of 2020, Matthew Cox, was recognized as a National AP Scholar.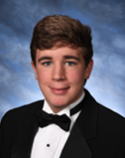 National Merit Awards
Each fall, juniors across the country take the PSAT and enter the National Merit Program, an academic competition for recognition and scholarships. Out of the 1.6 million test-takers, only the top 50,000 scorers qualify for recognition in the National Merit Scholarship Program. In the Class of 2020, 35 Jesuit students were recognized for their outstanding performance.
The National Hispanic Recognition Program recognizes 5,000 of the 250,000 Hispanic/Latino test-takers, 15 of which belong to Jesuit:
Class of 2020 – National Hispanic Recognition
Javier Arroyo
Saul Cano
Ashton Casey
Mark Costa
David Lee
Antonio Marques
Ricardo Ponte
Jorge Rivera
Cesar Saldivar
Emilio Sanchez
Matteus Schmidt
Juan Tellez
Michael Turner
Jack Walker
Letters of Commendation are sent to the top 3% of test-takers each year in recognition of their outstanding academic promise. Some of these Commended Students become candidates for scholarships. In the Class of 2020, 15 students received Letters of Commendation.
Class of 2020 – National Merit Commended
Frank Ashmore
Jack Barton
Ford Buckner
William Carr
John Casey
Jacob Clarkson
Dagmawe Daniel
Samuel Dayton
Patrick Gehan
Collin Landry
Marshall Mann
Zachary Pendola
Duc Pham
Emilio Sanchez
Michael Turner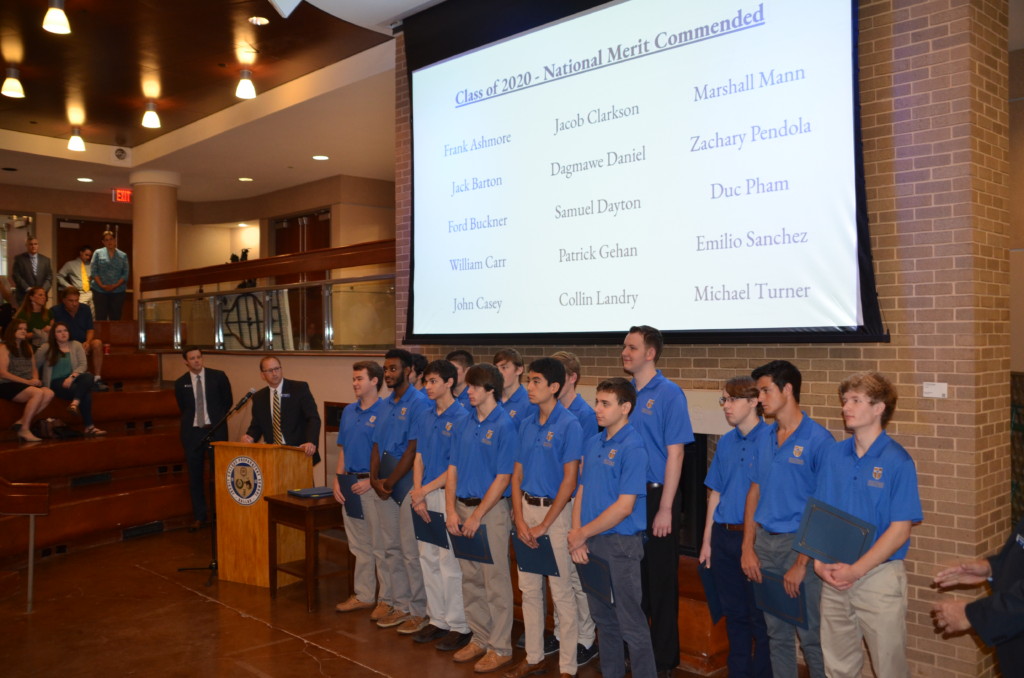 Finally, the top 1% of test-takers are recognized as National Merit Semifinalists: the first step in becoming a National Merit Scholar. In the Class of 2020, six Jesuit students qualified as Semifinalists.
Class of 2020 – National Merit Semifinalists
Javier Arroyo
Matthew Cox
Antonio Marques
Garrett Nagorzanski
William Nickols
Rawley Schott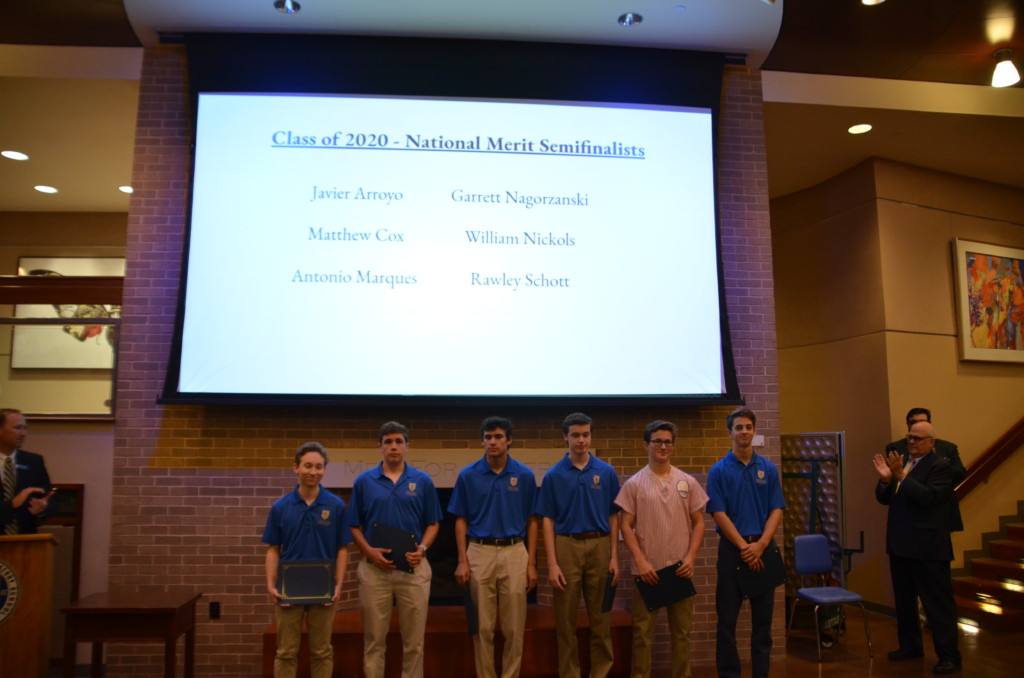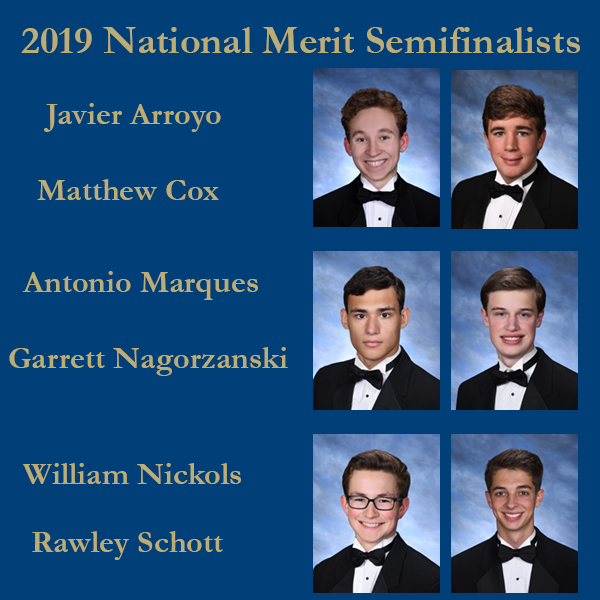 Student Commentary
Trey Ashmore '20 explained this significance of the ceremony to him:
"I think it's important to celebrate these academic feats, not only because it looks good for the school but also because it validates that our efforts are actually worth something. Speaking from personal experience, sometimes the school grind seems unbearable; as I'm responding to your request for commentary, I'm bogged down by a mound of school work on top of having two quizzes and a test tomorrow. Balancing school with extracurriculars and sports and everything else, when you're only getting a couple hours of sleep, it's easy to question the ultimate purpose of all this work, to doubt whether the effort is actually worth it.
Ceremonies like these validate that our grind is actually contributing to something other than chronic stress and sleep deprivation, that we're representing Jesuit in a positive light through our successes, that we're broadening our horizons in multiple disciplines to become more educated young adults.
I also think it's easy for people to sit back and just celebrate how 'smart' the recipients of these rewards are. I don't think it's a celebration of how smart we are but rather how much hard work we put into achieving these academic standards."
Another award recipient JJ Tellez '20 commented, "It was great to celebrate all the achievements me and my classmates have earned through their hard work the last three years at Jesuit."
Parent Commentary
Amelia Hartman, mother of Silas Hartman '20, explained how she "enjoyed getting to recognize and celebrate these students for their hard work and outstanding academic achievements. It was fantastic to see how much the guys really appreciate and support each other."
Frank Ashmore '86 also added:
"It was nice to see academic achievement get its just recognition. Jesuit is privileged to have leaders such as Mike Earsing and Tom Garrison at the helm. No matter what the accolade is for the boys, it seems they're always stressing the well-rounded nature they strive to have these young men become. It's not simply achieving this or achieving that. It's in addition to being an active member of the community and embodying the tenets of the profile. In turn, it instills [in them] the desire to put [their] gifts and talents to good use in the community."
Closing Thoughts
Amidst the top-notch athletic programs found here at Jesuit, the academic excellence of our students is often overlooked. The Academic Recognition Ceremony provides a rare opportunity to highlight and celebrate the student body's vast scholastic achievement and competency. Congratulations to all who were recognized at this year's ceremony.
Stay tuned to The Roundup for more academic news and updates.