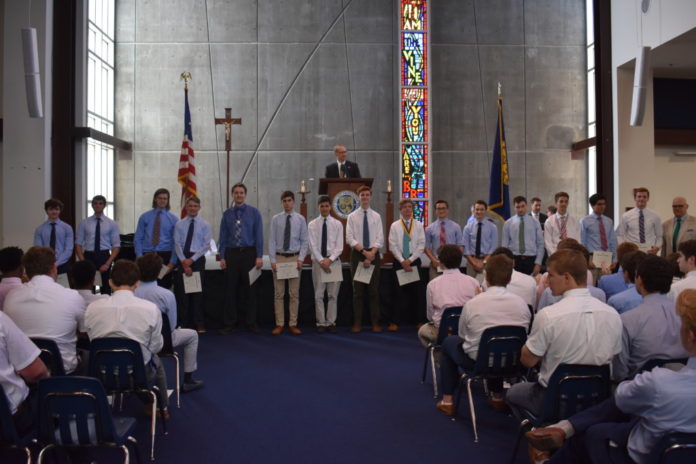 The Jesuit Class of 2020 is undoubtedly the best class to ever grace the halls of Jesuit Dallas. How can the achievement of such a legendary class be celebrated? With the junior convocation.
The junior convocation annually celebrates the achievement of the junior class, held in the Terry Center on May 21, 2019 at 2:30 pm. The convocation was organized by extracurricular and academic awards and scholarships. If you missed this year's junior convocation, you can view the event's live stream here.
Junior Convocation Pictures
Extracurricular Awards
Participation in extracurricular activities is encouraged and valued at Jesuit. Such participation serves to foster a student's talents in ways that go beyond the purview of the classroom. The school recognizes those students whose involvement in extracurricular activities has been exemplary.
Ambassadors: Liam McColgan
Student Council: Silas Hartman
Community Service: Sam Dayton, Will Florer, Matthew Freeman, Thomas Johnson, Daniel O'Brien
The Roundup: Trey Ashmore, Jack Corrales, Silas Hartman
Jesuit Medical Society: Will Nickols
Manna for Others: Liam Leahy, Dan O'Brien
Model UN: Trevlan MacGregor
Key Club: Abraham Martinez, Liam McColgan
Jesuit Competitive Shooting Club: Matthew Freeman, Jacob Phillips
Junior Classical League: Will Kelton
Bronze Medal in the National Spanish Exam: Marshall Mann
Bronze Medal in the National French Contest: Daniel Gutierrez-Gorham
Gold Medal in the National French Contest: Ramon Dosal
Gold Medal in the National Latin Exam: John Casey
Silver Medals and certificates for the National Latin Exam: Jonathan Demarco, Emilio Sanchez
Stage and Film – Theater Emphasis: Will Florer
Jesuit Multicultural Society: Jhalen Spicer
Robotics: Luke Arrambide, Will Madden, Blake Mahowald
Launch X: Trey Ashmore
Interact Club: Sam Dayton.
The National K-12 Ceramics Exhibition Foundation accepts 158 pieces out of 1,146 pieces submitted at the National Ceramics Exhibition, held this Spring in Minneapolis, Minnesota. Two Jesuit students were selected to be included in the exhibit.  For outstanding accomplishment, we recognize John Hibbs and Cole Lenzen.
UIL academic competitions exist to complement the academic curriculum. They are designed to motivate students as they acquire higher levels of knowledge, to challenge students to confront issues of importance, and to provide students with the opportunity to demonstrate mastery of specific skills. In UIL Ready Writing:
4th in District: Rawley Schott
6th in District, 3rd in Regionals, and 6th in State: Will Florer
Academic Awards
Jesuit is now pleased to honor those students who, by their exceptional dedication and achievement, have merited recognition by the various academic departments of the school.
Computer Science Department
Programming 2: Ford Buckner, Diego Celorio, Cole Lenzen
Programming 2: Web Development: Ty Donnelly
Honors Advanced Java: Jack Casey
English
English 3: Jack Carroll, Jack Devereux, Collin Landry, Jalen Leonce
AP Literature & Composition: Will Nickols, Rawley Schott
Fine Arts
Ceramics Throwing: Matteus Schmidt
Ceramics Hand-Building: Jake Kogar
Advanced Ceramics: John Hibbs, Cole Lenzen
Photography: Jack Holloran, David Lee
Drawing: Matthew Freeman, Gregory Pope
2D Design: Digital Media: John Pattee
AP Studio Art: Drawing: John Mandell
Music Appreciation: Patricio Chapa, Thomas Johnson
Music Theory: Ricardo Ponte
Intro to Jazz History & Improv: Jamison Briscoe, Benjamin McCarley
Chamber Orchestra: Marcus Charalambopoulos, Peder Johnson, Will Nickols
Men's Chorus: Gabe Norris
Band: Ricardo Ponte
Stage and Film Writing: Matthew Owens
Theater Arts: Gavin Martinez
Stagecraft: Connor Jacquart, Michael Kaufman
Language
Spanish 3: Ashton Casey, Gavin Martinez
Honors Spanish 3: Ford Buckner, Liam Leahy
Spanish 4: Thomas Johnson, Ethan O'Neill
Honors Spanish 4: Marshall Mann
AP Spanish Language & Culture: Matthew Cox, Silas Hartman, Diego Sierra
French 3: Diego Celorio
Honors French 3: Trevlan MacGregor
Latin 3: Jared Narvaez
Honors Latin 3: Will Kelton
Honors Latin 4: Will Florer
Mandarin 3: Jose Beciez
Honors Mandarin 3: Luke Arrambide
Mathematics
Algebra 2: Alejandro Cepeda, Matthew Naquin, Carlo Ruggiero, T-Monk Simons
Honors Algebra 2/Trig: Jack Barton, Ford Buckner
Honors Advanced Algebra 2: Ashton Casey
AP Statistics: Will Nickols
Honors Pre-calculus: Will Nickols
AP Calculus BC: Trey Ashmore, Matthew Cox
Jesuit joins hundreds of other schools across Texas and the entire country each year in participating in two math competitions.  They are known as the TXML (the Texas Mathematical League) and AMC 12 (the Mathematical Association of America).  Jesuit recognizes the highest scoring students for each of these competitions. The highest-scoring junior for the AMC 12 is Antonio Marques and for the TXML, Trey Ashmore.
Science
Physics: Cooper Herndon, Tommy Hovivan, Mark Huber
AP Chemistry: Will Nickols
AP Physics 1: Algebra-Based: Jack Casey
Social Studies
US History: Braxton Boyle, Matthew Freeman, Cole Lenzen, Colton Sochia
AP US History: Jacob Clarkson, Trevlan MacGregor
Theology
Sacrament, Morality & Justice: Ashton Casey, Dagmawe Daniel, Adam Hall, Alex Rivera, Max Zirkman
The Office of Campus Ministry fosters religious growth in light of Catholic tradition and the vision of St. Ignatius of Loyola by supporting all members of the Jesuit Dallas Community in their call to proclaim the faith, promote justice, and grow in their personal relationship with Jesus Christ.  St. Stanislaus Kostka was a great model of growth and faithfulness to Christ as he was determined to become a Jesuit against all odds. The St. Stanislaus Kostka Award is presented to Nash Crawford and Marco Orendain.
The Brother Burt Rivet, S.J. Award is named for a Jesuit brother who was a gifted artist and who was instrumental in starting Jesuit Dallas' art program.  His works of art are proudly displayed in our museum collection.  Brother Rivet's skills in the realms of art and design have moved us to present an award in his honor to outstanding members of Jesuit Dallas' yearbook staff. For dedication in their work with the yearbook, The Last Roundup, the Brother Burt Rivet, S.J. Award is presented to Samuel Dayton and Joseph Ferri.
Haggerty Math/Science Awards
Each year, one-year, $1,850 tuition scholarships are awarded to selected students entering the Sophomore, Junior, and Senior grade levels.  Funding for the scholarships has been provided by the Jesuit College Preparatory School of Dallas Foundation. These scholarships are awarded to individuals pursuing involvement and excellence in Math and Science while exhibiting leadership and service. The Juniors receiving the Haggerty Math/Science Academic Scholarships for their Senior year are:
Aaron Aldinger
Frank Ashmore
Ryan Brown
Ashton Casey
Jack Casey
John Corrales
Samuel Dayton
Silas Hartman
Marshall Mann
Will Nickols
Dan O'Brien
Matthew Owens
Rawley Schott
JJ Tellez
Matthew Yerrington
Book Awards
Each year, colleges and universities around the country honor deserving high school juniors for academic achievement, work in their community, and commitment to leadership and service which distinguishes them from their peers.
The Bausch & Lomb Science Award recognizes outstanding academic achievement and superior intellectual promise in the field of science.  This year's recipient is Will Carr.
The Xerox award for information and technology recognizes an outstanding Junior who demonstrates achievement in the pursuit of innovative approaches and an appreciation for the possibilities of technology. This year's recipient is Gabe De Conto.
Each Spring the Eastman Kodak Company recognizes juniors across the nation for their outstanding achievement in leadership and academics.  The 2019 Kodak Young Leaders Award is presented to Diego Sierra.
The Rensselaer Medal book award is presented to a rising Senior who has excelled in math and science and may consider a career in science, information technology, or web science. This year's recipient is Trey Ashmore.
Each year Harvard University recognizes a Junior who has demonstrated academic excellence along with a commitment to serving the community and participation in extracurricular activities. This year the Harvard Book Award goes to Will Nickols.
The Frederick Douglass Award in Humanities and Social Science is awarded to a Junior who demonstrates commitment to understanding and addressing difficult social issues, is actively involved in community service and has a desire to improve himself academically.  The Frederick Douglass award is merited by Ermias Belay.
The Holy Cross book award is given each year to the Junior student who has exhibited exceptional academic achievement and also demonstrated through some specific action, sincere concern for others and a responsible attitude in all of his endeavors.  This year's recipient is Matthew Cox.
Aspiring writers often find their voice at Kenyon College. The Kenyon College Presidential book award is presented to a Junior who has demonstrated intellectual engagement, creativity, and a commitment to the community.  This year, that Junior is Marshall Mann.
The Le Moyne "Reaching for the Heights" award is given to a Junior who is reaching for the heights in the classroom and in participation in the school and community.  The Le Moyne book award recipient is Silas Hartman.
The University of Virginia book award is presented to a well-rounded Junior whom Jesuit considers to best represent the Jeffersonian ideals of scholarship, leadership, and citizenship.  The Virginia book award recipient is Rawley Schott.
The Yale book award is presented to a high school junior with exemplary academic achievements who has also displayed intellectual promise and outstanding personal character.  This year's Yale book award recipient is Jack Casey.
Scholarships
Shakespeare Award
The Shakespeare Award is presented to a high school junior who demonstrates a deep interest and curiosity about literature and how great literature works.  He exhibits a noticeable talent in his own writing, an interest to grow in his skill as a writer, and he inspires and motivates classmates to develop a greater appreciation for literature.  This award comes with a $1,000 scholarship provided by Steven and Lisa Meyer. The scholarship is to be applied to their senior year tuition.  The Shakespeare award is presented to Will Florer.
Collins Awards
The James M. Collins Citizenship Award, including a $1,000 scholarship, was founded to honor the memory of the late Congressman James Collins and is awarded to the juniors who best exemplify those values which the Honorable Mr. Collins represented:  knowledge of history and government, participation in the community, and American citizenship. This year's recipients of the James M. Collins Citizenship Awards are Jacob Clarkson and Trevlan MacGregor.
Counselors' Scholarships
The Counselors' Scholarships are funded by an anonymous benefactor who wanted to honor a student who is committed to being a Man for Others, who tries his best, but may not be recognized as a top academic student.  They may be involved in their church, Jesuit or their community, but they are a strong example of what Jesuit represents. The Counselors' Scholarship, consisting of a $700 tuition grant, is awarded to Penn McCormack
The Science Honor Award
The Science Honor award was established by Charlene Dorsey, the wife of the late Don Dorsey. Don was a revered chemistry teacher at Jesuit Dallas from 1966-1996. The award is given to a rising senior who has the intent of majoring in science or engineering, has demonstrated outstanding academic competence, and exhibits high levels of motivation, curiosity and original thinking in the sciences.  The 2019 Science Honor Award, in the amount of $2,000, is presented to Bryan Bowling.
Frank Guida '02 Memorial Scholarship
The Frank Guida '02 Memorial Scholarship was established by Karen and Joe Guida and the classmates of Frank Guida to recognize a Junior student who strives for excellence and has exhibited substantial talent and promise in music, theater, or art.  We are pleased today to recognize and celebrate a Junior student who has demonstrated exceptional abilities in the fine arts.  The 2019 Frank Guida Memorial Scholarship in the amount of $800 is presented to John Sample.
T.J. Martinez, S.J. Scholarship
The Father T.J. Martinez, S.J. Memorial Scholarship was established in 2016 in the memory of Father Martinez, S.J. and is awarded to a rising Senior who has distinguished himself by exemplifying the spirit of community service that Fr. Martinez championed as the Director of Community Service.  The 2019 T.J. Martinez, S.J. Memorial Scholarship, in the amount of $1,100, is presented to Sam Dayton.
Bachendorf Scholarship
The Bachendorf Scholarship was established by Mr. Bock to recognize a Junior student who has shown the most improvement academically. This year's recipient of the Bachendorf $2,000 scholarship is Nolan Sledge.
Dean Oliver Clarke Memorial Scholarship
A scholarship was established in 1995 in the name of Dean Oliver Clarke of the Class of '94.  The Dean Oliver Clarke Memorial Scholarship is singular in its distinction as the only Jesuit scholarship that is without need, scholarly or extracurricular requirements.  The purpose of the scholarship is to honor Dean, whose greatest gift to the community was himself.  This scholarship, therefore, is based on the character of the student and his essential quality as a member of the school community — who, in words from our mission statement, "responds with a generosity beyond the ordinary and commonplace" and who has, therefore, helped "create a school community in which each individual and group receives respect and support." This award carries a $2,000 scholarship stipend to be applied to senior year tuition. This year's Dean Oliver Clarke Memorial Scholarship is merited by Jalon Mack.
Louis Kramer Memorial Scholarship
The Louis Kramer Memorial fund was created by Kris and Matt Kramer to honor the memory of their first born son who died at the young age of two.  Jesuit education has been a hallmark of the Kramer family since 1904 at St. Louis University High School in Missouri.  Community service being a core component of the profile of a Jesuit graduate, the Louis Kramer Memorial was established to recognize and celebrate a Junior student who has shown exemplary dedication to service during his Junior year, accumulating the second-most service hours of any in his class. The 2019 Louis Kramer Memorial Scholarship, in the amount of $3,000, is presented to Dan O'Brien.
Shannon Family Scholarship
In 2005, Pat Shannon established the Shannon Family Scholarship, which recognizes excellence in community service and social justice.  The recipient, a Junior, is a student that has completed one year of work grant at Jesuit and who lives the example of our school's motto of "Men for Others." The 2019 Shannon Family Scholarship, in the amount of $3,000, is awarded to Trevlan MacGregor.
Scott McWhorter Award
In 1995 a scholarship fund was established at Jesuit Dallas in memory of Scott McWhorter, Jesuit class of 1993, to be given to the student who best exemplifies Scott's desire to always put forth his best effort in academics and athletics and to demonstrate a genuine concern for all his fellow students and those less fortunate than he.  The Scott McWhorter award honors a student noted for his concern for others and his commitment to Jesuit. The McWhorter award carries a scholarship amount of $10,000 to be applied to senior year tuition.  The 2019 recipient of the Scott McWhorter award is Ford Buckner.
Andrew W. Bark '98 Memorial Scholarship
This scholarship is awarded to a rising Senior who best reflects the artistic talents, character, and spirit of Andrew Bark, Class of '98.  This scholarship is unique in that it rewards a student's passion for art above any other criteria.  Andrew was a brilliant artist, and when he passed away in August 2002 from a courageous fight with cancer, his friends and family created this scholarship as a way to honor his legacy.  It is my distinct privilege to award the 2019 Andrew W. Bark '98 Memorial Scholarship in the amount of $15,000 to Jack Mandell.
Henrion Scholarship
The Henrion Award, established in 1987, is given by the Henrion family in memory of Tim, who was tragically killed in an automobile accident just days before he began his senior year at Jesuit in 1986.  Tim had looked forward to participating in a wide variety of senior activities and extracurriculars.  This award is a full tuition grant, plus a stipend for personal expenses, given to a student in the Jesuit work grant program, to free him from his work obligation and allow him to more fully participate in Jesuit activities and extracurriculars during his senior year.  The Henrion Award recognizes a work grant student who has excelled in academics, in activities, and who has conscientiously and enthusiastically carried out his work grant responsibilities. On behalf of the entire Henrion family, I am pleased to present this year's Henrion Award to Junior Matthew Freeman.
Man for Others Award
Jesuit's 'Man for Others' award is given each year to students who exemplify, in their words and actions, what it means to be a Jesuit student.  They have demonstrated in their dealings with others the ability to give of themselves selflessly.  The award carries with is a $1,000 scholarship furnished by the Jesuit Women's Auxiliary. This year's Junior 'Man for Others' award is presented to Liam Leahy.
Pedro Arrupe – Outstanding Junior
Pedro Arrupe, Father General of the Society of Jesus, often spoke and wrote of the mission and direction of the Jesuit schools.  Father Arrupe first used the phrase "Men for Others" and challenged Jesuit schools to form students into men who use their gifts in the service of others.  The Pedro Arrupe award is merited by a Junior student judged by the faculty as most representative of the values of a Jesuit education.  He is a student committed to educational growth, the pursuit of justice, a willingness to serve, a compassion for all, and openness to the Spirit. The 2019 Pedro Arrupe award is presented to Will Florer.
Reflections of the Recipients
Matthew Freeman '20
"As Mr. Henrion stepped to the podium to introduce the Timothy W. Henrion '87 Scholarship Award in memoriam of his brother, I wasn't sure what to expect because of the numerous qualified students who had applied for the scholarship in early March. My heart was racing as he proceeded, and I was overwhelmed with an exhilarating sense of joy when my name was called in recognition of the award.
My family and I are very grateful for the generosity of the Henrion family; being named the recipient of this award means a lot to us not only because of the financial aspect, but also the high esteem that is associated with the award. I truly enjoyed the convocation as a whole because it served as a way for our class to come together in recognition of each other as we transition into leading the school as seniors next year. It also was a great moment to experience the senior courtyard together as a class for the first time following the convocation!"

Ford Buckner '20
"The McWhorter Scholarship announcement spelled out the various virtues of the ideal Jesuit student, and I began to think about some of my classmates that I imagined met the profile. Upon hearing that I won the award, my heart began to race with joy and excitement.
Winning the award, I felt very proud to represent my family and in some way contribute to the work my parents put in to send me through such a prestigious school as Jesuit.
I really enjoyed the ceremony as a whole. It feels good to acknowledge all of my friends for their accomplishments and show class pride going into senior year!"
Will Nickols '20
I was very pleased to receive the Harvard Book Award, I'm very interested in the school and had a chance to tour last summer.  I saw all the awards as a nice recognition of the work I've put in this year.  Obviously, the knowledge I've gained and the relationships I've developed during the year are by far the important part, but I'm grateful for the award.
Silas Hartman '20
"Not to sound too cliché, but I was pleasantly surprised when my name was announced to win the Le Moyne College Heights Award. It was super cool to receive that award because it meant that people at Jesuit have noticed my work in school, which is very satisfying. I was surprised that I won the award because I feel like there are so many other students who are reaching for the heights at Jesuit.
Winning the award meant a lot to me because I feel like my work with creating videos for the school was recognized and appreciated. It was nice to see my hard work pay off.
I really liked how the convocation covered the whole spectrum of students, from athletes to guys who did a lot of service hours, to students who don't usually get a lot of recognition. It's nice that all types of students are recognized, not just the ones who excel in the classroom."
Sam Dayton '20
"I won the TJ Martinez, SJ award for community service involvement. I had actually sort of zoned out about halfway through the award description in assumption it would go to Matthew Freeman or Dan O'Brien, so wasn't entirely sure what I was called for when Mr. Garrison initially called my name. It is certainly one of the more, if not the most, valuable award I'll receive at Jesuit. Getting recognition for my involvement in community service was really rewarding, as I've done a couple hundred hours of community service and never thought I would receive anything like this for it. The junior convocation was a great experience to celebrate the amazing achievements of my classmates, and also provided an uplifting and inspiring conclusion to our junior year, especially in the wake of Jimmy's death."
Will Florer '20
"Winning the Pedro Arrupe SJ Award was extremely humbling. My family and I were beyond grateful that the Jesuit faculty recognized my efforts this past year as most representative of the values of a Jesuit education. However, it was more special for me to see all of my classmates achieving other such high honors at our Junior Convocation. The Class of 2020 is truly dedicated and persistent in all of its endeavors, and I couldn't be more proud."
Stay tuned to The Roundup for more news on the Jesuit student body's academic achievement.