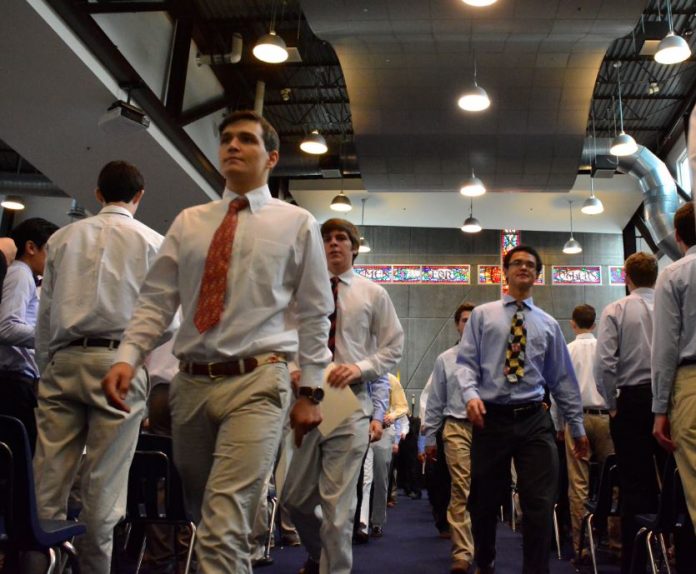 For many freshmen, Senior Convocation is just another dreary event with Mr. McDaniel or Mr. Garrison listing off the names of people they've probably never met, but, as students progress in their Jesuit career, they begin to grasp the significance of this event. On the morning of Friday, May 8th, the Class of 2015 finally experienced this significance firsthand.
After all the seniors filed into the Terry Center with the rest of the school for the final time, Fr. Huete, S.J. led a prayer and all the students sang the alma mater. The convocation then began with an acknowledgment of all the military appointments from the Class of 2015. This year's graduating class saw a number of well-deserving students, such as Emiliano Gonzalez, who will be attending The United States Military Academy at West Point, accepted into prestigious military academies. Demonstrating his support of these students, Mr. Garrison explained, "We all owe these young men our congratulations and sincerest gratitude for committing themselves to the service and security of our nation."
Subsequently, Mr. McDaniel announced the winners of the copious academic awards in every academic subject. For the seniors who have won these awards in the past, winning another at their final convocation might not seem very special, but to others, it represents their final opportunity to be recognized as the top student for one of their teachers.
Roman Kimbrell, who will be attending Texas A&M University in the fall, serves as a prime example of this very situation. He had never won an award at convocation before, so, when his name was called as the winner of the Stagecraft award, he was ecstatic. When asked about what the award meant to him, Roman described it as "insane knowing that I was winning an award for my last year at Jesuit with all of my brothers from the Class of 2015 to see," truly proud of his accomplishment. Roman's younger brother, Felix Kimbrell '17, commented, "To be honest, I didn't know Roman was in stagecraft until he got the award, but I'm happy for him and glad his hard work has paid off," when interviewed about how he felt about his brother's accolade.
After the academic awards came the extracurricular awards and a chance for a new group of students to be recognized. Students who may not excel in the classroom but in their clubs and activities are provided with the opportunity to win an award. Awards range from The Brother Burt Rivet, S.J. Award, given to students for their dedication to The Last Roundup, merited by Will Scott and Michael Shropshire to an award for outstanding service to Robotics, merited by Kieran Celii.
In addition to honors for specific clubs and groups, awards based on how well a student reflects Jesuit values are also presented. These are the most coveted because the school presents them to the students with the best character rather than simply academic achievement or participation in a club.
For example, Parker Thompson, who won the prestigious "Man for Others" Award, one voted on by all the faculty, along with Michael McReynolds and Patrick Joseph, expressed that "it was such a great honor to receive recognition from teachers who have helped me so much these past four years."
Parker, no newcomer to winning awards, was also given Campus Ministry's "Hearts on Fire" Award and has won various others throughout his Jesuit career. Even with his success, Parker, attending University of Dallas this fall, maintained his humility and asserted, "it's always a great surprise when to be chosen among so many others who deserve the same recognition" when asked if he expected to win any awards.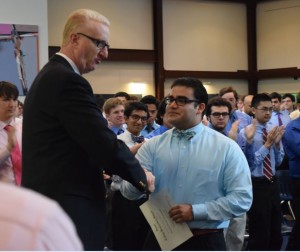 The final and most coveted award of the afternoon was Bishop Lynch Award, described by Mr. Garrison to be "Jesuit's highest award for outstanding achievement" and presented to "the graduating senior, judged by the faculty to be most representative of Jesuit…and most responsive to the influence of the school." The award this year was given to Nicholas Rodriguez for his "scholastic achievement, combined with character, leadership, participation in extracurricular activities, and service on behalf of the school and the wider community."
In a year's time, the Class of 2016 will be experiencing what the Class of 2015 did this year, their Senior Convocation, a final chance to be recognized for their achievements and character as their Jesuit career comes to a close.
Make sure to look below for a complete and comprehensive list of all the awards and accolades presented at this year's Senior Convocation.
MILITARY APPOINTMENTS
GARRETT AMY- UNITED STATES AIR FORCE ACADEMY
EMILIANO GONZALEZ- UNITED STATES
MILITARY ACADEMY AT WEST POINT
BYRON SONG-UNITED STATES COAST GUARD ACADEMY
CHRIS HAERR- AIR FORCE ROTC PROGRAM at TEXAS A&M
NIC READY- UNITED STATES AIR FORCE ACADEMY
ACADEMIC AWARDS
COMPUTER SCIENCE
AP COMPUTER PROGRAMMING-ADAM WIECHMAN
HONORS ADVANCED JAVA-ALEXANDER MAGEE
ENGLISH
ENGLISH 4 – AMERICAN LITERATURE – POST WWII-CHRIS AYERS, ZACHARY PENDERGRAFT
ENGLISH 4 – SOUTHWEST LITERATURE WWII-SHANE ROSS, GAVIN MCCLURE
ENGLISH 4 – MODERN NON-WEST LITERATURE-XAVIER LIAO
ENGLISH 4 – NON FICTION- COLIN STACK, JORDAN NGUYEN
AP LANGUAGE & COMPOSITION-DANIEL HOFFEND, JACOB MARAS
HONORS ENGLISH SEMINAR, ZACHARY SCHUTZE
FINE ARTS
DRAWING I-COLIN STACK
ART 2-BRENDAN LEGAS
ART 4-SAM COLLINS
CERAMICS 1-WILLIAM FEIST
ADVANCED CERAMICS 2-FLETCHER KERR
ADVANCED CERAMICS 3-4-TYLER VYAZMENSKY
THEATER DIRECTING-ZACHARY SCHUTZE
STAGE AND FILM ACTING-CHRISTIAN CHILES
STAGECRAFT-ROMAN KIMBRELL
FILMMAKING-JAMES MAKANAS
MUSIC APPRECIATION-PEYTON ARNESON
ADVANCED MUSICIANSHIP-MARCO ROBERTSON
BAND-JAKE RADCLIFF
CHAMBER ORCHESTRA-PATRICK JOSEPH,ALEXANDER MAGEE
MEN'S CHORUS-ROBERT AFRICA, GARRETT BUCKLEY
FOREIGN LANGUAGE
SPANISH 4-BENJAMIN OVENSHIRE
HONORS SPANISH 4-CONNOR KERL
HONORS LATIN 4-ROBERT AFRICA
MATHEMATICS
STATISTICS-ERIC DELL, ALEX OCHTERBECK
AP STATISTICS-BENNETT HARRISON
PRE-CALCULUS-JOSEPH "GRANT" CLEMENS, ANTHONY SHIRLEY
HONORS PRE-CALCULUS-SHANE ROSS
AP AB CALCULUS-DOMINIC IANNELLI
AP BC CALCULUS-ANDREW ALARCON, JACOB MARAS 
TXML AND THE AMC12- CHRIS O'BLENES
SCIENCE
ANATOMY & PHYSIOLOGY-CHANDLER CLARK
AP BIOLOGY-DYLAN ROBERTS, WILLIAM FEIST, DOMINIC IANNELLI
FORENSIC SCIENCE-SHANE ROSS
ENGINEERING ACE-SEAN ALEXANDER, GARRETT AMY
ENGINEERING PMM-CONAR EHRING
AP CHEMISTRY-BENITO BUKSH
AP PHYSICS C – MECHANICAL-ADAM WIECHMAN
AP PHYSICS C – ELECTRICAL-JACOB MARAS
INTRO TO GENETICS-XAVIER LIAO
APPLIED GENETICS 2-MATTHEW SLOVAK
SOCIAL STUDIES
INTERNATIONAL RELATIONS-ADAM WIECHMAN
AP PSYCHOLOGY-ADAM WIECHMAN
GOVERNMENT-SHANE ROSS, BEN SLOAN
AP GOVERNMENT-CALEB BLAIS
MASS MEDIA/CULTURAL STUDIES-LIAM KOCH
AP HUMAN GEOGRAPHY-ENRIQUE BERRIOS
AP COMPARATIVE POLITICS-ANDREW ALARCON
ECONOMICS-ANTONIO HERNANDEZ, JACK KELLEY, COLE WILSON
AP MACRO ECONOMICS-ZACHARY BISHKIN
THEOLOGY
HISTORY OF THE CATHOLIC CHURCH-JACOB MARAS
CHRISTIAN RELATIONSHIPS-EMILIO LOPEZ, ZACHARY SCHUTZE
INTER-RELIGIOUS DIALOGUE-ANDREW BEREND, JORDAN NGUYEN
EXTRACURRICULAR ACTIVITIES:
NATIONAL LATIN EXAMINATION-ZACHARY SCHUTZE
JUNIOR CLASSICAL LEAGUE-PATRICK MIRAMONTES
JESUIT STAGE AND FILM:
FILM EMPHASIS – ROBERT MORRIS
THEATER EMPHASIS – CALEB BLAIS
2nd IN SPELLING AND VOLCABULARY  IN DISTRICT, ZACHARY SCHUTZE
MEDICAL SOCIETY, EVAN LORIOT, JACOB MARAS, EDWARD TALATALA
JESUIT'S ENGINEERING SOCIETY-MICHAEL LANHAM
THE ROUNDUP-MICHAEL LANHAM
THE JESUIT JOURNAL –BYRON SONG
BROTHERS FOR OTHERS-KARL BORIK
ROBOTICS-KIERAN CELII
THE SOCIAL JUSTICE CLUB-NICOLAS RODRIGUEZ
LONE RANGERS-GARRETT BUCKLEY, ALEX KOSHAKJI, CHRISTOPHER MADONNA
COMMUNITY SERVICE LEADERSHIP-ROBERT AFRICA, DUSTIN BAGAYNA, JOSEPH CATALANO, JUAN MARTIN DAY, ANDREW SUAREZ
CAMPUS MINISTRY "HEARTS ON FIRE" AWARD-MATTHEW HEVER, BILLY REYNOLDS, PARKER THOMPSON
THE ST. PETER CANISIUS AND THE BROTHER BURT RIVET, S.J. AWARDS-DOMINIC IANNELLI
THEBROTHER BURT RIVET, S.J. AWARD-WILLIAM SCOTT, MICHAEL SHROPSHIRE
THE STUDENT COUNCIL AWARD-JIMMY ACKELS
THE E.L. HOHMAN AWARD-PATRICK JOSEPH
SENIOR MAGIS AWARDS-ZANDER ERTURKUNER, MICHAEL INGRAM, TAE GOON KIM, CHRIS O'BLENES, KENNY PHIPPS
THE THOMAS WUNDERLICK AWARD-SHANE ROSS
THE AD ASTRA AWARD-BILL NEWMAN
THE ALOYSIUS GONZAGA AWARD-JACK KELLEY
THE 'MAN FOR OTHERS' AWARD- PATRICK JOSEPH, MICHAEL McREYNOLDS, PARKER THOMPSON
THE JSEA AWARD-GARRETT AMY
THE BISHOP LYNCH AWARD-NICOLAS RODRIGUEZ