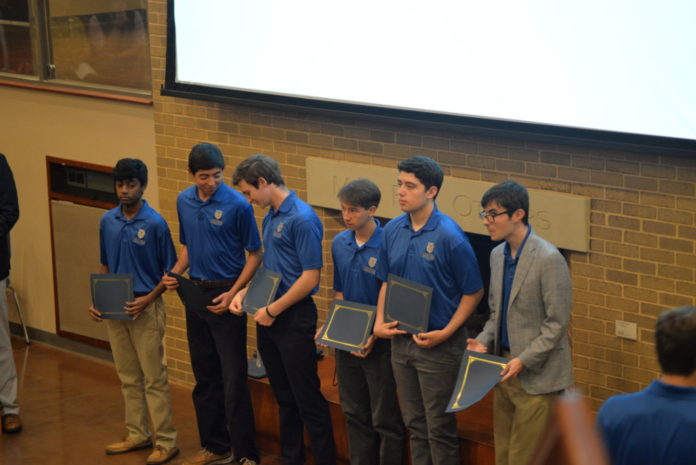 On Wednesday, October 17th, Jesuit proudly presented the next generation of its hardworking AP scholars.
This year's turnout had Hughes Hall overflowing with joyful students, excited parents, and proud teachers. Will Roberts '19 commented, "It was an incredible event to share with all of our Jesuit brothers and their families, celebrating all of our hard work!"
AP Scholar Awards
Being an AP scholar is no easy feat. The award is granted to students who score a three or higher on three or more AP Exams.
The ceremony began by revealing the lengthy list of AP scholars: twenty-seven in the class of 2019 and another twenty-seven additional students in the of 2018. While the class of 2020 currently pursues their various passions across the country, their Jesuit family continues to recognize their academic excellence as part of the school's legacy.
Class of 2019 – AP Scholar
Braden Barale
Andrew Brannon
Alex Cano
Bennett Carley
Witten Chambers
Ryan Chiang
Kevin Currier
Eduardo De Leon
Grant Delanoy
Jack Dexter
Sang Fessenden
Chandler Fong
Max Ford
Robert Freimuth
William Gasper
Matthew Harkness
Christopher Jordan
Colin Kenny
Aidan Koch
Jorge Lopez III
Matthew Mancillas
Marco Marrero
Carl Quist
Sebastian Reyes
William Roberts
Jack Strubel
John Weignman
+ 27 from Class of 2018!

The next awards were presented to the AP Scholars with Honor, students who average a score of 3.25 on all AP Exams taken and scores of three or higher on at least four exams. Eighteen current seniors and twenty-one graduates from last year received the prestigious award.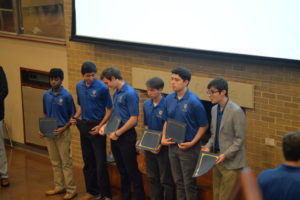 Class of 2019 – AP Scholar With Honor
Rutherford Allison
Ashik Amar
Joseph Buskmiller
Marco Campioli
William Courtney
Nicholas Farrell
Giovanni Ferrer-Falto
Jack Griffiths
Matthew Herrin
Hector Juarez
Patrick Keyes
Logan Kim
Brennan Louviere
Jaibin Mathew
Noah Santoni
Maxwell Schutze
Ian Symsmith
Christopher Tran
+ 21 from Class of 2018!
Six students of the 2019 class were recognized as AP Scholars with Distinction, earned by scoring an average of a 3.5 on all exams taken and a scores of three of higher on at least five of these exams.
Class of 2019 – AP Scholar with Distinction
Emmet Halm
Riler Holcombe
Ethan Jackson
Ryan Knox
Kota Ueshima
Reed Zimmermann
+32 from Class of 2018!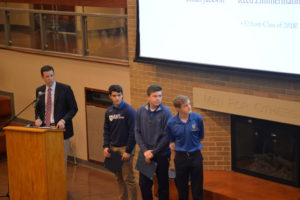 An additional six students from the class of 2018 were awarded the National AP Scholar title, having to score at least four on eight or more AP exams and receive an average of at least four on all tests taken.
Class of 2018 – National AP Scholars
Michael Bain
Jared Butler
James Cuaderes
Ryan Davis
Sean Tehan
Connor Thomas
Awards for National Merit
Wednesday's ceremony both honored these AP scholars and recognized Jesuit's many students earning National Merit status.
Of the class of 2019, fourteen students were commended for scoring roughly in the top 3% of test takers:
Class of 2019 – National Merit Commended
Ashik Amar
Cameron Baxley
Marco Campioli
Bennet Carley
Cameron Crowley
Max Ford
Jack Griffiths
Emmet Halm
Nicholas Hernandez
Ethan Jackson
Ryan Knox
Carl Quist
Ian Symsmith
Reed Zimmerman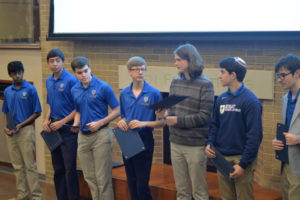 The National Hispanic Recognition Program recognizes 5,000 of the 250,000 Hispanic/Latino test takers, eleven of which belong to Jesuit:
Class of 2019 – National Hispanic Scholar
Alex Cano
Eduardo De Leon
Giovannie Ferrer-Falto
Nicholas Hernandez
Hector Juarez
Jorge Lopez
John Madden
Matthew Mancillas
Noah Santoni
Ian Symsmith
Mason Ward
The National Merit Semifinalist award is the first stage in working toward the National Merit Scholarship. Only 16,000 students of the 1.6 million test takers receive recognition, or the top 1% of test-takers nationwide. The final award was granted to four of Jesuit's brightest minds:
William Courtney
Riler Holcombe
John Madden
Kota Ueshima
Congratulations to all students recognized during this year's academic ceremony. Keep up the great work!
Final Thoughts
In the midst of a very challenging year, schedules flooded with work, school, and extracurricular life, sometimes it can be useful to pause and reflect on the outstanding achievement within Jesuit's walls. This ceremony provides a much needed and well earned respite from the troubles of school, allowing each student to celebrate not only his own performance at Jesuit but also the successes of his classmates.
Senior Collin Kenny explained how "the days of cramming before AP exams really paid off," as the results of his hard work have unfolded before him, along with the rest of his brothers. "In all seriousness," he said, "it was a great honor to be recognized with my brothers for our accomplishments."
These students deserve all of the praise they have received for challenging themselves with rigorous schedules and maintaining persistent focus on their various goals throughout their years at Jesuit. They represent the eager attitude of Jesuit as they work hard for countless weeks, striving to achieve new academic heights for the betterment of themselves and the well-being of the Jesuit community.
The Roundup extends its congratulation to those awarded in the academic ceremony. Stay tuned to The Roundup for more academic news and updates.