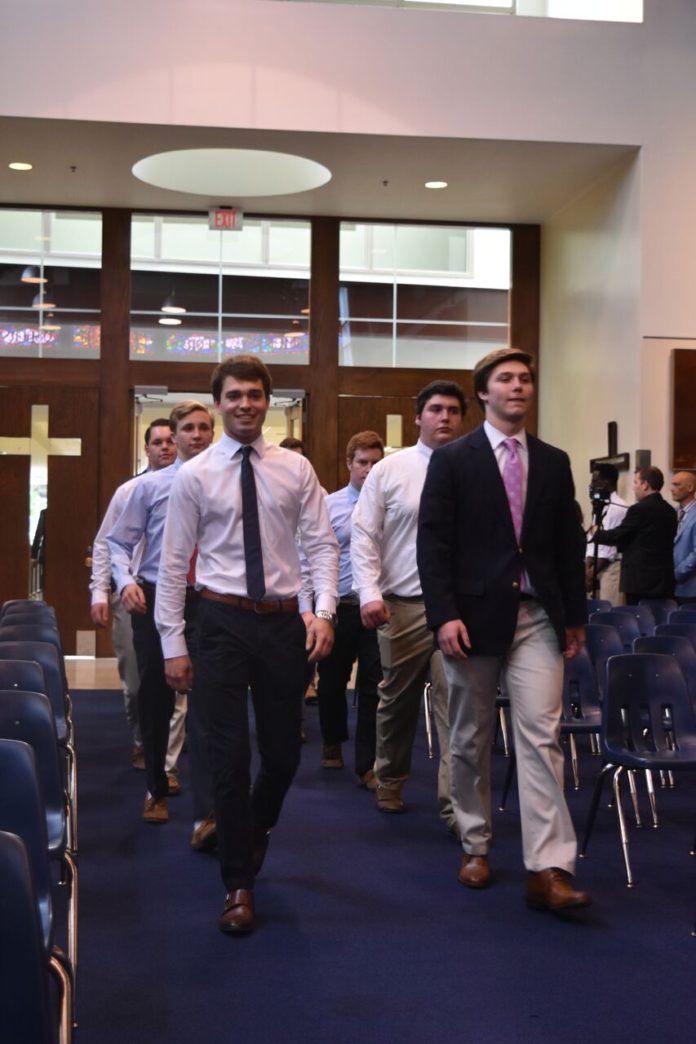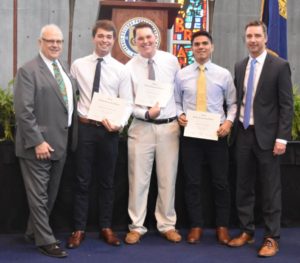 Senior Convocation, it's the ceremony to celebrate the seniors and their achievements for the year…their final year here at Jesuit.  As the school came together as a whole for the final time this year, it began when the young men of the class of 2018 proudly walked into the room. Many students received awards from varying subjects, clubs, and scholarships.  These seniors worked hard for their awards, using the knowledge they've acquired from their four years at Jesuit, and now they move on, to college and elsewhere. Here I was able to get some answers from a couple seniors on their experience and what they plan to do next.
Reid Hatzman '18
First off, Mr. Reid Hatzman '18, award winner for AP Human Geography, Campus Ministry, and the Bishop Lynch award commented on his experience: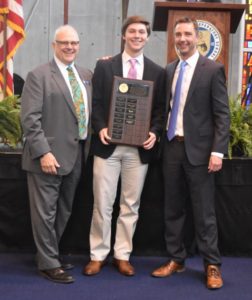 "I think the biggest emotion I have from these awards is pride. All of the awards are cool to win and I felt a great deal of pride for our whole class, not just myself. It's a great feeling getting to see your classmates recognized for their talents and accomplishments. For me personally, I think the Bishop Lynch award was clearly the highlight. It's such an amazing award and it's an honor to receive it. I'm following behind some very impressive guys so it's definitely something that is a special accomplishment, but more importantly, it's a call for me to keep working and doing what I know I am supposed to do."
As for what he plans to do next, Reid Hatzman '18 will be attending the Naval Academy this fall, joining others to train and fight for our country. He continued:
"I am incredibly excited, but also nervous for what's to come. This will be an experience that will be unlike any other. I look forward to the challenge and the ability to learn more about myself through these challenges. Then, hopefully, I'll get a chance to pay that forward and serve our country."
Michael Bain '18
As for Mr. Michael Bain, he received awards in AP BC Calculus , AP Macroeconomics, AP Language and Composition, AP Physics C, as well as the Justice: Peace and Conflict award. Having achieved these honors his reaction was this
"I feel honored to receive these awards. It's nice to receive some recognition for the hard work we all put in this year. Overall I thought the ceremony was a great way to cap off senior year."
Michael Bain will be attending the University of Texas at Austin at the start of the next semester. His response to how he felt was simply this:
"I'm really excited to go to UT. It's been my number one choice for a while now and I'm ready to get down there and experience all that college has to offer. Hook 'em!"
Farewell Seniors
These were just the responses of two of the fine young men that the class of 2018 has to offer, but bellow lays out the total of the Senior Convocation Ceremony and the awards/scholarships handed to students during the ceremony.
We hope that their experiences at Jesuit guide them in their next chapter in life, forming them into great men and bringing in them a reaffirmed sense of confidence.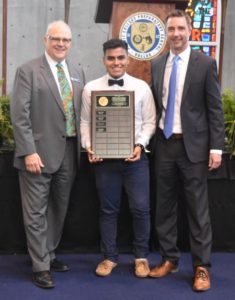 Military Appointments
Paris Brown
Logan Edelmann
Grayson Hassell
Reid Hatzmann
Marcus Hill
Julian Reyes
Nick Sigman
Jack Tabor
The United States Naval Academy seeks well-rounded candidates who have done well academically and athletically, and have demonstrated strong character and leadership potential.
Approximately 16,000 students compete annually for one of 1,200 slots at the U.S. Naval Academy.  Appointment to the Naval Academy is equivalent to a full 4 year scholarship valued at $400,000 with tuition, books, medical benefits, and monthly salary included.  With 25 majors to offer, graduates of the Academy receive a Bachelor of Science degree, commissioning as Ensign in the Navy or 2nd Lieutenant in the Marine Corps, and will join others in serving our country in many ways, including surface warfare, submarines, Marine Corps Ground and Air, Navy pilots, flight officers, or Navy SEALS.  Logan Edelmann, Grayson Hassell, Reid Hatzmann, and Nick Sigman have been accepted to the Academy.
Jack Tabor has received an appointment to the Naval Academy Prep School in Newport, Rhode Island, and will compete for an appointment to the Naval Academy in the Fall of 2019.
The United States Air Force Academy Preparatory School
The United States Air Force Academy Preparatory School offers a 10-month program of intensive academic preparation, military training, and athletic conditioning, designed to develop in cadet candidates the skills and character necessary to be successful at the Academy. The academic curriculum is focused on mathematics, English, and sciences.
Like admission to the Academy, admission to the Prep School is competitive, with selections made by the Academy director of admissions.  Approximately 240 cadet candidates enter the Prep School each summer.
Marcus Hill
The United States Coast Guard Academy Scholars
The Coast Guard Academy Scholars Program sends approximately 100 students with high potential for a rigorous one-year program of academic and military preparation as Cadet candidates.  The value of this one-year scholarship is $35,000, including active duty military pay and benefits. Cadet candidates who successfully complete this one-year program will be tendered a full appointment to the United States Coast Guard Academy Class of 2023, valued at approximately $400,000 including active duty pay and benefits, and the opportunity to earn a Bachelor of Science degree and a commission as an Ensign in the United States Coast Guard upon graduation.
Julian Reyes
Army ROTC
In addition to these military appointments, we would like to congratulate Paris Brown on a full-tuition National Army ROTC scholarship to The University of California at Santa Barbara.
Programming II Peter Hundley
Brad Kucera
Marshall Rodegast
Honors Advanced Java Garrett Scott
AP Computer Programming Giovanni Rivas
Visual Basic.NET Z Hine
English
English 4 — Modern American Literature
Jackson Houston
Liam Vlasimsky
English 4 — Southwest Literature
Andrew Abbott
English 4 — Modern Non-West Literature
Anthony Valdes
English 4 — Non-Fiction
Hank Bitterman
Michael Deasy
AP Language & Composition
Michael Bain
Honors English Seminar
Mathieu Lavault
Fine Arts
Drawing Michael Blase
Forrest Moses
Ceramics Throwing Cade Brewer
Ceramics Hand Building Nicholas Villareal
Advanced Ceramics Chris Boltz
Advanced Ceramics 3 Mac Lopez
Music Comp & Film Scoring Jesse Campos
Peter Mowery
Stagecraft: PJ Danna
Jakey Younger
Filmmaking: Alex Giebler
Chase Kengott
2D Design:  Digital Media Ethan Kirkland
AP Drawing Portfolio Will Fynes
AP Design Portfolio Tim Tighe
Music Theory Patrick Rodenbaugh
Jazz History & Improv 1 Lachlan Carton
Carter Elliott
Patrick Rodenbaugh
Zachary Taylor
Band Evan Hargrave
Benjamin Miller
Michael Miramontes
Patrick Rodenbaugh
Language
Honors Latin 4 Giovanni Rivas
AP French Matthieu Lavault
Pre AP Mandarin 4 Jacob Dewa
Mathematics
Statistics Sloan Stefanek
Philip Villalba
AP Statistics Matthew Joy
Pre-Calculus Derek Dumbrigue
Solon Hamer
Honors Pre-Calculus Jared Petroll
Kolbe Surran
AP AB Calculus Ethan Lee
AP BC Calculus Michael Bain
Giovanni Rivas
Jesuit joins hundreds of other schools across Texas and the entire country each year in participating in two math competitions.  They are known as the TXML (the Texas Mathematical League) and the AMC 12 (the Mathematical Association of America).  Jesuit recognizes the highest scoring students from each of these competitions. The highest scoring senior for the AMC 12
Andrew Wright
This year's highest scoring senior for the TXML is:
Matthew Joy
Science
Anatomy & Physiology Derek Dumbrigue
Phillip Villalba
AP Biology Zach Taylor
Engineering ACE Lucas Black
Quinn Boone
Jake Frick
Alekzander McGlone
Leo Tanzi
Engineering PMM Quinn Boone
Kolbe Surran
AP Physics 1 Matthew Joy
AP Physics 2 Peter Hundley
AP Physics C – Mechanics and Electromagnetism
Michael Bain
Ethan Williams
Forensic Science Christopher Horton
David Horton
AP Environmental Science Evan Hargrave
Social Studies
International Relations Cole Bengtson
Government Darrell Briscoe
Nico Elizondo
John Lindberg
Griffin Till
AP Government Ethan Lee
History through Popular Media Alex Reznicek
AP Human Geography Reid Hatzmann
AP Comparative Politics Kolbe Surran
Economics Jared Butler
Parker Towns
AP Macro Economics Michael Bain
AP Psychology Flavio Calderon
Zach Taylor
Theology
History of the Catholic Church Jake Elrod
Christian Relationships Patrick Rodenbaugh
Sean Tehan
Griffin Till
Interreligious Dialogue Jared Petroll
Christopher Reynders
Justice:  Environmental Jackson Petroll
Justice:  Peace & Conflict Michael Bain
Andrew Videna
Justice:  Economics Cole Bengtson
Giovanni Rivas
Parker Towns
Extracurricular Activities
Ambassador    Zach Feffer
Junior Classical League:
Caleb Longwell
Jesuit Stage and Film – Theater Emphasis:
Jared Butler
Engineering Club:B
Matthew Joy
Ryan Macalanda
Robotics:     
Jack Barone
Key Club:
 Nico Cornejo
Car Club:
Leo Tanzi
Jesuit ESPN Club:
Michael Blase
Jesuit Multicultural Society:
Vicente Gonzalez
Model UN
Jared Butler
Fair Trade Club
Peter Hundley
Mentoring And Guiding Ignatian Students (MAGIS)
Michael Blase
Andrew Videna
Jesuit's Engineering Society
Matthew Joy
Jesuit's Culinary Society
Ryan Macalanda
Brothers for Others Club
John Alfred Zevallos
Jesuit's Chinese Club
Jacob Dewa
Jesuit Journal
Luke Gonzales
Jesuit's Anime Club
Will Hubbell
Jose Moreno
Lone Rangers
Solon Hamer
Community Service and Social Justice
Michael Blase
Darrell Brisco
Flavio Calderon
Charlie Day
Will Hubbell
Giovanni Rivas
The Hearts on Fire award
Nico Elizondo
Reid Hatzmann
Matthew Justman
The Ronald Reagan Student Leader Award
Ben Miller
The St. Peter Canisius Award
honors a graduating senior who, with two or more years of service, contributed to the student newspaper.  A renowned Jesuit scholar and doctor of the church, St. Peter Canisius published detailed information on Catholic teaching in 1555.  It enjoyed widespread use in its day and stood as the church's standard catechism for centuries.
For dedication to the student newspaper, The Roundup, the St. Peter Canisius Award
Michael Miramontes
Connor Thomas
Jesuit honors the Editors-in-Chief of The Last Roundup.  This student has dedicated years of service and immeasurable contributions in planning, designing, and creating the yearbook.  He also encouraged excellence from fellow staff members.
For dedication to The Last Roundup, the Editors-in-Chief Award is presented to:
David Horton
The Student Council Award
John Bowen
The E.L. Hohman Award is presented to a senior who has excelled in music and has used his gifts with Ignatian spirit.  This year, the E.L. Hohman award is presented to:
Patrick Rodenbaugh
Senior Magis Awards
Cole Bengtson
Hank Bitterman
Campbell Fearing
Israel Ollarzabal
Philip Villalba
Nick Villareal
The Thomas Wunderlick Award is given in honor of Tom Wunderlick, a 1946 graduate of Jesuit Dallas.  Mr. Wunderlick was the first president of the Jesuit Alumni Association. He had four sons graduate from Jesuit, as well as 10 grandsons who have attended or are now attending our school.  The Wunderlick award is presented each year to the graduate who has best combined athletic and academic achievement during his years at Jesuit.  The Wunderlick Award winner will receive a Certificate today and a trophy at the graduation commencement.  This year, The Thomas Wunderlick award is presented to: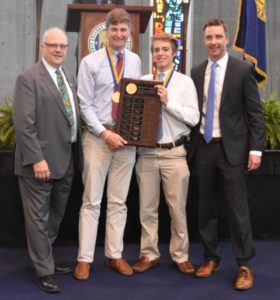 Parker Towns
The Ad Astra Award recognizes leadership in creating new initiatives in community service and the development of new programs to serve the Greater Dallas community.  Ad Astra is a Latin phrase meaning "to the stars." The following students have gone above and beyond in their efforts to serve the Community Service and Social Justice program.   The Ad Astra Award is merited by:
Michael Blase
Alex Giebler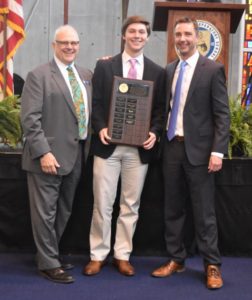 The Aloysius Gonzaga Award for outstanding community service is presented to a student who gives unselfishly of himself to his community.  While still a young Jesuit, St. Aloysius Gonzaga bravely gave his life ministering to the sick in Rome. As the patron saint of our school, we look to Aloysius as a model of generous service to others.  The Aloysius Gonzaga award winner will receive a Certificate today and a plaque at the graduation commencement.  The Aloysius Gonzaga Award for outstanding community service is merited by:
Charlie Day
The Profile of the Jesuit Graduate states, "at graduation, the Jesuit student, well on the way to establishing his own identity, has also begun to move beyond self-interest and self-centeredness in human relationships."  The Jesuit 'Man for Others' Award, voted upon by the faculty, is given each year to students who exemplify, in their words and actions, what it means to be a Jesuit student who has moved beyond himself.  This year we honor three seniors who have demonstrated in their dealings with others, the ability to give of themselves selflessly. The Man for Others Award winners will receive a Certificate today and a plaque at the graduation commencement.  The seniors meriting recognition as recipients of the 'Man for Others' Awards are                     
Lindsay Brown
Matthew Espericueta
David Horton
JSN Award
Each year, the Jesuit Schools Network announces the recipient of an award to be presented in each of the 52 Jesuit high schools throughout the United States.  In the words of the Association, "this award is to be presented to the member of the graduating class who, as a man for others, models the ideal profile of a graduate of Jesuit education:  a well-rounded person who is intellectually competent, open to growth, religious, loving and committed to doing justice in generous service to the people of God." The JSN Award winner will receive a Certificate today and a plaque at the graduation commencement.  He will also be the senior student speaker at this year's graduation breakfast in a few days.  This year the 2018 Jesuit Schools Network Award is presented to:
Flavio Calderon
The Bishop Lynch Award
Jesuit's highest award for outstanding achievement, named after His Excellency, the late Joseph Patrick Lynch, Bishop of Dallas, is awarded to the graduating senior, judged by the faculty to be most representative of Jesuit College Preparatory School, and most responsive to the influence of the school.  This award is in recognition of scholastic achievement, combined with character, leadership, participation in extracurricular activities, and service on behalf of the school and the wider community. The Bishop Lynch Award winner will receive a Certificate today and a trophy at the graduation commencement where he will give the keynote address.
This year, the Jesuit Award for outstanding achievement is awarded to:
    Reid Hatzmann