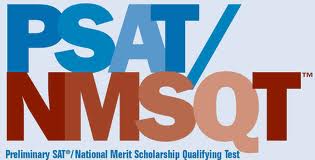 While many people do not look forward to the PSAT, some students don't realize that scoring well on the test may give them scholarships to help pay for their college tuition.
The National Merit Scholar Corporation's goal is to recognize the academically-talented students of the United States and reward them with various nationwide academic scholarship programs.  Some of the scholarship awards include the National Merit Scholarship worth $2500, which offers scholarships to the school of their choice, and the College-sponsored Merit Scholarship award, which is renewable for up to four years of undergraduate study. If someone achieves a high score on their exam, they will open doors for themselves that they may have never known were possible.
Even if some people hate taking tests, everyone loves not having classes.  After the PSAT on October 17, nobody had classes afterwards.
Sophomore Roberto Denegri said, "I love this day because it is only a fraction of what a normal day is.  I'm actually going to play golf after the test."  Just like Roberto, many students love this day because of the all the time they have afterwards.
There are also students who enjoy taking the PSAT, such as Sophomore Hayden Vines.  When asked what he thought about PSAT day, he responded with a very surprising answer: "I really enjoy taking this test for many reasons.  One reason is that I love to see how I compare to my friends academically, and since I tend to test well, I usually like the results."
After the school-wide test on Wednesday, Sophomore Matthew Hernandez explained how he felt about the PSAT, "I think that this test was substantially easier than last year's.  It is amazing how much you learn in the span of one year.  I really didn't think that I learned as much as I did, and after taking that PSAT, it is really encouraging to see the progress, and I can't wait to see the results."
Sophomore Zach Colvin said, "Mr. McDaniel took away a lot of the pressure and calmed me down tremendously with his jokes. It was a good change of pace compared to last year.  I honestly believe it helped me do better on the test."  This year's PSAT introduced a world of new opportunities to many students who hope to obtain some of the accolades that go along with a high score on their test.
One aspect that makes Jesuit different from other schools is that the Freshmen take it along with the Sophomores and Juniors.
Mr. Knize said, "Having the Freshmen and Sophomores take the PSAT helps prepare them for the SAT.  This is very important because just like scrimmaging in football helps you play better in the game, taking the PSAT has the same effect— you become more prepared and comfortable when you take the real SAT."
Whether you receive some type of scholarship from the NMSC, enjoy getting out of school early, or just like taking tests, when you take the SAT, you will be more prepared because you took the PSAT.