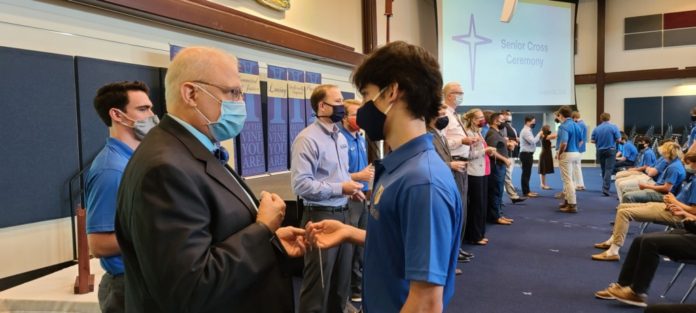 Nearly six months ago in March, the class of 2021 eagerly awaited to receive their Junior Cross during the Junior Cross Mass. However, the coronavirus pandemic resulted in a reschedule. This Wednesday, after much anticipation, the seniors finally received their crosses.
The morning began with an excellent prayer service and reflection from Mr. Earsing. Patrick Lee '21 reached out and told me that "the prayer service was life-changing" and "easily one of the best prayer services we have had." Later, after the prayer service concluded, the seniors were then called one by one. Filing to the front of the Terry Center in a sea of blue, the class of '21 received their crosses. Each senior then received a special message by a faculty member pertaining to Jesuit's values.
Since the eighties, the cross has symbolized a rite of passage for rising seniors. The crosses encompass the growing roles of leadership the seniors receive in the community. Throughout Jesuit history, every junior class received this cross as they transitioned into their senior year. However, this year things changed. Luckily, after a massive delay, the seniors received their crosses. This year's Junior Cross Mass is truly an unforgettable experience.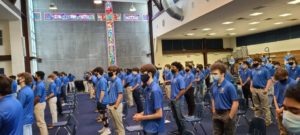 Congratulations to all the seniors who received their crosses this past Wednesday, now assuming new roles of leadership in the school and community!
Go Rangers!