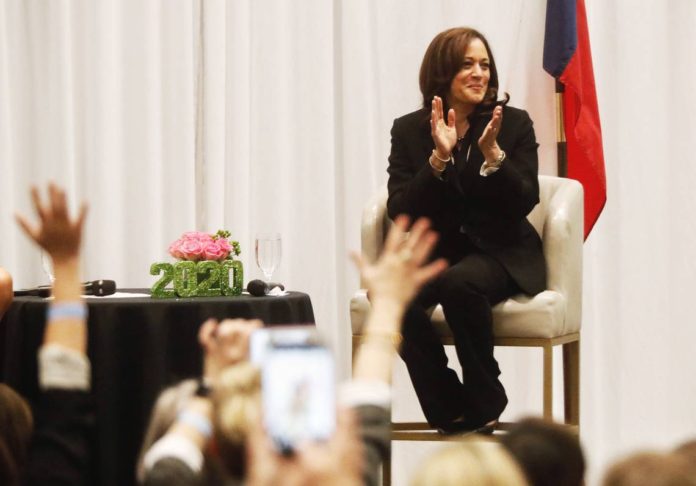 The great state of Texas may already have two Presidential hopefuls in former El Paso Congressman and Texas Senate candidate Beto O'Rourke and former US Housing and Urban Development Secretary Julián Castro, but it's California Senator Kamala Harris that became the first top-tier 2020 Democratic Presidential candidate to hit the campaign trail in North Texas.
Enjoying a two-day campaign swing in the Lone Star State, Harris, one of the leading contenders to emerge as the Democratic nominee for the 2020 Presidential election, began in Dallas speaking with potential Texas Primary voters and meeting with donors before her first public event in the state, speaking at a fundraiser in Grapevine for the Tarrant County Democratic Party.
After Castro, New York Senator Kirsten Gillibrand, and Massachusetts Senator Elizabeth Warren had already campaigned in Dallas, Harris became the first candidate from the top tier – a group consisting of former Vice President Joe Biden, Vermont Senator Bernie Sanders, O'Rourke, and Harris – to visit Dallas and the first candidate period to campaign in Tarrant County, a traditionally Republican district that O'Rourke won in his failed Senate race against Ted Cruz and is being targeted by Democrats to turn blue again in 2020.
While still somewhat unknown to many Americans, Harris has a lengthy record of public service at the local, state, and now federal level, an argument the 54-year-old Oakland, California native will be making as she crisscrosses the country hoping to secure enough delegates to become the Democratic nominee to take on President Trump in November of next year.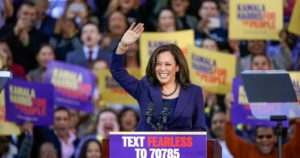 Harris served as the San Francisco District Attorney for seven years from 2004 to 2011 before running for and successfully winning a tough race to become the Attorney General of the state of California, an office she held for six years from 2011-2017. In 2016 following the announced retirement of long-time California Senator Barbara Boxer, Harris ran for the seat and won, joining the US Senate in January of 2017, becoming one of the most high-profile Senators during her just two years on Capitol Hill so far.
Harris- the daughter of an Indian mother and Jamaican father- made history with her election to the Senate, becoming only the second black woman to serve as a United States Senator. During her brief two years in the Senate so far, Harris has become known for her impressive legal questioning skills in high-profile hearings as a member of the Senate Judiciary and Intelligence Committees, including fierce questioning of former Attorney General Jeff Sessions, former Homeland Security Secretary Kirstjen Nielsen, and then Supreme Court Justice nominee Brett Kavanaugh.
At her campaign stop in Grapevine, hosted at the Embassy Suites hotel in Grapevine near DFW Airport, Harris was greeted by a standing-room crowd of North Texans, most getting their first look at the California Senator.
It was a chaotic evening in politics as just mere minutes before Harris was set to take the stage in Tarrant County, the news of Special Counsel Robert Mueller submitting his report on Russian interference in the 2016 Presidential election and possible collusion with the Trump campaign was submitted, leaving many questions to be had by lawmakers and the American public.
Harris opened her event speaking on the news of Mueller's report being submitted to the Department of Justice and Attorney General William Barr, starting with a demand that "that report needs to be made public" and that "the Attorney General Barr should be called to testify [in front of Congress]," a line and position held by most Democrats in the wake of the news regarding Mueller's report and Barr's subsequent four-page summary of an over 300-page long report by the Special Counsel.
In a state as affected by and associated with the debate over immigration and border security as any, Texas has become a real battleground for immigration policies, with Mexican and Central American immigrants making up a large percentage of Texas' population. Addressing an issue sure to be central to the 2020 race and to the Texas Primary, Harris began repeating a phrase she has coined to describe President Trump's proposed border wall, labeling the idea "a vanity project with the President of the United States." Continuing to slam Trump over his month-long shutdown of the government over funding for his border wall, Harris said he forced federal workers to "work without pay for a month over a vanity project," a fight the President ultimately lost anyways with no money appropriated by Congress to a border wall.
Harris used the wall to jump to her broader argument on the issue of immigration, stressing the need to "pass comprehensive reform on immigration and provide a route to citizenship," referring to the millions of undocumented immigrants living in the US today, a group the Senator has proudly fought for in the fight over the fate of DACA, serving as one of the leading voices in support of the DREAM Act, a bill to protect DREAMers, undocumented adults now brought here illegally by their parents as children.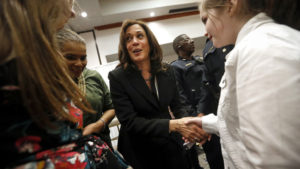 Harris moved to discuss another core part of her campaign message, addressing economic inequality and a growing wealth gap in the United States. One of the Senator's signature pieces of legislation proposed during her time in Congress was the LIFT Act, a lower and middle-class tax cut aimed at shrinking the growing income inequality in the US by providing working families around $500 a month. Harris explained the need for the LIFT Act as many working families "cannot afford a 400 dollar unexpected expense," a problem she hopes to alleviate by putting some more cash in the pockets of the middle class.
Harris' move to push for a middle-class tax cut comes with a potentially strong political payoff as well. The freshman Senator is hoping to help court middle-class, working voters back to the Democratic party, many of whom voted for President Barack Obama twice before flipping to Trump in 2016.
Explaining how her tax plan is different than that of Trump and the Republican's billion-dollar tax cut for the wealthy and corporations, Harris said her tax cut for the middle-class is aimed at "closing the gap" for working people and to "lift up families who are working hard to get through the month."
Addressing a seemingly strong economy over the last four years, Harris pointed out how the "cost of living goes up wages do not," a key point for progressives hoping to curb the rampant economic inequality in America. Pointing out that the strong economic conditions are most benefiting wealthier Americans, Harris quipped that "'Oh the economy is doing great!' Well, how? 'The stock market!' Well, that's great if you own stocks! 'And unemployment!' Well, people are working but working two to three jobs!"
Harris also will attempt to distinguish herself from other progressive candidates like Sanders and Warren by addressing the high cost of living and difficulties in housing, declaring she "thinks of housing as a basic human and fundamental right."
Moving to possibly the most central part of her message as a candidate, Harris began discussing healthcare- the biggest issue of the 2018 Midterm elections and likely the 2020 Presidential race- starting at a place that "healthcare should be understood to be a right and not just a privilege for people who can afford it."
Harris, who is one of several candidates who supports Senator Sanders' Medicare for All bill, explained her reasoning that "drug companies put profit ahead of public health. A quarter of diabetes patients cannot afford their insulin." Harris explained the pros of Medicare for All that "part of the benefit is we would all be in the same system so all of us being together can negotiate the prices down from those drug companies." While Senator Harris has signed onto a specific bill as a co-sponsor, it will still be a central question of her campaign as to how she- and many other supporters of Medicare for All- plan on addressing the transition period from a privatized insurance system to a single-payer one.
One of the biggest questions in Harris' candidacy will come from many progressives who hold questions regarding her record as the San Francisco DA and Attorney General of California on her views over criminal justice. Harris explained how she "made a very conscious decision in becoming a prosecutor," a decision shaped by her parents' participation in the Civil Rights Movement as students at Cal Berkeley and a desire to affect change from the inside.
Harris defended her record as a prosecutor, pointing out her creation of a reentry program for felons in California- including drug offenders- and that she helped lower re-incarceration rates in the state's prisons, creating a model that many other states have adopted in their justice systems.
Harris explained that "for too long we have been offered a false choice, soft or tough on crime rather than smart on crime." She explained how "as president of the US, she will appoint the next Attorney General who will be someone who will create reentry in the United States," adding her support of legalizing marijuana nationally.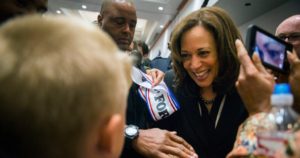 Turning to her message against incumbent President Trump, Harris pointed out the many ways Trump has attempted to divide America. "This is a president that has by words and deed attempted to have us point fingers at each other and in very powerful voices sowed division and distrust. This is a question of who we are and who we want to be there is a certain fundamental truth: the vast majority of us have so much more in common than what separates us. You know when I say that the 3:00 am though, when we wake up thinking that thought, it is never through the lens of the party we register to vote."
Harris differentiated herself from President Trump, explaining that "what [she] believes we need is someone who has the ability, the future in which everyone has a vision where they can see themselves. I have that vision."
The Senator, a lifelong public servant from her days in the Alameda County courthouse in Oakland, has echoed her campaign slogan, one she said each time she was sworn in as an elected attorney, "Kamala Harris For the People." She echoed this sentiment in her closing comments, saying "we want to have a president that understands the nobility of public trust," a message Harris will hope to use on the campaign trail and debate stage against President Trump if she can outpace a crowded and talented field of potential Democratic nominees in 2020.
Stay tuned to The Roundup for more 2020 election coverage.