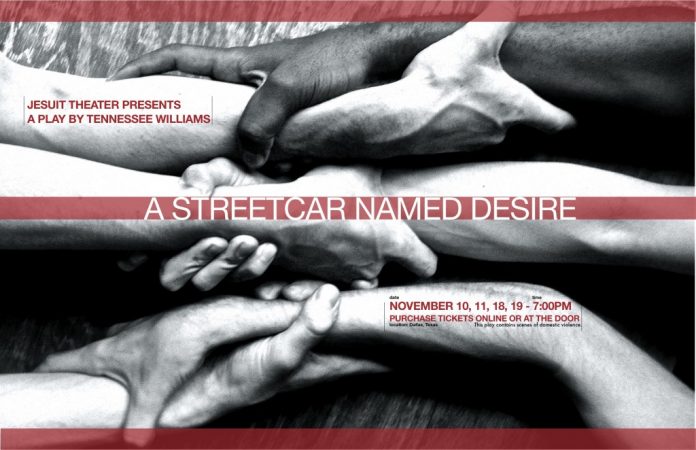 Jesuit Theater carries a long tradition of exceptional performances. In recent years, Jesuit's young thespians have delighted audiences with renditions of Twelve Angry Men, The Importance of Being Earnest, and Death of a Salesman, to name a few. However, this year's fall production takes on added importance for both its subject matter and its connection to Jesuit's Diversity program.
Over the next two weeks, Jesuit Theater will entertain audiences with four performances of Tennessee Williams' 1947 play A Streetcar Named Desire. Unlike recent productions, this year's distinctly dark play explores touchy social issues plaguing modern day society, including the marginalization of women, domestic abuse, and alcoholism.
The social justice issues laid out in Streetcar, in particular its portrayal of gender inequality, have given Jesuit Theater the chance to work with the Diversity department, which has selected gender issues as its main focus for this semester. "We like to explore different aspects of diversity every year," says Director of Diversity Erik Burrell. "This year's focus is on gender issues. [Streetcar] does a really good job exploring gender issues, domestic violence in particular; but, just as importantly, it portrays different attitudes both men and women have about each other."
In its production of Streetcar, the theater program is coordinating with Diversity to make sure that the issues portrayed in the play are actively discussed by members of the community. "The play explores topics of gender, which aligns with Jesuit Diversity's focus [this year]," theater director David Myers said through email. "There will be a constellation of events surrounding the play, all of which explore topics of gender on campus and in the wider culture."
Included in the "constellation of events" to be put on by Diversity and Theater is a November 10, 2011, prayer service, an open student forum on Moodle, and a Diversity Awareness Night, all of which are focused on gender inequality. The production of Streetcar, Burrell hopes, will help students confront the gender issues that plague society. "I think [gender inequality] is a really beneficial subject for students and faculty to explore," added Burrell.
Jesuit's theater and diversity programs hope that the off-stage focus on gender issues will help audiences identify and contemplate the themes of Streetcar. "Everything that we're doing is about gender reflection," said Burrell. "It is beneficial if the viewers can take away lessons from the play that they can apply to their own lives."
Theater will put on its production of A Streetcar Named Desire four times, on November 10, 11, 18, and 19, all at 7:00 p.m. Tickets can be purchased online or at the door.