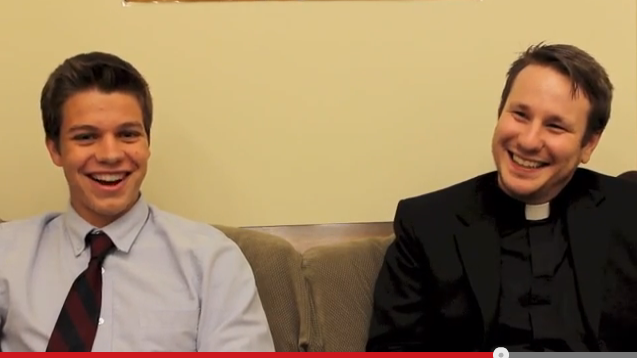 A time of curiosity, a time of discovery, and, most of all, a time of growth, the life of a high-school student is not one of contentment.
Foraging through the hallways, students explore various academic fields during their fleeting four years before college and interact with their peers, forming lasting relationships. And, oftentimes, students discover a little bit more about themselves along the way.
Jesuit offers its students a plethora of opportunities for self-discovery; to help quell their raging curiosity, Mr. Harmon S.J., freshman theology and fine arts teacher, records a video series with the assistance of Chris Haerr '15 and John Jackson '14 called "Ask Mr. Harmon," in which he attempts to answer the questions that the student body might have about the Catholic faith.
Each video, about a minute or so in length, filmed under the comfort of a hallway bench so familiar to most Jesuit students, depicts a simple question-and-answer session with Mr. Harmon. The first tackles Mr. Harmon's decision to join the Jesuit order.
Harmon views the series as an opportunity for each student to explore his own personal connection with God, a movement beyond the limitations of merely attending a "typical theology class," which is incapable of satisfying all of the individual questions a student might have. "The idea," he says, "was for the student body and even the faculty to have a centralized resource to ask any question they've always wanted to ask." Furthermore, he hopes to provide insight, with the strength "of Catholic theology backing up" his responses, as to "what [it really means]" to attend a Jesuit school from a spiritual perspective.
He believes that "Ask Mr. Harmon" will inspire a "spiritual conversation," an environment in which students feel comfortable discussing their faith, an environment in which answers are easily accessible by only asking a simple question. His motto? "You can ask me anything, anytime."
Chris Haerr, the series' interviewer, derived the idea of creating an interactive dialogue between one of the Jesuits and the student body last year during a leadership retreat which "caused [him] to think of ways [he] could be useful and help [the] school grow in [its] Catholic identity."
His solution: provide reliable content to fill the students' insatiable curiosity by engaging them cinematically. He hopes that the availability of his videos, easily accessible on the Internet will "be a quick, simple way to not only answer questions but educate anybody willing to listen about our Church's teachings," hopefully provoking additional questions for Harmon to answer in the future.
Chris cites an intimate confession as the spark of his faith life: "Last year was a time where I began questioning my faith vigorously," he recollects, "so one time I brought this up in confession. My priest asked me if I had time and then told me to ask any questions I had about faith. I spent forty-five minutes in that confession asking difficult questions and receiving deep, insightful answers." He aims to offer the same opportunity of introspection to his peers at Jesuit before they matriculate and depart for college, when they "are let off into an increasingly less religious society" that can sometimes challenge this process.
Even those who are not devoutly religious may benefit from watching his videos since they appeal to the natural curiosity of all students. The videos, in fact, directly target strengthening the connection of the student body to God rather than merely solidifying an already concrete relationship. Chris believes that "[he can't be] the only one [with questions], [since] most people go through this questioning phase in high school."
Anything, anytime. To submit a question for an upcoming segment, you may contact either Mr. Harmon or Chris Haerr.