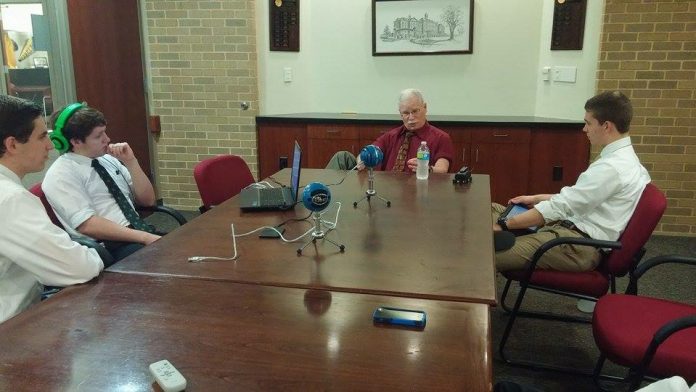 Thought provoking, powerful and incredibly well spoken: these are the only words that can suffice to describe Mr. Donahue while I was in his presence during this unique interview.
To freshmen, he is the intimidating man who sets the bar for their years at Jesuit during freshmen orientation. To upperclassmen, he is a highly respectable man who truly has a unique presence when he enters the room. This, however, will be his last year at Jesuit College Prep. The Roundup had the incredible opportunity to ask Mr. Donahue various questions over an extended period of time after school on April 24, 2015. The Roundup had a hand full of students ask Mr. Donahue  intriguing questions both related and un-related to Jesuit and the Community. The students on this panel included: Blake DeLong, Enrique Berrios, Michael Boyson, Jake Maras, and myself while I monitored the sound and recording.
If you aren't already aware Mr Donahue is a phenomenal person to be able to talk to over extended periods of time. If you do not believe me, listen to the interview below.
[vimeo 125970269 w=500 h=281]
The questions asked are in chronological order, so feel free to skip around as you wish.
What is your favorite Jesuit Moment?
What is your favorite life lesson or lesson in general that you have taught?
Do you have a favorite Musician?
What is something that the community doesn't know about you?
Were you a Boy Scout?
What will you do with your spare time?
Where have you gone internationally?
What did you think about the Iraq War?
Were you active in sports as a kid?
Did you get involved in on base activities?
What book do you think everyone should read?
Have you ever thought about writing?
How did you end up at Jesuit?
How did you know Jesuit was a special placer?
What do you think Jesuit will be like in the next 30 years?
Best Memories about Mrs Williams (She will be taking over some of the duties that he will leave behind)?
What is your advice for seniors going into College?
What does it mean to be religious?
What is your advice post College for graduates?