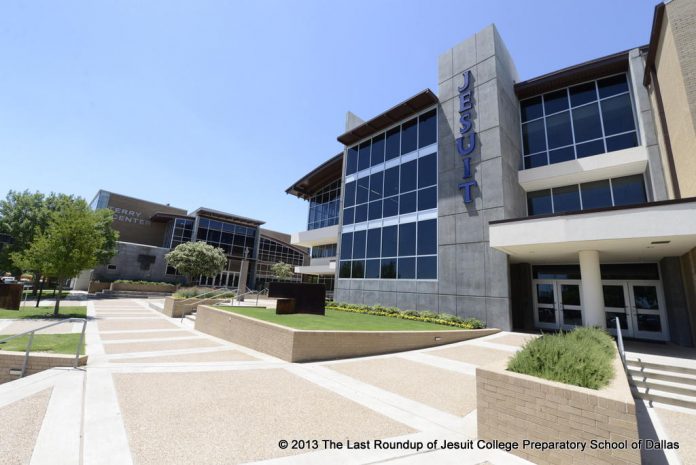 The Mass of the Holy Spirit inaugurates each school year, and it is a deep-rooted Jesuit tradition going back hundreds of years. It marks the beginning of a 2016-2017 that will bring both exciting changes and familiar patterns for the entire Jesuit community, a community that has recently gained a few new members.
Jesuit Dallas' tradition is to welcome its new teachers at the special mass, so Mr. Garrison recognized ten teachers and four ASC members on Thursday, September 8th. They are:
Jeffrey Allen – Computer Science Department
Ellen Bruce – Computer Science Department
Tom Croteau, SJ – Theology Department
Colleen Hale – Math Department
Adam Hauser – English Department
Charlie Janicki '08 – Math Department
Sara Krusekopf – Math Department
Haley Mooney – Language Department
Emily Myhre – Science Department
Ky Vu – Math Department
Tommy Codd '12 – Alumni Service Corps
Cole Enmon '12 – Alumni Service Corps
Ryan Grant '12 – Alumni Service Corps
Brendan McDonald '12 – Alumni Service Corps
This is Jeffrey Allen's 15th year teaching, having taught at Coppell High School and New Tech High School, also in Coppell, before Jesuit. "Over the years I've taught most every computer class that they offered, from Computer Science and Web Programming to Multimedia and Graphic Design," he said. He will use that experience when teaching Intro to Programming, Programming II, and Web Programming over the course of the year. He admitted that "moving from public school to private school was certainly intimidating, but everyone here at Jesuit has been so kind and helpful." He looks forward to joining the Jesuit community.
Ellen Bruce will also teach Intro and Programming II this year, with experience teaching "C++ programming at Austin Community College while [she] was a programmer
in the University of Texas System." She enjoys what she teaches now, too: "It is exciting to watch my students debug their program and rejoice when it works." She talked about moving around to various welcoming ex-pat communities when she was younger because her father was in the oil business. "The Jesuit faculty and students remind me of those amazing ex-pats. Everyone is so accepting, genuine and friendly."
Tom Croteau, SJ is a new Jesuit scholastic. Teaching is an integral part of the Society of Jesus' mission and aspiring Jesuit priests like Mr. Croteau teach as part of their training. Having gained some experience during college and at Jesuit High School in New Orleans, he now teaches Theology. "It fits with the Jesuit vocation really well: that Jesuits are here to help teach others about the faith, help them experience the faith, help them dive more deeply into Catholicism, and I get to do that five classes a day," he explained.
Hailing from OU, Colleen Hale spent some time teaching in Norman after college. This is her second year teaching: "[Jesuit has] been a lot different from my old school in a great way. The kids are awesome; it's been really good so far," she noted. She sees both extremes, teaching freshmen Algebra I and seniors in Precalculus. "The students are what make teaching worth it," she said.
Adam Hauser received his masters from Creighton, another Jesuit school, where the Ignatian education "really inspired [him]." He said, "I always knew I wanted to be an Ignatian educator," and he taught at Strake Jesuit before coming to Dallas, working at Cistercian temporarily. "What's beautiful here is you see boys who are very balanced going between the field and classroom and the classroom and band practice," he said. "It's the spirituality and how that affects the education process." Hauser is looking forward to his English classes as well as embracing the Jesuit Dallas culture, already beginning to accept what the school has to offer by attending Wednesday Rosaries.
Charlie Janicki '08 tutored in GED programs in Milwaukee, Wisconsin and was a teaching assistant in graduate school before returning to Jesuit Dallas. "Now I'm teaching Algebra I and Algebra II," he explained. "I like teaching the students to think about the world as a series of patterns, and I can do that in Algebra." He is happy to return to "the community that [he remembers]" and "[adjust] to the school year." He hopes his students feel the same way!
This is Sara Krueskopf's first official teaching job. She said, "I am enjoying teaching [Algebra I and Honors Geometry]. I love that the curriculum is student centered and directed towards student exploration." She is thankful for Jesuit's warmth: "Everyone, students, and faculty alike, has been so welcoming. If I don't know where something is or how to do something, all I have to do is ask. I am excited to get more involved in the school community."
Haley Mooney taught English in Spain for a few years after college. "I actually taught at a Jesuit school there," she said. She is teaching Spanish I and Spanish II here in Dallas, mentioning that "everyone [here] is so supportive and helpful," and jokingly saying that "My students are going easy on me since it's my first year here."
Emily Myhre comes to Jesuit from teaching in Washington, D.C. "This is my lucky 13th year of teaching," she joked. "I have also taught at The National Cathedral School and two public schools in the DC area and in New Orleans, where I first started my teaching career." She will be a Biology and Chemistry teacher at Jesuit Dallas, and notes that it will be tough to adjust to teaching freshmen when she used to teach juniors.  She has loved her experience so far: "I have been enjoying my first weeks here at Jesuit.  I attended and taught at an all-girls school and in co-ed schools, but this is my first experience in an all-boys environment.  I am having a good time and having fun teaching.  The faculty is so helpful and the science department is an amazing group of people who have been more than happy to walk me through this transition."
Ky Vu said that his first job at Jesuit brings "an exciting time for me and I enjoy the new challenges I have with this new career." He will teach Geometry and AP Statistics throughout the year. "My students are respectful and more often than not they show enthusiasm and eagerness to learn. This is the most enjoyable aspect of my job by far. I have fun getting to know the boys and letting them know more about me." The faculty has also impressed him, being "very supportive." He hopes to adjust quickly and get more involved around the school. He concluded, "I really look forward to seeing how the students here grow and develop into men and what roles they will play in society in the future."
Tommy Codd '12 graduated from Saint Louis University in 2016 and is a member of the Alumni Service Corps. "All of my experiences with the ASC members in the past have been really positive," he said. After talking to Mr. Earsing about the program, he applied and has returned to teach Social Justice and Public Policy and assist with Campus Ministry, clubs and sports, the testing center, and a host of other duties. "I like seeing how Jesuit is different…now [that] I'm on the faculty side of things," he remarked.
A graduate of Spring Hill College in Mobile, Alabama, Cole Enmon '12 has also returned to serve the Jesuit community through ASC. He echoed Codd's thoughts on how being a faculty member is different: "I know a lot of students can get mad at faculty pretty easily when things don't go their way, but the amount of effort that's put in before school, after school, during school, and the care for each individual student here at Jesuit is just unbelievable and more than people see anywhere else." He is looking forward to getting to know the students, especially the Senior Class, and helping however he can.
Ryan Grant '12 "went to the University of Arkansas where [he] studied Political Science with a minor in Legal Studies." He talked about why he came back to participate in ASC: "I wanted to explore teaching and coaching on the High School level, and because Jesuit is home to me. Coming back for a year of service with the school that had a strong impact on my life felt like a perfect way to kickstart my post-college life." Looking forward to tackling social dilemmas in Social Justice and Public Policy with seniors, he will enjoy teaching. He said that "it's been a bit of an adjustment being at Jesuit as faculty. Many of the teachers I work with now taught me when I was a student."
Like his fellow ASC members, Brendan McDonald '12 teaches Social Justice and Public Policy now that he has graduated from the University of Arkansas. He knew why he wanted to come back: "I have always loved Jesuit. I saw an opportunity to come back and I went for it." Teaching has given him a deeper "respect" for the school, and Social Justice and Public Policy "gives the students an opportunity to reflect on their own experiences with community service. This class helps them see the impact they have on the community, and the impact the community has on them."
We all extend a warm welcome to the new members of our community and look forward to getting to know them!