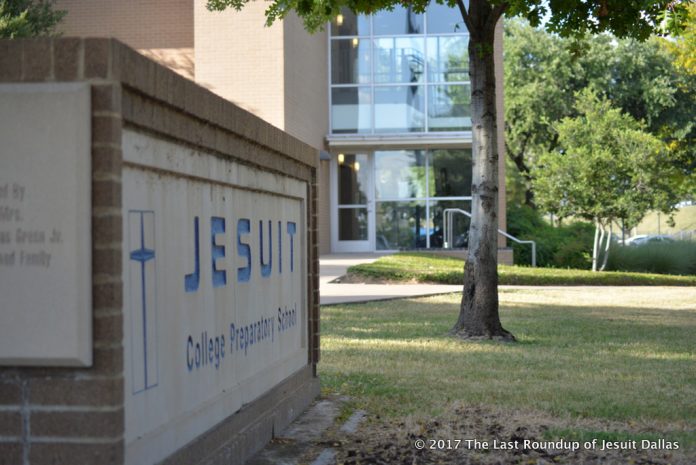 New shoes squeaking, the freshmen burst through the Hall of Honors, and dart to their first high school classes.  They are in for quite an experience: new year, new places, new classes, new faces.
However, the class of 2022 is not the only new addition to our community. This fall, Jesuit welcomes eleven new faculty and staff members to our campus.
Mr. Steve Mininger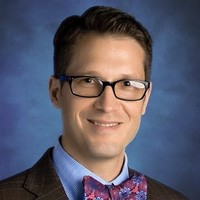 What is your role at Jesuit, and what excites you about the new STEM lab?
My role at Jesuit is to oversee the use of the new Engineering Lab. We want to re-examine how we use the space and how we can maximize the use of it in supporting all students in all courses. Additionally, we want to use this space to ensure that Jesuit continues to offer opportunities in the STEM area. We know our students experience STEM instruction in many of their courses. Now we have a lab to support that instruction and continue to help offer an authentic experience. For instance, if a physics teacher assigns a project that requires students to build a model, they have a place to do work here on campus.
What excites me about the new lab is watching the students go through the problem-solving process in developing their final project. For me, success is in the process and the experience, not so much in the results. It's like what Thomas Edison is credited as saying, "I have not failed. I've just found 10,000 ways that won't work."
What inspired you to come to Jesuit, and what did you do before Jesuit?
I'm approaching my 24th year in education. Most of it has been in administration. I was approached with this opportunity and couldn't resist! What's more fun than working with students, tools, machines, computers, and being creative?! We have an opportunity to really stand out as a school who can lead in the STEM area. I want to be a part of that.
What has been your favorite part about Jesuit so far?
The camaraderie among everyone here; students, faculty and staff, and parents all want to be a part of the community. Everyone wants to move the school forward and make it great. There's a lot of passion here!
What are you looking forward to at Jesuit?
Simply being a part of the school and making connections with everyone here. At an earlier prayer service, Mr. Garrison spoke on the value of community and friendship that has stayed with him and making lifelong connections with others. I'm looking forward to making those.
Where did you attend College?
I'm a graduate of The Ohio State University. GO BUCKS!
Do you have any unique hobbies or interests?
More than anything, I enjoy rolling up my sleeves and getting dirty! Perhaps that's the attraction to this new lab, using tools to problem solve.
Mrs. Cynthia Schmidt
Mrs. Cynthia Schmidt was born and raised in Montgomery, Alabama. Graduating from Montgomery Catholic Preparatory School in 2007, Mrs. Schmidt advanced both her education and spirituality at the University of Notre Dame. Receiving a BA in both political science and theology, Mrs. Schmidt received the prestigious Irish Clover Award for her involvement in student government, from Class Vice President to Class President to Student Body Vice President. After completing her studies at Notre Dame, Mrs. Schmidt attended the SMU Dedman School of Law, completing her honors degree in 2014.

Her impressive track record doesn't stop with her education; her experience in law is equally as extraordinary:
"I completed a federal clerkship for Judge Barbara Lynn, the Chief of the Northern District of Texas, completed a fellowship practicing religious liberty law at First Liberty Institute, and then practiced at Gibson Dunn & Crutcher for three years. At Gibson Dunn, I defended big companies like Facebook and AT&T from class action lawsuits. I loved every minute of practicing law (well… almost every minute) but felt that my lifestyle was unsustainable. We have a growing family (two little girls so far, and hopefully we will be blessed with more children!), and my husband's practice of law is very demanding."
Why Jesuit?
At the same time I was feeling maxed out, I was having the itch to serve the Church. The opportunity at Jesuit cropped up just at the right time, and both my husband and I were thrilled that I could spend one day a week serving the amazing students of this school.
I currently work with seniors fulfilling their Service Practicum on Wednesday mornings and teach two Social Justice and Public Policy classes on Wednesday afternoons. I love it!
My husband, Grant, is a Jesuit Alum (class of 2006). He took me to visit Jesuit during my first visit to Dallas when he and I were still dating. I was new to all boys' schools, new to Ignatian spirituality. I immediately became a believer in the whole vision of the school!
Life Outside Jesuit
Beyond raising two young girls and teaching SJPP on Wednesday's, Mrs. Schmidt is quite the artist:
"I am big into music (I play guitar and meddle with piano). I'm also big into art. I used to paint with oils and acrylics, but art for me these days is more Play-Doh, construction paper cut-outs, and crayons–but I have developed a love for those mediums too. I love to write books for my two children. Also, I also love to cook; in fact, I have just started learning how to make bread. And my latest addiction is Soul Cycle."
Mr. Dan Wolf
I know your kids went to Jesuit, but were you associated with the school before then? When did you kids graduate?
I had no ties to Jesuit prior to my kids going here (but I was a graduate of Loyola Academy in Chicago). I have been a mentor to the team for the past 8 years in a variety of roles: scout mentor (lots of statistics!), bumper mentor, strategy, shop supervisor, field builder, and travel coordinator. So moving to the current role was not too big of a jump.
Robotic Background of the Wolf Children
Quinn graduated in 2012. He was on the 2010 Vex (similar to FTC) team that went to the Vex World Championships as well as FRC for 2011 and 2012. He was part of the team that was the first to fully CAD a robot (the yellow one on the shelf). Currently, he is a Robotics Engineer in Denver. We often say he's "living the dream".
Kyle graduated in 2014. He was the president and driver for the team that won the World Championship in 2014. He is in his last semester at Marquette in Mechanical engineering.
Are you just coaching robotics or do you have other roles as well? Do you work another job on the side or is it just robotics at Jesuit now?
I retired from a career as a Statistician for a local IT consulting company in May and stepped into the current role in June. The timing couldn't have been better.
Why did you decide to become a coach?
I am more of a general manager, supply sergeant, safety captain and talent developer for the team than a coach. I leave the on the field coaching to smarter people than me.
There are several reasons:
1. Jesuit is a very strong and supportive community. The shop is awesome and the team mentors and students are really smart and talented.
2. I felt I could make a difference helping the team develop new skills, staying organized and helping to steer the team in the right direction.
3. It gives me great personal satisfaction to see the growth in our students from year to year.
4. FIRST is fun to be a part of.
How is it going so far?
So far so good. We learned a lot at our first off-season completion over the summer where we did not do as well as we had hoped. We made adjustments and won the second competition of the summer.
The team is among the best teams in the world. In fact, we were recently ranked 36th best team out of 3600 teams worldwide (1%) based on a weighted average performance of the past 10 years. To put that in perspective: If we were playing in NCAA Division 1 basketball, we would be ranked 3 or 4 (1% of about 350 teams). That's the equivalent of having a Kansas or Kentucky like program.
I am focusing on three initiatives during my first year to help sustain excellence:
1. Support the team in switching to a new type of drivetrain that is lighter, stronger, faster to design and faster to build.
2. Upgrading training and safety procedures.
3. Help students get "wider" (learn new aspects of robotics) and "deeper" (get better at what they already know) through project-based learning.
Ultimately more and deeper skills will lead to better robots and even more team success in the future.
Mr. Brad Hajovsky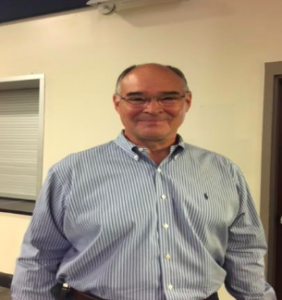 Why did you decide to work in technology?
Primarily due to the broad array of opportunities offered in the technology field.
Where are you from (Where were you born)?
Dayton, Texas
 How did your family and living environment influence you while growing up? 
What influenced me most was my parents work ethic and modest lifestyle.
What would your childhood friends tell us about you?
I'm very funny and friendly.
What is your favorite music group/band?
Nothing in particular, but I do enjoy classical / pop music.
Why did you decide to work at Jesuit Dallas?
I really did not decide on my own but this awesome opportunity seemed to unfold itself before me as a gift from God.
Where did you work previously before coming to Jesuit?
The majority of my IT career has been spent in higher education but I most previously worked in the private sector as the IT manager for Mueller Metals.
Mr. Brett Banks
Brett Banks is the new freshman and sophomore theology teacher at Jesuit. He attended McMurray University in Abilene Texas and graduated in 2018.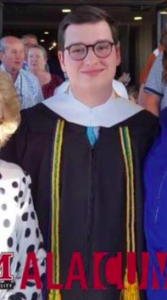 "In college, I had a spiritual experience that shifted me, and made me realize I wanted to go into theology." He majored in Christian Ministry and Theology and taught freshman as a senior where he became experienced in teaching.
He chose Jesuit "because it's a great Catholic school that allowed me to build my faith while teaching." He enjoys that the Jesuit students are "very engaged and unique in the way that they actually care about what they are studying."
Ms. Tanyika Carter
Jesuit welcomes Ms. Carter as the Director of Diversity and Inclusion. Ms. Carter's most recent job was at the Boys & Girls Club in Fort Worth, a charity that invests in the less privileged youth. She thinks that working at Jesuit will be a "unique opportunity and challenge to work with boys and young men."
Ms. Carter believes that the high school years are very formidable and she wants to support students through it. "[I am] really really excited to be apart of the Jesuit family, and looking forward to supporting" the Jesuit students in "academic pursuits and extracurricular pursuits."
In her free time, she likes to cook, read and travel and her most recent trip was to Mexico a few weeks ago.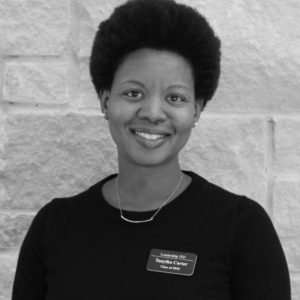 Coach Giuliano Sanchez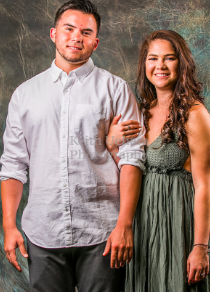 Coach Sanchez is the new Assistant Director of Athletic Performance as well as an anatomy teacher. He will be the strength and conditioning coach for many of the sports at Jesuit.
He spent his early life in California, where he went to De La Salle Catholic high school, which you may remember from the movie "When the Game Stands Tall." Sanchez had a great experience there, and so when the opportunity came up for him to work here, it was an easy decision for him to accept.
Coach Sanchez initially had coached in the college setting, but he noted that "When you're coaching in college, the players are already pretty much their own person, but in high school, you can really be a part of a kid's development to a man."
Sanchez went to Colorado Mesa University as a lacrosse player under scholarship. Then, he went to Louisiana State University for his master's degree on exercise physiology.
Coach Sanchez's biggest points of emphasis when coaching are"Communication and effort," attempting to make it possible for when one is fatigued to still be able to communicate and give effort.
Outside of Jesuit, Coach Sanchez enjoys relaxing with his wife and daughter, Gemma, as well as exploring this new city by going to different points of interest in Dallas such as the zoo and the world aquarium.
Concluding the interview, Coach Sanchez said "If you see me around campus, come to say hi and introduce yourself. I'm really excited to be here and am ready to become a member of the Jesuit community."
Mr. Matt Upton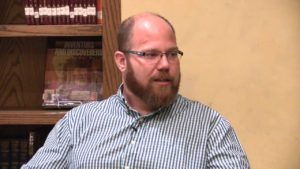 Mr. Matt Upton is the current head coach of rugby at Jesuit, as well as a teacher in the Math Department, teaching Algebra II classes. A Jesuit graduate of 2002 , Mr. Upton began coaching rugby last year and was brought on as a classroom teacher this year.
He graduated from the University of Oklahoma in 2007 with a Bachelor's degree in Business Administration. He played rugby at OU, where he greatly improved his craft. Upton then began a career in business in New Orleans, working primarily for several engineering firms in the region. He credits the Jesuit network and community for finding a place to live when he first moved to New Orleans, as he lived with someone from Jesuit High School in New Orleans that he was put into contact with by a member of the community here at Jesuit Dallas.
Mr. Upton graduated with a secondary education degree from Grand Canyon University in 2016. He worked at Waldo Burton Memorial Boys' Home in New Orleans for several years while in New Orleans. After graduating with his degree, he returned to the Dallas area. He worked as a long-term substitute teacher in Frisco ISD before coming to coach and teach at Jesuit.
Mr. Upton says his favorite thing about teaching at his alma mater is participating "in the formation of the students here." He has enjoyed seeing the teachers' side of the Jesuit experience he had as a high schooler. "I love being able to see a whole new side of Jesuit. I'm still learning things," he says, and he recalls fondly his own teachers here and the role they played in his life. He hopes to replicate those experiences for his own students, now that he is a Jesuit teacher himself.
Mr. Imon Ferguson
I am aware that you work in the Math department but what specific courses do you teach?
I have the pleasure of teaching Advanced Algebra 1 and Geometry.  Advanced Algebra 1 is intended to challenge the students who show promise in the study of mathematics that has been placed in an Algebra 1 course. This year, my hope is to integrate our curriculum with several projects that take a complex, real-world problem or situation and develop our algebra skills within the framing of the project.
For instance, students may lose interest when discussing the intricacies of factoring polynomials, but if the unit were to begin with a glimpse into the world of cyber-security, in which the existence of prime numbers (and by extension, prime polynomials) are fundamental to the success of data protection algorithms, we could provide context into why studying factoring of polynomials is a worthwhile task with applications in the real world.  I look forward to seeing how projects like this drive the course forward.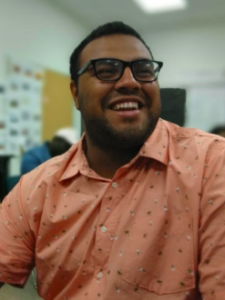 Geometry, the other course that I teach, is just as (if not more) challenging. It is significantly different than any other math course that students have experienced to up to that point. In Geometry, we aren't necessarily concerned with solving an equation or graphing a function; rather, we explore relationships between figures and validate those results using a systematic method of deduction.
I enjoy teaching the course because it is perhaps the first time in a mathematics classroom in which students are asked the questions "why is that true?" and "how do you know it is true?". We challenge them and encourage them to challenge others anytime a statement is made without proper justification to back it up. It is the first time that they are asked to break down what they believe they know about mathematics and only accept a few fundamental statements. From those statements, we build the entirety of the course content. Admittedly, I'm making it sound much easier than it actually is.
I am also in the math lab during 4th period, so feel free to stop by; I particularly enjoy the calculus and geometry questions!
Where did you teach before coming here, if you didn't teach before coming here, then what was your previous profession?
I was a Mathematics and Physics teacher at a charter school in the Plano area, in which I taught a number of different courses, ranging from 7th-grade mathematics to junior-level Physics. Before that, I was a Teaching Assistant throughout my college years. The running list of courses that I was a Teaching Assistant for is: Engineering Physics I, Engineering Physics II, Pre-Med Physics, Calculus I, Calculus II, Calculus III, and Differential Equations. If you need help with any of these courses/subjects, I can most likely help you.
Why did you come to Jesuit?
I am an alumnus from the Class of 2012, and I had always known that I wanted to become a teacher (mind you, I didn't necessarily want to admit that to myself when I started my college career). I am a huge fan of the formation aspect of our Jesuit education. Our educational experience transcends what is taught in the classroom. We are taught to live according to the profile of the graduate at graduation, which is something that I carry with me every day. I had some amazing experiences and great teachers that inspired me to pursue what I felt my calling was, and I hope to provide a beacon of light to my students in the way that my teachers did for me.
Where did you attend college?
I graduated from Trinity University with a B.A. in Mathematics and Physics. I decided to double major because I loved both Math and Physics, and I couldn't decide between them. Fortunately, I had some good professors who encouraged me to pursue both and worked with me anytime I had questions or concerns.  I also got some great experience working with students through both serving as a teaching assistant and engaging in a few different extracurriculars.
What are some of your hobbies?
I thoroughly enjoy people, and that manifests itself by me attending and engaging in literally every social event that I can find. Also, I love traveling around the US and immersing myself in the variety of cultures that exist within our own nation. I enjoy writing, sitting poolside, swimming, wine-tasting, cooking, being in the peaceful countryside, going to trivia and karaoke, watching Jeopardy, skimming Netflix and HBO shows, reading nonfiction, playing volleyball and rugby, riding roller-coasters, talking, playing my PS4, and many other things. Also, I love anything complex /puzzle-oriented that requires thought and problem-solving. I am one of the chairs of a networking group of young tech-oriented professionals in the Dallas area, called Tech Titans NextGen. My primary goal with the organization is to connect these tech professionals with STEM-field classrooms, in order to bring a sense of authenticity to the content of the curriculum. That's just a few of the many things I enjoy!
Is there anything you are looking forward to this year either academically or socially at Jesuit Dallas?
I look forward to each and every day. The most meaningful experiences often come from the everyday interactions with students and fellow peers, so being mindfully present while interacting with others is something I look forward to. I look forward to helping facilitate the academic growth of all of my students and experiencing the moments that they begin to notice their development into someone who creates meaning from mathematics. And Ranger Day. Especially Ranger Day.
Do you have any words of advice for your students this year?
Be ready for the challenge. Learn to be comfortable with "productive struggle". It is okay to not have all of the answers all of the time. I am always available as a resource for assistance or a person for discussion. Don't allow stress to consume you – having healthy habits and stress-management techniques help in maintaining socio-emotional wellness. You all have the capacity to thrive in whatever you do. Ask questions when you have them! Most of all, take to heart the education that you are receiving at Jesuit – it's unparalleled.
Mrs. Jessica Watts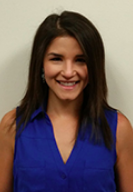 Mrs. Watts, a new Physics teacher at Jesuit, was born in Alexandria, Virginia. She moved around many times because of her father's military service, but eventually found a home in Sacramento, California. She went to high school in Sacramento and attended college at the University of Sacramento Davis. This allowed her to stay close to her family.
Although Mrs. Watts did not like high school, she was always interested in her physics and math classes. She acknowledged that "that's what really kept me going to school everyday…I think physics is just amazing because it explains the world. It explains everything around me and I've always been curious. I knew that's what I had to study and I still love it."
She got her first teaching job at Jesuit Sacramento, but she recalled her job in astrophysics research before teaching, noting how "a lot of times it was me alone in either my office or at home working on the computer, running programs and looking at big data sets. [I was] trying to figure out how I was going to get this program to spit out information that I wanted for a long time. Then I'd write a paper and I'd go present it at a conference and then I'd go do it again."
Mrs. Watts discussed how she did not interact with people much at all in her job so she became the head TA for the Astronomy Program at UC Davis.
"It was on the roof at night with all of the undergraduate classes that had to take astronomy…I was running that and [I was] in charge of the other TA's. I was up on the roof until 2:00 am every day with these students and I really enjoyed that. We would get the finals and run the labs and [other research] like that for the lab portion," she said.
Eventually, she met her husband when he was doing a rotation for a semester at UC Davis while he was attending medical school. She thought that she would not date him due to him living in North Carolina, but he "ended up getting placed in residence in Sacramento. We got together and at the end of residency, three years later, he went to pick a job. " Dallas was one of the options he could choose from, and right before they moved to Texas, they got married.
Now, she is really excited to be a teacher at Jesuit and cannot wait to see what the rest of the year may bring.
Mr. Claudio Eduardo Pinto
Mr. Claudio Eduardo grew up in Southern Peru and went to St. Joseph's, a Jesuit school, for 11 years of his life. After studying English and receiving his under-grad in computer systems engineering, he began teaching in many different schools such as West Virginia University and Arkansas State. He currently teaches Spanish 3, Spanish 4, and AP Spanish. Mr. Eduardo says that he, "looks for students who are willing to pay attention in class."
When talking about his favorite part of teaching, Mr. Eduardo said, "I can share everything that I know, such as my own culture." He also says about the Jesuit Dallas community, " The students are very polite… you can feel there is a feeling of becoming better every day."
His hobbies include reading John Grisham books and traveling to Barcelona. On a final note, Mr. Eduardo said that his favorite thing about living in the United States is the personal space. He says, " There is no personal space in the Hispanic world… you live in like a little bubble." He is happy and ready to teach about other cultures and Spanish in general.
All of us here at The Roundup welcome the news teachers to Jesuit!
Make sure to say hello to them in the hallways and stay tuned to The Roundup.