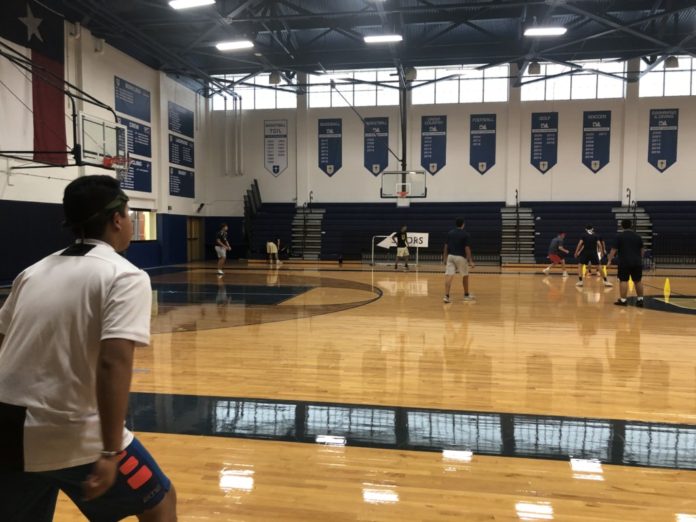 The beautiful game. Over a billion people play the game all across the world. Everywhere in the street, you see kids enjoying the game, playing their hearts out on the streets. Students here at Jesuit experience something similar with the intramural soccer league, except in the prestigious Walsh Gym.
The three teams competing in the competitive intramural soccer league continued play last Wednesday and this Monday towards the championship. As teams are starting to stand out, we are starting to get a real point gap between the three teams. However, there are still two weeks of play left. With games in new locations and tight nail-bitters,
Before we recap last week's games, let's take a look at the standings.
A Look at the Tables and Future Games

In first place, sophomore, top scorer, and captain Fernando Perez's team has gotten an impressive ten points in just five games. With only one tie and one loss, Perez has a three-point gap to play with. The team looks to be on track to the championship. Typically, teams who go in midway through the season in first place tend to stay in first. Will that stay the case? They play the current second-place holders, Los Gueyes, this and next Wednesday. it is not yet over for the underdogs. A win in one in the two games and keeping up their goal difference could lead to Lee's team achieving the league title.
Segura's team, while seven points behind top spot, could still serve as a dark horse in this league. His team could still heavily affect the standings for the others. With an initial win over Fernando Perez's team, could they turn the tide of this intense intramural league? We'll have to see.
Games of the Week
Fernando Perez 6-4 Los Gueyes
Los Gueyes went down 1-0 within the first few minutes to Golden Boot Fernando Perez '22 but came back with a quick response within three minutes with a goal from Peter Nguyen '21. Nate Gomez '20, Perez's newest member, got on the score sheet immediately, making it 2-1, but the lead did not last long. Jason Davis '21, temporarily taking Junior Alex Santoni's spot in the game, comes back to score two wonderful goals before the end of the half. A tight back and forth, there was no way to predetermine the winner.
However, to catch up with Perez's team on points, Los Gueyes went all-out attack to win the game, which ultimately led them to be caught out twice on counter-attacks. Despite another goal, Perez and Gomez's combined six goals and staunch defense led them to victory.
Fernando Perez 3-1 MLS Yung Boyz
After a decisive victory, Perez went back this Monday to play the last-place team, who came out strong in the first half. However, their momentum was startled by two goals on sophomore Fernando Perez's team, and it looked like it could be an easy win. 2-0 down towards the end of the second half, MLS Yung Boyz soon found their strike.
A scrappy goal inside the box for Yung Boyz allowed them to get back in the game, as the crowd went crazy. A close 2-1 game, both teams had chances to put more goals in the back of the net, but couldn't finish them off. After a location change, the intramurals had their first-ever outdoor experience in the pouring rain. Finishing 3-1, Fernando Perez '22 put the game to bed with a final goal.
Los Gueyes 5-2 MLS Yung Boyz
Lee's team had an all-out rout of Segura's team, despite slippery weather conditions and player shortages. "Despite being down three players, the guys from Fernando Perez '22 joined the game to balance things out." It seemed like every pass they played immediately led to a goal. A fun game for both sides, goals by Jason Davis '21, Andrew Reutinger '22, and Peter Nguyen '21 propelled Los Gueyes to a decimating victory. Nguyen liked the location change and enjoyed the game, saying, "Although we had a 5-2 victory over MLS Youngboys, the most important part was just the brotherhood on and off the pitch rather than the result. The misty Monday afternoon really elevated the game, which made it the most fun game of the season so far."
Conclusion
Overall, intramurals is an activity that all can enjoy. Team captain Santi Segura '21 is a big fan of intramurals, "I really like playing soccer non-competitively with my friends. Everyone gets along with each other, and it's an enjoyable experience. The games are lots of fun."
But, in this ever-exciting league, things change in a second. A moment of brilliance could be the deciding factor in intramurals, so don't count any team out yet, as the season comes close to concluding. Did Man City always have their way? Did Barcelona or Bayern Munich or PSG cruise through the league? Well, maybe Bayern and PSG, but certainly not Man City or Barcelona. Get ready for some twists and turns this Wednesday, September 15 at 4:00 in this clash between the top two teams.
Stay tuned to the Roundup for more coverage on intramurals!