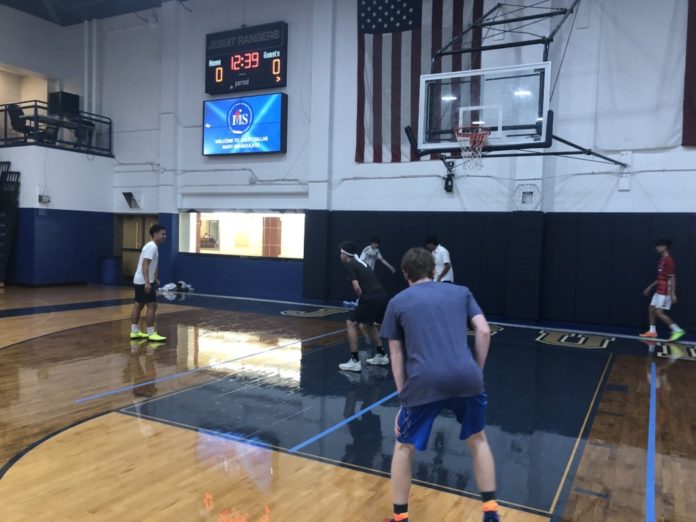 Ryan Spickard '21 watches the ball, ready to start a counter attack. 
For those of you who have been following my coverage of the intramural soccer campaign, it will come to end. As games finished on Monday, October 28, 2019, the season finally came to a nail-biting close. Which team wins it all? You'll have to read to find out.
A Final Look at the Standings
Fernando Perez finished their season with a solid 14 points, even with two forfeit losses. In addition, they scored 21 goals, averaging 3 goals per game. Finally, they conceded more than Lee's team, but ultimately won based on their offense game by game.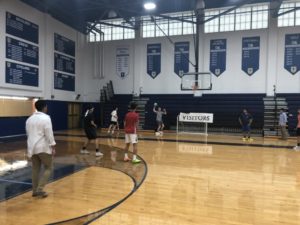 Los Gueyes finished a close second with 11 points, and let in the least amount of goals the season. However, they could not turn important games into three points, which cost them towards the end of the season.
MLS Yung Boyz finished respectably in third place with 6 points, despite letting in 19 goals and only scoring 11. His team became a dark horse, as their forfeit took away points from Lee's team to get the title. My prediction was correct.
Game of the Week
Fernando Perez 9-3 MLS Yung Boyz
This game ultimately decided the season for Fernando Perez, as a victory in this important match up would give them the title. They scored initially through a lovely worked goal capped off by sophomore Bruno Dosal's shot, but Santi's team came back off of Gavin Martinez's finish in a mix-up in the box. Despite another goal by Fernando Perez, they were struggling to make a big impact within the first parts of the game as they were barely up 2-1.
Luckily, they found their scoring touch in the second half, scoring three within the first five minutes of the second half. Despite some consolation goals by MLS Yung Boyz, they got destroyed, almost letting in double-digit goals. Dosal and Gomez both scored a hat trick and couple assists, and Perez himself had an outstanding game with four assists and three goals himself, earning deserved accolades such as Player of the Season and Top Scorer.
Conclusion
Despite a brief attempt to catch up by Los Gueyes, their consistency and talent became the ultimate factors in their success, as schedule conflicts plagued their attendance to get results. Perez led his team to the title, and his role as a captain and scorer cannot be underestimated.
Moreover, this intramural season allowed the Jesuit soccer prospects to play for fun and  prepare for an intense season. Players such as Bruno Dosal, Nate Gomez, Fernando Perez, Jason Davis, and Andrew Reutinger got their fair share of playing time and fun before the winter soccer season. Let's just say that everyone enjoyed the experience. Alex Santoni '21 stated, "I enjoyed being able to play a sport I like with my friends, not having to worry about if we win or lose."
Check back to The Roundup for more updates on intramural sports (especially my coverage of intramural ping-pong)!