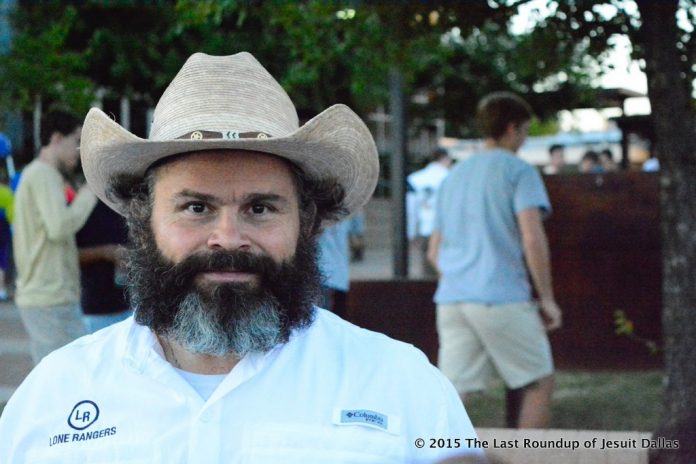 May at Jesuit is often characterized by a joyous onslaught of Convocation ceremonies, awards, and honors given to those extraordinary in their efforts over the past year.
On May 5th, however, the Jesuit Rugby team's banquet came with a shock: the announcement of long-standing Coach Anthony Mattacchione's departure from the team, and more importantly Jesuit. In true May fashion, honor was given deservingly to a truly influential (and often unsung) member of the Jesuit community; a true Man for Others.
Mattacchione was reared in Vaughan, Ontario, Canada and attended Father Bressani High School, a Catholic school coincidentally named after a Jesuit priest albeit not Jesuit-affiliated.
Mattacchione's first experience with the Jesuits came through Rugby in the Summer of 1998 while studying at York University.  He explained that "we went out to California to play a Jesuit squad out there… I was an Assistant Varsity Coach and JV Coach while I was there. After high school, I just kept going back and helping out, paying it forward as my coach had taught me." Matta's lasting connection with his high school coach, he commented, continues today because "sometimes your mentors become your friends."
Through Rugby, Mattacchione was approached by Mr. Fritz Duda, an alumnus of Jesuit, who notified him of an opening for a full-time Rugby coaching position at Jesuit Dallas. Commenting on his reaction to the benevolent offer, "I was just 26, 27 – what could I lose in terms of giving it a try?" He interviewed in June, was hired in July and "lived with the Dudas until October."
Albeit his position at Jesuit has been lasting since 1999, Mattacchione was approached about coming into the Community Service office by the late Fr. T.J. Martinez, S.J. Matta explains, "I was helping Father [with Jesuitpalooza] at the time, and he was just a scholastic back then." It wasn't long before he joined the Service Department after his generosity to Fr. Martinez. "[Fr. Martinez] asked me if I would help him as the Assistant Director and I became his assistant that fall."
"From spending time with him in Homeroom, I can say that Mr. Mattachoine is characterized by a passion for service and a love for students," say Michael Miramontes '18, a Junior in the Community Service homeroom. He continued, "Mr. Matta is always on top of things, organizing service opportunities as well as getting the students in the Ignatian Service Corp Homeroom involved. He's driven, and definitely represents Jesuit ideals through his willingness to help others, friendly relationships with the students, determination and focus from rugby, and just an all-around great teacher."
Though the Community Service Department gained Mr. Michael Riemer from the Computer Science program, Mattacchione's hope for the department is strong; specifically, he hopes to solve "how we can be more effective in our Immersion Trips." A hallmark of his time at Jesuit, Matta explains that "Four years ago, I took on a task: I introduced Alaska…L.A…. I'd like for those programs to become more consistent. Los Angeles isn't in our providence… but I'd like to see more action with those communities."
Rugby
Advancing the team from humble beginnings to one of the most admired programs in the state, Mattacchione has left his indelible mark on the field. However, the uniquely Jesuit spirit in the Community Service Offices translates to the field, according to his Rugby team.
For Marlin Walkup '17, a member of the Rugby squad, he feels strongly that Matta "follows all of the aspects of a man for and with others."
"He serves his community and puts every bit of effort he can into everything. I don't recall any time where I saw coach Matta lose enthusiasm or quit. "
Remembering a specific instance of Jesuit embodiment, Walkup immediately thought of "when my mother and father got in a car crash in the Spring of 2015… I emailed him saying that I wouldn't be able to go to practice. Instead of just saying okay and dismissing me from practice, Coach [Matta] organized the rugby families to bring my family food and meals since my parents weren't able to drive or walk much. My mother was hospitalized for 4 days or so with a collapsed lung and eight broken ribs, [but] the coaches sent flowers and made sure I was able to visit. Coach genuinely cared about my family and made every attempt he could to ensure that we were taken care of." 
On the field, Walkup realized that "He put so much into the program and now that he's leaving it will be difficult, but I'm confident that he gave us the ability to look to the future and improve on the incredible foundation he has built."
Echoing Walkup, fellow senior John Nuchereno sees that "Coach Matta has built one of the closest teams I could've imagined, the camaraderie unparalleled. Hopefully, it remains this way in his absence.  Also, his extensive knowledge of the game and his coaching style will be missed."
Michael Geisler '17, an assistant Captain for the team this year, cites "his leadership and knowledge will be missed greatly… he took care of all of us like we were his sons."
Lastly, for alumni, Coach Mattacchione was especially memorable. Joey Nuchereno '15 recalls that "He taught me to analyze every aspect of the game [and] never take plays off." On a larger scale, Nuchereno views these lessons taught through Rugby like "whenever I'm on the ground and get knocked down I have to get up as soon as I can, just like in real life…" "Whenever I step on the field with the Jesuit crest over my heart I have to give everything I have."
Candidly, Matta said that "I'm probably not the easiest guy to work with at times because I come across as abrasive." When asked further about this perception, he clarified "I'm going to tear 'em down for about 5 minutes, then build them up again just to make sure that they understand that there's a bigger picture… I don't want anyone to think that they're failing on that promise [of service]." Regarding the Jesuit Mission that's been at the crux of the Community Service, Matta compared the complex phrase of being "Committed to Social Justice" to "throwing rocks in a pond." He elaborated, "if it wasn't for the edges of the lake, you'd never see how far those ripples would go and how many people you affect… It's contagious, and it's contagious where [service] doesn't have to be said, but it's just the right thing to do because you're moved by it."
---
"We're sad that we're leaving Jesuit; it's a place that we call home," Matta concluded.
As he begins a new adventure at Regis Jesuit, our local Jesuit "home" wishes him the best as he serves the community of Aurora, CO.