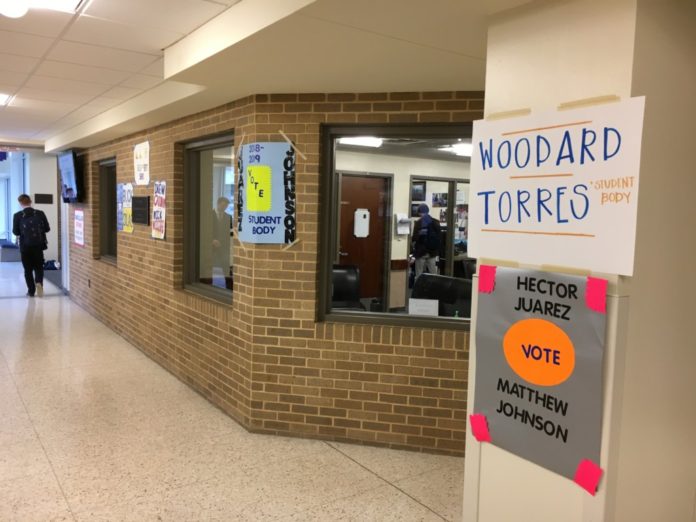 All around Jesuit, campaign posters have been popping up for the upcoming student council elections.
The student body presidential and vice presidential primaries will be held on Monday, Feb. 26. In order to help students make an informed decision in this first round of voting, The Roundup is publishing the required statements given by each candidate.
On Monday, students will have 8 tickets to choose from:
The top two tickets will advance to a final round of voting that will ultimately decide the 2018-2019 Student Body President and Student Body Vice President. Voting will take place outside of the cafeteria.
Will Woodard and Raul Torres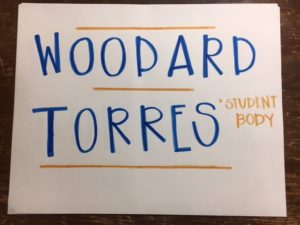 I, Will Woodard, would thrive if I was graced with the role of Student Body President as I am involved in various clubs and teams, from rugby, to the current Student Council. I have close relationships with many of the administration that would allow me to effectively perform my job as the Student Body president. My Vice President, Raul Torres, is also in Student Council at this time and we both understand the responsibility and commitment that is involved with the task of taking up office at this beloved school. I have been fortunate enough to run two of the Junior Class service projects, the Light the Night event sophomore year and the Bonton Farms service project this year with the help of Raul Torres. The Class of 2019 has elected me for Student Council the last three years so I am trusted to perform my job and b ale to effectively meet with the administration. This skill will be valuable as Prom, and other large event planning, comes up because I will understand the finance involved with these events and dances and the logistics that need to be handled when dealing with school wide projects. My ideas have helped form a better Jesuit College Prep, for example, the physics lab was formed with the help of the junior class Student Council and the administration. The school needs someone who has the experience to get things done and be able to better our school and create an atmosphere every student looks forward to be a part of. As students, we have stress and anxiety that should not be experienced at out age, with this problem, Raul Torres and I will strive to create more student led labs like the physics lab so that we can learn to work with our peers while also creating the ideal school that can balance sports and academics. I have an idea to form a time after school from 3:45 to 4:30 in which no sport or club can meet and teachers stay in their classroom so that students and meet with them and ask questions without the pressure of missing practice or club meeting.~~~
I, Raul Torres, would like to become your Student Body Vice President and I believe that my contribution to other leadership roles in the school would be of great service if I were to be fortunate enough to assume the role. I'm grateful to have acquired roles in many clubs such as Ambassadors, MAGIS, Yearbook, and Jesuit Multicultural Society. These many clubs have allowed me to represent the school in many ways and to many people, it has also allowed me to experience and showcase many of the important values and characters that Jesuit has to offer. To recognize Jesuit's values and qualities and represented them well is very important and an honor for me. I also have been grateful enough to earn a part in being a Kairos leader and making the Kairos experience the best for my Jesuit brothers. I have also had the opportunity to attend many service projects and experience the joy of giving back and benefiting others. Jesuit and many of the students here have helped me grow as a person and they're the reason I'd like to become their Student Body Vice President, so I may help them and give back. My ideas to help give back to Jesuit is to implement a Writing Lab, essays are used in many of the courses offered here at Jesuit. Such as History, English, Theology, and can also help seniors with their college papers or resumes. Similar to the Math Lab, the Writing Lab will benefit many of the students at Jesuit. Students can also be allowed to tutor or help other students, at the recommendation of a teacher. As a student I have witnessed the stress and frustration students have with exams and tests, my goal to help alleviate that stress is to create a stress-relieving room where students can try to calm and relax. I appreciate your consideration for me as a Student Body Vice President and a representative of this school.~~~
Collin Kenny and David Reichert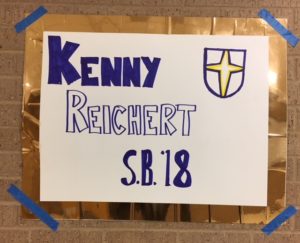 Presidential candidate Collin Kenny: Hello, I'm Collin Kenny and I'll be running for student body president alongside David Reichert, my VP. I feel I should be elected due to my desire to serve others. David and I wish to give back to the communities in which we are so proud to be apart of. Both David and I plan on entering the military after college in order to give back to our country. As study body president I would do everything in the best interest of my brothers, and attempt to help them in any way I can. As president, I would work to allow each student to grow in the six pillars of the profile of Jesuit graduate. I was a freshman and sophomore retreat leader, and I am currently training to lead the Junior retreat and eventually Kairos. These experiences have allowed me to further connect to each grade level and further reflect upon the unique dynamics of each year. This connection to all grade levels will help me lead in a direction that benefits all students, not just the class I am currently apart of. In addition, I truly take to heart the motto of, "Man for Others," as it is something I strive to live for every day. Last year I was honored to receive the Man for Others award, and David received it his freshman year. Both of us take this idea extremely seriously and we would guide the school by this principle to ensure its prominence.
If elected, I have a few big things on my agenda.
I plan to help create an environment similar to the math lab, but for other subjects. A Physics lab has just been created, and it has been effective in helping students learn concepts. Creating environments like a chemistry lab or a Spanish lab during lunch periods would help students gain the confidence they need in their studies.
In addition, I wish to change the lunch policy. I'd wish for students to have the ability to easily eat outside or in courtyards. I think this would provide a liberating break in a busy day of studying, allowing students to relax and take in some fresh air.
Thank you for the opportunity to serve my community.~~~
Vice presidential candidate David Reichert: As a Jesuit student for the past 3 years, I have always felt that the student council did not really do all that much. Upon learning of their involvement in so many school activities and necessary day to day interventions, I have come to see this as a way to really take another step in helping make our community better. To be honest, the leadership role looking good on a college application is attractive to me. I have aspirations and goals which this would help. However, I do see this role as vice president as a real way for me to serve the community humbly as well as reap that reward. I feel though that these aspirations and goals only make me more fit to be a leader of our community because part of what Jesuit offers is a heightened chance of success, and I would present an example of someone who sees and uses this blessing. Another reason I would like to do this is my inclination to be a leader. I have always felt as though my role was to lead the pack, and I have practiced that both formally and informally all my life. As one of the captains of Eucharistic minister I have experience leading and organizing. I am not perfect however, and I also see this position as a real place where I can grow in my confidence and leadership skills. One of my aspirations I mentioned previously is to serve as an officer in the marines. The aspects of being Vice president which entail working with others to achieve a goal I feel would greatly help in preparing me for this role. I have a great relationship with many of my classmates and many underclassmen as well, which I feel allows me to bring a perspective which would be beneficial to the council. Likewise, the various extracurricular activities and well-roundedness of my activities only add to this perspective. Thus, I feel I would be a good candidate for student body vice president.~~~
Matthew Mancillas and Nelson Brown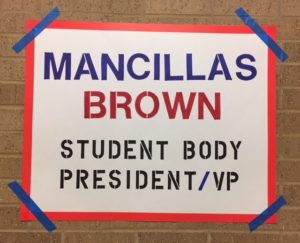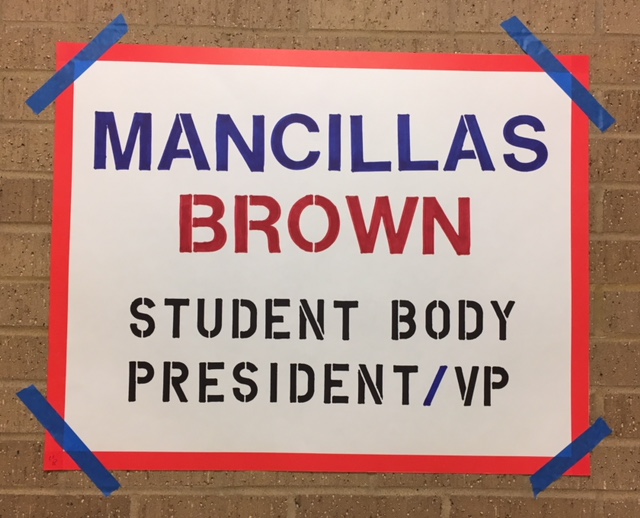 Presidential candidate Matthew Mancillas: I should be elected for this year's Student Council because I know that my running mate and I can enact a true shift in mentality throughout the Student Council and the Jesuit family. As new members to Student Council, Nelson and I would strive to relight the fire that forges the Dallas Jesuit community together, reviving the adoring fervor of past years that seems to have dwindled recently. As for representation, I believe that I could represent the school amazingly. As a Jesuit student, I am well rounded, participating in Rugby and several demanding academic courses as well as frequent community service. All of these have taught me how to maintain a rigorous work ethic along with accepting new responsibilities to incorporate into my schedule. In addition though clubs such as 24/7 and PALS, I believe that my leadership skills have been honed to guide Jesuit into a promising new year. Furthermore, both my partner and I hold ourselves to high standards as a part of the Jesuit community and being elected as Student Body President and Vice President would only encourage us to raise the bar even higher for ourselves. As Student Body President, I hope to strengthen the bonds of the Jesuit family. Through a variety of "special events/days," I want to create not only days that add extra excitement but also create opportunities for the student body to grow together as a community, as well as increase overall school spirit (still needs a new name however). In addition, I hope to push for more athletic game participation, especially for our basketball and soccer teams. After the initial vigor of the first home football game, student interest in sporting events dwindles with lowest participation during the winter games. Nelson and I intend to advertise and encourage for a greater representation of the Jesuit family when any sport is defending the 32.~~~
Vice presidential candidate Nelson Brown: My name is Nelson Brown and running for Student Council has been something I have been interested in pursuing for a while now. I believe, if I were to be elected as Vice President, I would be able to provide the school with a strengthened community in the wake of the ongoing issues with race. Also, I would work towards a more unified student body throughout all the grades. I hold myself to a high standard when representing our school and myself already, and I plan to uphold those same standards as Student Body Vice President alongside Matthew Mansillas.
At the beginning of my time at Jesuit, the community element was what drew me so close to this institution. There was such a unity between everyone, both seniors and freshmen alike. However, as years have passed, a social gap between the classes and the community has begun to grow. I plan to bridge this gap through more events or "special days" (still a working title) which would provide a way for each class to become closer and for the community ties to begin to mend. I have also seen a lack of participation in many sports such as basketball and soccer. While everyone comes to the football games, the crowds are sparse at many of the games of these sports. Encouraging participation from the student body in these sports will be another of my goals as Vice President because it will not only help the community of Jesuit, but also encourage more school spirit. I believe that I am qualified to be Student Body Vice President because I have a love for Jesuit and believe, with the help of Matthew as President, I can help the school stay on the right track for the coming years by encouraging more community engagement and bringing everybody closer together.~~~
Marco Marrero and Reagan Ernst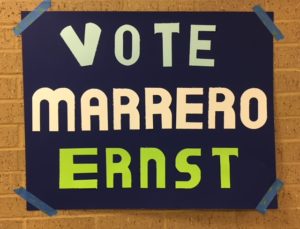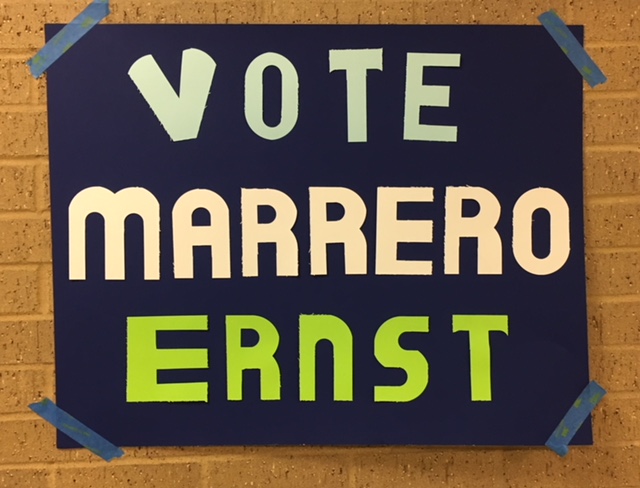 Presidential candidate Marco Marrero: Hello, my name is Marco Marrero and I am running for Student Body President with my running mate and Vice Presidential candidate, Reagan Ernst. I am thrilled to be a candidate for Student Body president and feel that I have the qualities to be a highly successful Student Body President. The Student Council is a critical organization to student life because it truly represents every student at Jesuit. From organizing social events, running major service projects, leading council meetings, and doing what is best for all students. I will seek ideas from my fellow students in order for 2019 to be the best year. Along with the countless tasks designed to enhance the student experience at Jesuit, a leader of the Council must also hold certain characteristics that are critical for maximizing the power of the council. As a member of the Executive Ambassadors and serving on both the Sophomore and Junior Retreat Leadership Committees, I feel as though I bring a lot of leadership experience to the position. Also, my experience and dedication to athletics, specifically being a catcher in baseball, while also maintaining a spot on the Presidential Honor Roll for every semester so far at Jesuit, is a tribute to my tenacious work ethic and my abilities to handle multiple responsibilities. To contribute to this already successful organization, Reagan and I have developed ideas that will be in the best interests of our fellow students. In addition to the ones Reagan stated, my ideas are:
– First, as we all know, there are few, if not any, designated quiet zones to do homework in the school. Yes, there is already one in the Information Commons, however, students still continue to talk in the space, creating a need for much stronger enforcement. If elected, we would plan to implement a designated "quiet classroom" available during every period.
– Second, we plan to implement a shorter period of time for the use of blazers during the year, especially as it begins to warm up during this time of year.
– Third, increase school time interaction/exchanges with Ursuline Academy.
With these ideas in mind, I hope you will see that Reagan and I are highly qualified candidates and worthy of your vote. Thanks and vote Marrero-Ernst!~~~
Vice presidential candidate Reagan Ernst: Student Council has played a vital role in the Jesuit community for decades, and they continue to play a significant, behind the scenes role in a majority of the activities you may participate in on a daily basis. The current tandem of Lindsay Brown and Reid Hatzmann has done an incredible job administering the Council this year, but I, Reagan Ernst, and my running mate, AKA the future President of Jesuit Student Council, Marco Marrero will up the playing field.
I believe that there are many tenets which make a leader great, and in my humble opinion I believe that not only I qualify, but my running mate does as well, based on these tenets. A great leader must have the ability to allow and help others to succeed and flourish. A great leader must have an innate charisma, which attracts people towards you. A great leader must also be innovative, creative, and have faith in their beliefs, and lastly a great leader must be open to new ideas and have respect for those ideas even if they do not agree. There are also a variety of other aspects, which makes one a great leader, but for me these qualities stand out to me. I lead a service event nearly every single week, and my commitment to service has taught me a lot about what it means to be a leader; it has allowed me to obtain many of these tenets, and I continue to approve upon these every day. Also, when it comes to innovation and creativity, Marco and I have collaborated our genius in order to come up with unprecedented ideas on how to improve the school.
Here are a few of our ideas:
Have occasional dress down days, as Aristotle may have said "Dress comfortably, perform well"
Expand the area to where we can eat, possibly an outdoor venue
Start late arrival days at 9:00-9:30
Keep in mind, these are just a few ideas we hope to implement when we become President/VP.
Not only am I fit in every way to become the Vice President of the Student Council, but I was also named after two Presidents, Ronald Reagan and William McKinley, McKinley which is my middle name. This is not a coincidence, so getting this position is destined to happen. Thank you, and vote Marrero-Ernst.~~~
Drew Quinn and Nicholas Kissee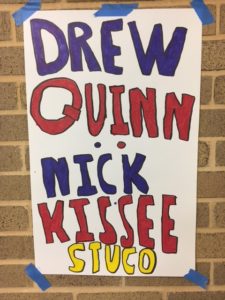 Presidential candidate Drew Quinn: I think that I should be elected on the grounds that I hold the desire to represent, improve, and lead not only the Student Body, but everyone at Jesuit. The idea of representation and leadership go hand in hand for me, and are two factors that I think are very significant. A Student Body president who can effectively represent the student body portrays a positive image for all students. This is an important factor in leadership, because one who can appeal and represent all can become a very effective leader, while promoting many of the ideas that form the foundation of Jesuit, namely brotherhood, service, friendship, and others. An individual that can help tie together a community with these values can help establish a close-knit environment that does nothing but build each other up, and create members that want to give back to the community. I think that I am capable, with the help of Nick, and of others, of becoming this individual.
To be completely honest, I would not be running if I didn't think that I accurately represented my school. I think that one of the biggest traps someone can fall for in life is to remain close-minded, and not explore the kinds of people and experiences that are outside of what you are used to. I try to identify with many different social backgrounds, all of which contain people that I am familiar with and can call my brother. To me, representation is the ability to be viewed not as someone of a particular social, economic, or political background, but can be seen as a leader that can relate to all aspects of the aforementioned backgrounds. I believe that I embody this individual, one who does not cling to a particular social circle,, or only talk to those who agree with their political views, etc. Personally the perfect form of Student Body representation is one who is open to growth, approachable,, and one who is open to all opinions and treat them fairly and with consideration. For myself and where I am right now, I am jumping at the opportunity to use these traits to truly represent the Student Body.
Anyone can make radical promises that can't really be held up, but I can say that after close examination of the terms of commitment, and seeing what is in the power of Student Body President, I would like to improve Jesuit in a few ways:
Assemble the best possible teams for coordinating major social events and ensure that everything exceeds expectations from the previous years. I consider myself very creative and would find the organization of such events a fun challenge to pursue.
Establish good relations with the community. I love to hear opinions from outside sources, so I would use the meetings with moderators as well as stakeholders to ensure that the council is putting forth the maximum effort, happily take feedback and suggestions, and put forth the effort myself so everything may be considered.
Collaborate with my peers to help other responsibilities and leadership opportunities that come up. It's always in my desire to lead as best as possible.
I believe myself to be qualified to hold a position in Student Body because I exert diligent effort in areas that I'm truly passionate about, and Student Council is no exception. I enjoy working towards the betterment of the community as well as establishing relations within the community. I am willing to use up as much of my time as needed in order to carry out the best possible job that I can if I were to hold this position. I think if I were to be privileged enough to hold the position that I am running for, it would even further ignite the passion and excitement that I have from even just running for the position. If you have any doubt about my qualifications for the position of Student Body, I would re-read all of the genuine sentiments that I've spelled out in the reflection.~~~
Vice presidential candidate Nicholas Kissee: I should be elected because I believe I could connect with multiple groups in the Jesuit community, allowing our community to grow and appreciate each other even more. Through connecting with every group and class we could make the experience of Ranger Day better by understanding the past problems with it and fixing them based on people's standards. I would adequately represent my school because of my ability to comfortably speak in front of large crowds and because of my wide connection with all groups of Jesuit. I would not only represent my school but I would lead it to the best of my ability by giving the best experience to the most amount of people. In the role of vice president, I would be able to ask the needs of all Jesuit students and be able to reproduce them into my plans for the school. I want to do this because in my past experience at this school I found students with valuable plans for Ranger Day and other activities that could not be spread because of their small status at Jesuit. I am qualified to run for vice president of student council because I have the tenacity to do so. I want to satisfy as many people as possible. I have the passion and motivation to do my best for the school and with those two characteristics, I feel I am qualified to be vice president. Having passion and motivation means that I am motivated to work for this school but at the same time love what I am doing for it. Through my experience in theater and my connection with all groups in the school, I would best be suited to represent this school.~~~
Joseph Buck Popolo and Silas Hartman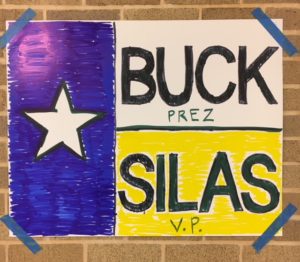 I, Buck Popolo, would love to be your Student Body Present. I have been on Student Council since freshman year and I am finishing my third term on the council. I have also assumed other leadership roles at Jesuit including Ignatian Leadership corps and I will be a Kairos Retreat Leader. I am also earning my Eagle Scout rank this year and have held a leadership position in my troop for the past few years. Because of this, I feel I am qualified to be your Student Body President. If I were to be elected, I would increase the communication between the council and the students. Many students have good ideas, but either do not know how to voice them or forget about them. I think it is important to have this strong communication and relationship, because if we do not maintain it, then many problems would go unsolved. I think Student Council should have more of an overall presence in the school, because many people do not really know what we do or even our importance other than dances, but I think if we make ourselves more known, then we can help solve more problems to make our school better. In addition, I think there should be outdoor seating in between the cafeteria and the Terry Center in Xavier Mall. Whether it be benches or picnic tables I think it would be a good space to hang out and enjoy the nice weather. If you were to elect me as Student Body President I would try to make sure everyone problems were heard, and as a council we would try to fix them.~~~
My name is Silas Hartman, and I am running for Student Body Vice President along with Buck Popolo. I think I should be elected for a few reasons, and one of these is because I have had many leadership roles throughout my career. I have been on Student Council since freshman year and I have been a Student Ambassador for both my freshman and sophomore years. Finally, I achieved the rank of Eagle Scout this past year within my Boy Scout Troop.
I believe that the role of Student Council is to help communicate the needs of the student body to the school, because very often, students want change yet they do not know how or who to ask. So, in order to reach out to the student body more, one idea I have if I am elected is to improve the means of communication between the student body and the Student Council. I would create a new suggestion box that would be easily accessible to everyone, I would keep the Student Council Twitter page up to date so people could contact us on there, and I would have counselors talk to kids about improvements to the school during guidance periods. By doing these simple things, I think that kids who want change can speak up and not feel afraid to ask anyone.
So, if I were elected, I would work very hard to ensure that everyone in the school is heard, and I would try to make sure many people can get the change they want.~~~
Andrew Brannon and Jaibin Mathew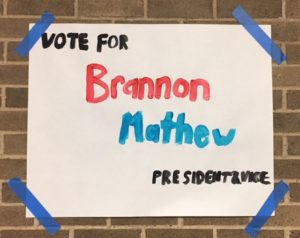 Presidential candidate Andrew Brannon: I believe in moving forward. I believe in breaking new ground and taking initiative to turn an idea into a reality. Because Jesuit contains many different types of people, athletes, scholars, artists, and many more, there is an incredible amount of ideas that students have which never come to fruition. As Student Body President, my goal would be to enable the minds of Jesuit to create the change that they want to see. In my eyes, the goal of every government should be to support its people, and the same goes for Student Council. Leadership, as it maintains the purpose of improving a community requires understanding the desires and opinions of the individuals within the community. This is why, aside from the more regular jobs such as running meetings, organizing major events and prayer services, and acting as a conduit between the students and faculty, I would work towards fostering student-driven projects and initiatives.
As well as this, I would like to reinforce the meaning of Jesuit's motto, Men For Others, in our daily life at Jesuit. The phrase is incredibly important to our identity as a community, and I feel that it has application ubiquitous application in the life of a Jesuit student. This year, Jesuit stressed the idea of empathy. I would like to push that even further and stress the importance of maintaining strong interpersonal relationships with people inside and outside of the Jesuit community.
In my time as a Boy Scout, I have earned the rank of Eagle and currently hold the position of Junior Assistant Scoutmaster, under which I organize regular meetings and coordinate other opportunities for scouts in my troop. As well as this, I have been committed to martial arts for over ten years and now regularly lead classes and instruct other students. However, I think that my greatest qualification for this position is my wide range of contact in the Jesuit community. I pride myself on being involved with students across many different organizations and classes, which allows me to lead the entire school more considerately and effectively. This, alongside my ambition and goals for student empowerment makes me deserving of election to the office of Student Body President.~~~
Vice presidential candidate Jaibin Mathew: The most important job of the Student Council is to serve. To serve the school, the faculty, and most importantly the students. Jesuit has transformed my life for the better, and I think that I can contribute to the community that I love by serving on Student Council. I'm absolutely committed to the betterment of Jesuit and I will passionately work to make the school the greatest it can be.
These are the items that deserve attention. Currently, every class only performs one service project a year, but I know Jesuit and its students can do better. It is necessary that we increase our class project output to at least two projects a year. My running mate and I deem it imperative that an increase in fundraising initiatives should be pursued. This would thoroughly assist the marginalized in our city and reaffirm our commitment to social justice.
Another area that I believe we could improve on is the interaction with Student Council. There are major misconceptions concerning how a normal student can contribute to the actions of the council. The average member of the student body does not understand what the Council does and how they can participate, so making the suggestions box more visible would be a viable, important step towards improving student involvement.
I would also endeavor to meet with the school's administrators more frequently in order to improve the community's relationship with its students. Because success depends upon interaction between the students, their council, and the faculty, the school would improve immensely with this plan for increased communication.
I possess the credentials necessary to hold this position. I've led the Freshman and Sophomore Retreat, been a part of the Freshman Initiative Team, and will lead the Kairos Retreat next year. My abilities as a leader are reflected positively by my position as Drumline Captain and Junior Representative in band. Because of my involvement with the diverse members of band and theater, I understand the student body's varied opinions, allowing me to enact pertinent change.
My attendance at the Dallas Area Diversity Youth Organization meetings further demonstrates my understanding of inclusivity, an integral leadership skill. I was distinguished individually by the counseling department through the recipience of the Counselor's Award. Additionally, I'm well versed in planning and execution as indicated by my involvement in Sam Johnson's Congressional Youth Advisory Council and volunteer work in Judge John Payton's campaign for State Representative.
I approach student council with fresh eyes. I am filled with new ideas on how to approach issues that may not have been present in previous years.
Thank you for your consideration.~~~
Hector Juarez and Matthew Johnson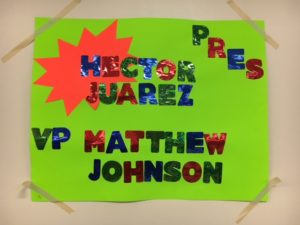 Presidential candidate Hector Juarez: Throughout my time at Jesuit, I have been blessed with the opportunity to take part in various extracurricular activities on and off campus. These activities, I feel, have served as important catalysts in my growth as both a leader and man for others. Whether it was representing Jesuit as an ambassador, guiding reflections as a retreat leader, or tutoring my Jesuit brothers in the information commons, every moment I spent offering my services to others has prepared me for being elected the 2018-2019 student body president.
In terms of community service, Working for others over the past three years has left me with the skills of empathy and humility, skills which will prove critical to the health of my presidency. It's magnificent how I, thinking I was the one providing service, felt more fulfilled than ever after witnessing a field of kids, lacking any fancy playground, technology, or even the ability to communicate with me in English, laughing and playing in the courtyard of an orphanage in Nicaragua. In addition to experiencing these beautiful moments in another country, I have had the amazing opportunity to provide my leadership for these experiences with the help of Mr. Riemer in the Ignatian Leadership Corps. My commitment to service, and furthermore, the experience organizing it has allowed me to enter into reflective moments of empathy for those around me. This empathy and humility, I feel, would play a pivotal role in the span of my presidency. How else, of course, can I lead if I am not able to step into the shoes of those whom I am leading. In organizing service projects after obtaining the presidency, I hope to lead others to similar experiences and developments.
Another trait that I have developed is the ability to handle diverse situations due to my mental toughness. Athletics, in particular, has pushed me to limits I would not have thought possible. Thanks to several coaches and fellow students motivating me to never stop improving, I have been granted a robust sense of confidence in my work. This courage would allow me to handle the many stresses of student body president and translate to leading the school into possibly uncharted territory, such as implementing bell schedules never seen before, or having a music selection forum for dances.
Lastly, and most importantly, the ability to listen to and incorporate everyone is an attribute I would be sure to incorporate into my presidency. Serving as a retreat leader several times, I have heard many stories and opinions of others, each affecting my outlook on things. My presidency would place special emphasis on the general welfare of everyone. I would make sure to do what is best for not simply one group of people, but every being that walks the halls of Jesuit. With the power entrusted to me, I, with the help of each individual at Jesuit, would make vast improvements regarding every possible aspect of our incredible school. My ambitions, alongside the valuable voices of my community, shall provide no limit to the successes and improvements we may bring upon the school. Whether that manifests in the form of converting the bathroom by the theater into one free to use by students or providing a prize for the best costume on ranger day, I will sincerely do my best improve the experience at Jesuit for each and every student.~~~
Vice presidential candidate Matthew Johnson: If elected, as Vice-President of the Student Council at Jesuit, I plan to adhere to the requirements of the by-laws that are established and properly execute the responsibilities of the Vice-President Role. Also, I'm personally committed to providing the required leadership and guidance to the Jesuit student body at large. Pursuing the school motto "The Magis" is the cornerstone and the benchmark that I will hold myself personally accountable.
Serving Jesuit student body by offering my time, talents, and gifts is an important step in making a difference in society. During December 2017 at the Jack & Jill Inc., Christmas Community Service Program, I met the Chairman of the Congressional Black Caucus, Cedric Richmond, Congressman from Louisiana and he shared the following quote: "You can't help or save people unless you serve them." I took that quote to heart! Therefore, I sincerely want to improve and enhance student life, by promoting and encouraging diversity and inclusiveness.
Additionally, I would like to work with our community business partners to coordinate a special project to raise awareness of social justice and the need to build community partnerships through the eyes of students.
There is a great need to help abused children in our local community in Dallas and I would like to coordinate a Student Body at Large service projects to help teenage children that are abused or homeless. The Dallas Children's Advocacy has a significant need at this time. Perhaps a winter coat drive or Undergarments.
As a part of our diversity inclusiveness, I would like to coordinate a joint community service day with a high school in south Dallas or East Dallas, if possible. Our students Jesuit students would partner up with a South Dallas ISD students and perform a joint community service activity with each other. I feel that it would provide a positive example of cultural differences.  However, at the same time, it would help us to reach greater heights as students by embracing diversity and equality for all.
Currently, for the 2017-2018 programming year, I was elected as the Community Chair for Jack & Jill Inc. (North Suburban Dallas Chapter/Teens Guy's and Doll's). Jack and Jill Inc. is a not for profit organization that focuses on teaching children about the importance of community service and developing leadership skills. So far during my tenure as Community Service Chair, I logged a significant amount of service hours, but more importantly, my t interaction with the community at-large is the most valuable experience of my lifetime. I would like to make this programming year the year of understanding and gratitude. As Vice President, I plan to use the "The Magis" Moto as a platform to encourage our future growth at Jesuit. We all have the potential to create social awareness and the struggle is not over. I want to foster and create social changes that reflect positive images of us as students making a difference.   Thank You for this opportunity.~~~