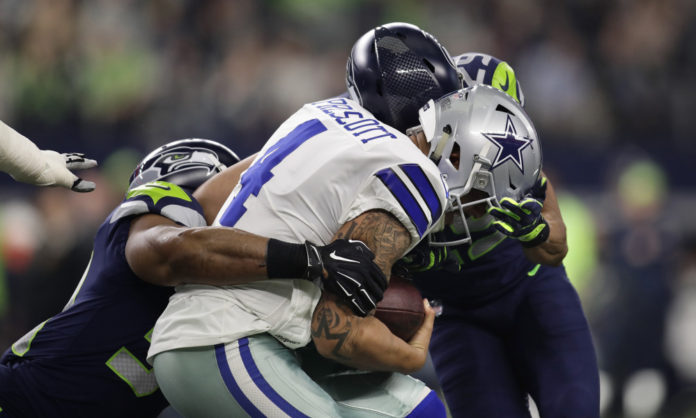 In my first article about the Cowboys, I had high hopes for the season. In retrospect, I was probably too optimistic, thinking that their obvious problems would resolve themselves. I still have some hope for the team, but after this week three loss in Seattle, the cracks are starting to show.
Offensive Line
As I mentioned in my previous article, Travis Frederick, an All-Pro center, is out for an unknown amount of time with Guillain-Barré syndrome. Initially, I didn't think this injury would be extremely hurtful as I figured Joe Looney could hold his own until Frederick's return. Sadly, this has proven to not be the case. The rushing game for the Cowboys has been inefficient by their own standards, with plays often ending before they even begin, with defensive tackles like Damon "Snacks" Harrison breaking through the line. On the same note, the passing game often suffers with the D-line getting to Dak in seconds, barely giving him time to get a throw off.
The blame doesn't necessarily lay solely with Looney, but in general the line just isn't working well as a cohesive unit. Often times, blitzes aren't picked up at the line and players get through basically untouched on the inside gap. I find that rarely does Zack Martin get beat, and generally Tyron Smith holds his own, but the rest of the line's consistency is essentially non-existent, like rookie Connor Williams.
I really don't see this problem being fully resolved unless Frederick returns, and with that situation up in the air, the Cowboys need other ways to generate offense rather than just quick passes and short run plays, which leads me into my next point.

Mobile Dak
With the Cowboys O-Line getting beat more and more each game, Dak is starting to take an exponentially larger amount of hits than usual. This was really emphasized in the Seattle game, with Dak nearly being hit at least once per series. What I think the Cowboys should do to generate more offense from Dak is to run the ball with him. This doesn't necessarily have to be solely designed run plays, but also if he's flushed out of the pocket, he shouldn't hesitate to take off, similar to how Russell Wilson plays. As demonstrated in the Giants game, with Dak scrambling more, it opened up the field more, as it made the safety play a little more honest. On top of that, he's a pretty efficient rusher and is good in the open field, so there is definitely big play potential whenever he's on the run.
Against Seattle, the play-calling became drearily predictable, with short outs and slants constantly being called as Dak hung in the pocket for the little time he had. Additionally, I think if Dak starts rolling out more and makes the defense adjust on the run, it could potentially open up more downfield passes to make for some longer gains. However, no matter what Dak does, it doesn't change the fact that he has no star receivers to make plays on 50-50 balls and consistently get open, which leads to my next point.
Tight End and Receiving Issues
Going into the season, the Cowboys didn't have any proven star receivers. I think we all hoped that one of them would step up, but sadly that hasn't been the case. Cole Beasley leads the team in receptions and yards right now, but I don't think he fits well as a number one receiver. He's best used as a compliment to a number one receiver (think JuJu) that gets open due to excessive coverage on the number one. On that same point, he can't really contend for 50/50 balls due to his height, and so far no one else on the team has been able to do that as well, limiting Dak's potential targets on each down. Allen Hurns, who was very much hyped for his big play ability, has made little to no impact this season, with four receptions. Honestly, I didn't even know he was playing last Sunday because he wasn't even a factor.
Sometimes when the offensive line would hold up, Dak would be sitting in the pocket unable to find an open receiver, and would either make a poor pass into tight coverage or a short pass in the flat to his halfback, barely gaining any yards. This situation arises from the defense being able to cover all the receivers simply because none of them can consistently get open, leaving Dak with few options.
However, the real problem with the receivers is that they aren't really downfield threats. Sure, Tavon Austin had one long touchdown catch, but other than that, the longest gains are 15-20 yards, and these happen sparingly. It seems like the only completions we can make are short ins or slants, which rarely move the chains.
This also comes from having no reliable tight end to be a threat, because even though last season Jason Witten was slowing down, he would still catch nearly everything thrown to him and always seemed to get open on third downs, whereas the tight ends we have this year (all four of them) can't seem to do much.
Defensive Problems
The Cowboys defense has proven to be much stronger than years past, but there still are some problems to fix. They seem to be playing so well, but then they'll get burned by one play for a big loss, like Tyler Lockett's touchdown this past Sunday. At times, they also seem to be giving questionable effort on pursuit as well, demonstrated by Chris Carson of all people breaking several tackles for a 13 yard gain on third down in a still competitive match.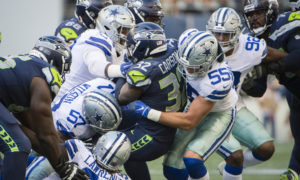 However, there are definitely some positives to be seen with newer players, with rookie Leighton Vander Esch making several strong solo tackles, and the defensive line putting pressure on all three quarterbacks in these first three matches. With Sean Lee's absence in the next few games, hopefully Vander Esch's performance can match up against the great plays Sean Lee makes.
Summary
So, overall, the Cowboys have a lot to get together in order to really be able to contend for  a playoff spot, but I'm still confident in the fact that if they make just a few little changes, they will be able to contend in all the games they play in, and perhaps slyly sneak in to a wild card spot at the end of the season.
Check back to The Roundup for more Cowboys and other sports news!