Every year Jesuit students vote for their new Student Body President and Vice President.
During this month of February, four different teams of two juniors have begun their campaigns and started to share their ideas with their student body. These pairs have been preparing for the upcoming preliminary elections on March 5th. Of these eight candidates, this article will focus on Camden Roy and Graham Bowers.
Background on Camden and Graham: 
Camden Roy '21 and Graham Bowers '21 are involved in many things here at Jesuit. Roy plays on the varsity basketball team and served as a 2021 Class Representative for two years, before stepping up to 2021 Class Vice President. Graham Bowers plays on the varsity football team as a linebacker and served as a 2021 Class Vice-President, before stepping up to 2021 Class President. They both also participate in a lot of community service, somehow keeping their schedules straight. Recently, I got the chance to sit down with them before they begin their campaign for student body president and vice-president, and ask them about their character before the election and changes they plan on instituting.
How was your transition to Jesuit?
Camden: "It's been good. It's a really perfect place for me to be at, especially because there's not a lot of distractions and it's more focused, more of a college style environment, and that's focused on learning. So it's been really good for me."
Graham: "Coming from Christ the King, I have found much more freedom and liberty at Jesuit for all of us to be our best selves. I have found a great group of guys I can identify with and have made lifelong friendships. This place has become a home to me, one that I want to give back to all much as I possibly can."
How have your positions on Student Council affected you as a person?
Camden: "It showed me that you got to worry about more than just yourself and like not just that, it's more like how being the voice and being the leader can impact people's lives and that like, it seems like not a lot, but like the most important things I think we do in student council is our like class service day. And that's probably, that's something we started and that. Really beneficial for us, like for me personally, because I get to organize a lot of the grade to go out and do service and get getting a hundred guys is very big for me. I'll be right behind you."
Graham: "Student Council has been a large part of my life since freshman year. I enjoyed being a part of something and helping the community. It isn't a resume builder for Camden and me. It is something we both enjoy being a part of and gives us the opportunity to help Jesuit in ways we never thought possible."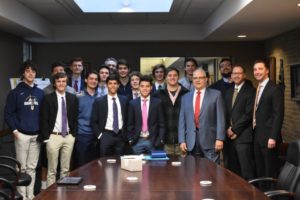 How have your classes at Jesuit challenged you? What aspects of these struggles can you take into the real world?
Camden: "There's not many easy classes at Jesuit, so every class challenges you and it's hard to do back to back to back hard classes. It's not really a major break in your day because there's no "cupcakes," for lack of a better term. It's challenging, like staying focused throughout the day. But these back to back to back hard classes, you know?"
"Every class pushes you. Your education at Jesuit is focused and centered on like doing research that you'll need to do and providing you with the basic skills and ways to think about different aspects that really like go forth into the world, into the real job world."
As athletes, what parts of the game have both on and off the field significance?
Camden: "The significance, the relying on your teammates because. You rely on your teammates just as you rely on your friends throughout the day because sometimes you miss notes or, or like are confused on something and you need to have them call on calling your friends as you call on your teammates to help you and get you through the hard times."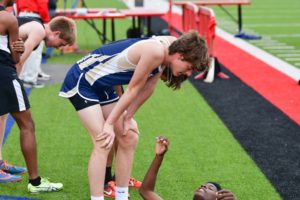 What motivates you to keep challenging yourself?
Camden: "It's more self motivation. I want to be successful in life and I feel like if I'm here getting an education, then I should be trying my hardest to do the best that I possibly can. I'm aiming to get certain grades or anything. I just want to challenge myself and push myself and do as well as I possibly can do."
Graham: "[Student Council] is our passion. We truly enjoy working and being on Student Council and being men for others. So it doesn't seem like work to us as it would to others. We want to challenge ourselves to get the most out of our time on Student Council, and this will ensure we hit the ground running if we get elected."
Which part of the Jesuit profile do you think you best exemplify and why?
Camden: "I think open to growth has really worn off on me, because being open to growth is in every aspect of this experience. Sometimes, it pushes you out of your comfort zone, like going on these retreats and opening up to different people, or like trying to think of things different ways that I'm not always used to. But I think if you're open to growth, you accept what Jesuit is trying to tell you because I really know what they're doing. It really helps the whole experience in what you get out of it and as a whole."
Graham: "I would say I best exemplify the Jesuit Profile of being Open to Growth. Camden and I are constantly looking for new ideas to improve the school and our community. We want to learn about the clubs, extracurriculars, and opportunities Jesuit presents to its students so that we can better serve others.
Why do you think you can win the election?
Graham: "Together, we have the most experience on student council, a combined 6 years. It shows that we are not running for something to add to our resume, but we are running because we truly enjoy helping Jesuit. I truly do not believe that either of us would be running if we didn't have the desire to improve our school even more. We see the results of our hard work, and we can hit the ground running because we have the experience necessary."
Camden: I believe Graham and I can win the election because we have the most experience and understand what it takes to get the job done. Throughout our time on the council we have accomplished a list of things that includes…
Voting to fund hundreds of dollars to Jesuit Clubs including the Shooting Team, Chinese Club, and Spanish Honors Society.
Donating $2000 to the Special Games
Quarter Zip jackets allowed
Address Sage with Students Wishes
ESPN in HH
Chocolate Milk on Wednesdays
Facial Hair Proposal
Letterman Jacket Proposal
Foosball Table in the Cafeteria
Class service projects
Added dividers to the upstairs locker room urinals (your welcome)
Subject Departments Honored in Games
Been featured on various committees for the welfare of the student body
We believe that this experience as well as our hard working nature would make us most suitable for the job and why we will the election."
What changes you would make to better serve the Jesuit community?
Graham: "Funding clubs is a new priority that Camden and I are hoping to accomplish this next year. Student Council has funded hundreds of dollars to various clubs and teams (shooting team, Chinese club, Spanish Honors Society, etc.) through our votes over the last year. We also will be working to help the community outside of our school. We donated $2000 to the Jesuit Special Games, something that we consider important and necessary to a Jesuit Student. Over the last two years, we have also led class wide service days where we find various service sites and recruit a majority of the class to help us in service of others."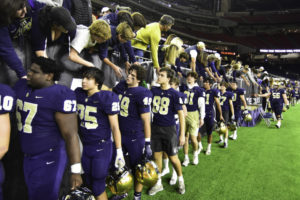 Camden: "Our ideas include further pushing the administration on relaxing the dress code regarding what type of jacket can be worn. We already have a draft ready to loosen the restrictions on facial hair to allow every student to have the opportunity to have it. We previously worked with the administration on getting the quarter zips legalized and if we were to be elected we would work to make hoodies legal in the dress code. We also want to increase interaction with Ursuline and have several reasonable and achievable ways of doing so. This includes co-ed pep rallies, a second ranger day in the spring, mixed club activities, and co-ed intramural sports. As our record shows, we love funding clubs and alleviating financial issues that arise and allowing these club members flexibility to what they desire. Finally, we will fight to get more couches/ comfortable seating around various places of the school such as the commons and the historical library. "
Stay tuned to The Roundup for more interviews with the prospective student body candidates!