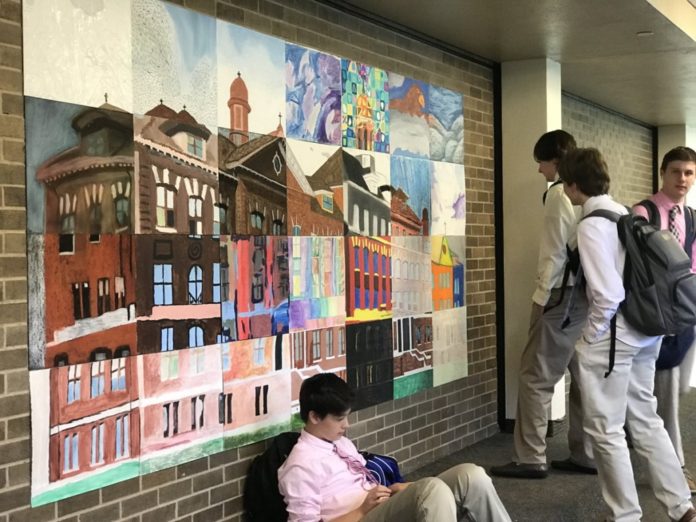 As most of the community prides itself, Jesuit Dallas is a museum, host to intricate art from a multitude of time periods. But not all of its art is professional work; Jesuit has recently showcased student-produced pop-up artwork in the hallways and at Art Quest last Friday, May 2.
Pop-Up Artwork
Pop-up:[ pŏp'-ŭhp ] noun. a temporary art event, less formal than a gallery or museum but more formal than a private artistic showing of work.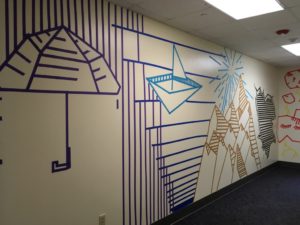 As Mr. Joe Howard said, the "drawing classes have been busy" studiously working on this artwork in the B hallway. They have created a beautiful piece of artwork, using the Jesuit wall, normally just bland and white, to create a unique piece of artwork that adds to the school's character.
As seen in the photo to the left, the art students have made an interesting and visually appealing piece of artwork, but it's only going to be up for a while. Head over to the B hallway to check it out!
Art Quest
Director of the Jesuit Dallas Museum Ms. Elizabeth Hunt Blanc elaborates on the significance of the event:
"ArtQuest is the major fundraiser for the Jesuit Dallas Museum. This collection of world-class art enriches the educational experience of students attending Jesuit College Preparatory School of Dallas. ArtQuest is vital to the museum's success and makes it possible to conserve the quality of the collection, sponsor exhibits, acquire new works for the collection, support educational programs and provide educational resources for students and visitors."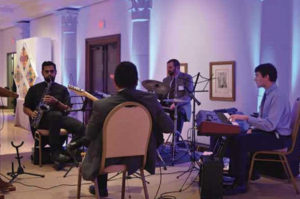 Jesuit featured three works during the ArtQuest, all by Will Courtney '19, the class of 2019 recipient of the Andrew Bark '98 scholarship. ArtQuest this year left an impact on many that went, heightening appreciation for both student-produced art and art from the museum.
The event lasted from 6-9 PM. An Andy Warhol exhibit was open from 6-7, after which there was a brief addressing about the patrons of the evening as people got food and looked at the art that was up for auction. The auction ran the whole night, as people were able to put their barcode stickers on the pieces they were most interested in along with the price they were bidding.
Art prodigy Jack Mandell '20 commented on his experience at ArtQuest:
"While I was there I visited the Warhol exhibit, which showed off some of his classics along with an acrylic painting of Einstein that blew me away. I also viewed closely the art that was up for auction and I closely examined the beautiful pots of Mr. Ochs along with the astounding presses of Mr. Howard.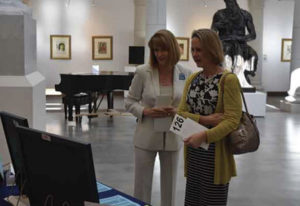 But throughout the whole night, I looked at William Courtney's spray paint pieces, which I had previously seen him work on. This event really opened my eyes to how great Jesuit really and truly is with art. I've never properly given credit to the art staff of Jesuit and how well they cultivate the museum portion of our school but this event showed me how much they care and how much hard work they put into it. If anyone has the opportunity to go to ArtQuest take it, it's worthwhile and I want to thank Mr. Howard and Mrs. Soich for giving me the opportunity to go."
Stay tuned to The Roundup for more Jesuit Dallas news!