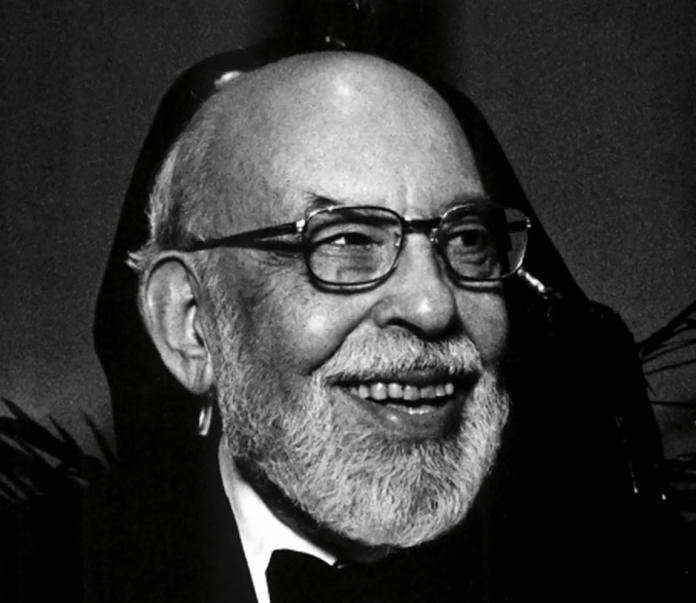 Take a second and imagine yourself walking to a Jesuit prayer service on Friday, walking with your group of tightly-knit friends, complaining about the impossible quiz you took yesterday. This regularly occurring event seems automatic as students and teachers walk to the Terry Center like a herd of sheep. On your left, facing the Terry Center, two large pieces hang on the wall. These two colorful pieces, ­Green and Red Basket series and Tiger Basket with Black Lip Wrap, were created by a world renowned glass artist, Dale Chihuly, whose works include permanent installations at the Dallas Museum of Art and a temporary outdoor display a few years ago at the Dallas Arboretum. These two paintings depict Dale Chihuly's marvelous glass artwork and radiate in bright green, red, blue, and turquoise colors. These are two of the six pieces donated by the late Stanley Marcus, a generous contributor to the art museum and one-time head of the Neiman-Marcus department stores.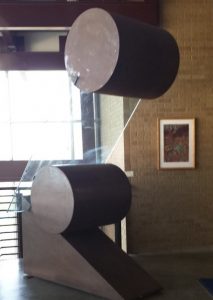 Jesuit is no ordinary school; the tuition not only pays for education and spiritual formation at Jesuit, but also pays for a free, 180 days a year, museum tour. Jesuit's vast art collection, posted around the school, inspires students and makes them feel at home. Students around the school seem to enjoy having art, Junior Jack Ayers commented that "the museum creates a calm atmosphere around the school and reminds us life is not all about tests." Jesuit's great art collection comes from generous donators and artists who were inspired by Jesuit's mission to create a museum inside the school. Mr. Marcus, donated multiple colorful art pieces, along with elaborate sculptures to Jesuit. Though he passed away on January 22, 2002, Mr. Marcus' contributions remain on display for all students to see.
Born in Dallas on April 20, 1905, Stanley Marcus was the CEO of  luxury retailer Neiman Marcus, founded by his father and his aunt. The retail magnate's business boomed and he joined the business, becoming CEO upon his father's death in 1950. Through the late 80s and early 90s Marcus donated six very important art pieces to the Dallas Jesuit Museum. These art pieces can be located around Jesuit today.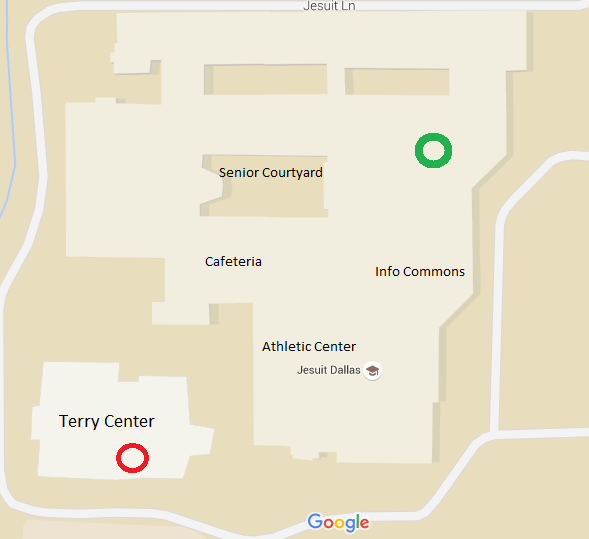 Piece #3 Veneration (Green Circle)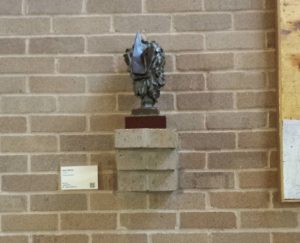 In 1987, Mr. Marcus mad his first contribution to the Jesuit museum. Created by French-born artist Jean Mahie, the sculpture is made of bronze. Mahie was famous for creating fancy gold jewelry and elaborate metal sculptures.  In a letter to Jesuit's Museum, Stanley Marcus claimed he felt "inspired by the collection of artwork" and was "pleased to make a contribution of a bronze sculpture" to the Dallas Jesuit Museum.
Piece #4 Up (Red Circle)
In 1993, Mr. Marcus gave a second important piece of sculpture to Jesuit. Created by an Israeli sculptor, Minashe Kadishman, the sculpture "Up" is located on the 3rd floor of the Terry Center. In a letter sent to then Jesuit President Fr. Philip Postell S.J., Mr. Marcus described the piece "as a gift of appreciation" for Jesuits 'great concern about the artistic life of the community." Father Postell replied that he was "eternally grateful for the generosity of the Marcus Family" and was extremely enthusiastic about piece. This piece in the 3rd floor (see below) of the Terry Center is made of a dark brown colored metal with glass connecting two metal pieces.
Piece #5 and #6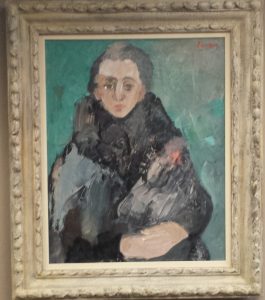 Located in the billings board room, near the administration offices, two colorful and elaborate pieces hang on the walls.  Created by Andre Lanskoy, a Russian artist who feld to Paris in his early 20's, the piece La Femme en Gris (shown above) was donated by Mr. Marucs in 1991. Framed with an elaborate wood moulding and linen liner, the oil painting depicts a pale woman with a dark jacket staring into the distance. In Mr. Marcus's letter to the Jesuit Museum, he writes that he was "happy to add another piece into the large collection" and help expand the art inventory. A couple of months later, Mr. Marcus also generously donated a piece to the Museum by Sigmund Menkes, a famous Polish artist who went to art school in Paris. The piece, A Portrait of a Woman,(shown below) depicts a woman who is disproportionate, with a pear shaped head and an elongated neck; a style of painting Sigmund Menkes is known for. Mr. Marcus happily gave this piece to Jesuit to provide more art pieces and to "show [his] admiration of Jesuit's vast collection."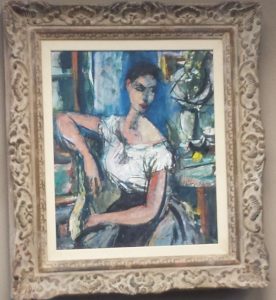 Through his love and passion for art, Marcus has expanded Jesuit's Museum by adding six beautiful masterpieces to the collection. Students nowadays notice and admire artwork around the school. Mrs. Elizabeth Hunt Blanc, the Museum Director, remembered Mr. Marcus, saying "I didn't really know him too well, but I did see him at Jesuit multiple times. Mr. Marcus was always nice, had a smile on his face, and was friendly with the entire faculty." Though Marcus passed away, his donated artwork still lives today, shifting students' minds away from tests and sports, to art and creativity.