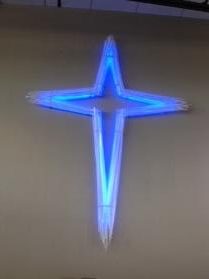 This article is a continuation of the last article covering the new additions that the Museum received this summer. If you have not seen any of the previous articles about the other pieces make sure that you go and check that out to get information on the other wonderful additions.
There are 4 pieces that I will cover.
"Strength and Resilience" by Carlyn Ray.
"Before Rising" by Bob Stuth-Wade.
"Collection of Orchids" by Lowell Nesbitt.
"Modern Print" by Roy L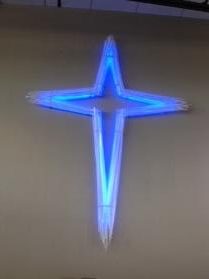 ichtenstein.
"Strength and Resilience" is a large molten glass piece with wire in the athletic center in the shape of the Jesuit cross. Carlyn Ray is a glass designer in Dallas who created this piece in the shape of the beautiful cross. Ever since she was little she has been cultivated by glass and art, so she decided that the two would make a creative and wonderful combination and it did. Luke Sullivan '21 stated that "the bright blue cross in the athletic center is a really awesome addition that is great to see each time I enter the center".
Next, "Before Rising" is an oil on a canvas piece of Jesus on the cross. This was created by Bob Stuth-Wade. Bob Stuth-Wade was born in 1953. His self-directed art education began under his mentor, Dallas artist Perry Nichols, when he was still a student at Jesuit College Preparatory School. His early works included realistic figure studies.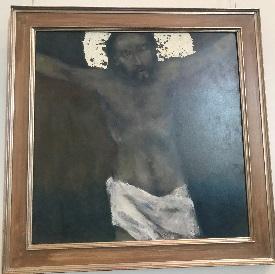 Throughout his life he continued to create art and continues to paint Texas. His favorite places are Big Bend, the Texas Gulf Coast, and the region around his home in Dublin. He has however also traveled to California, Ireland, Nassau and other places. In addition to landscape paintings, watercolors, and drawings, he paints shell compositions. This amazing piece located in the Terry Center auditorium, stated by Juan Esquivel '21 is "a really interesting piece, and the detail on it is phenomenal".
Additionally, "Collection of Orchids" is another oil-on-a-canvas piece of a group of beautiful flowers. This was created by Lowell Nesbitt and is located in the Museum office. Lowell Nesbitt was an American painter and print maker best known for his large-scale depictions of flowers. These frontal paintings of irises, lilies, tulips, orchids, and roses, isolated the flower from space, pressing them against a monochromatic or patterned background. Lowell continued painting and moved to New York to create art. The artist died on July 8,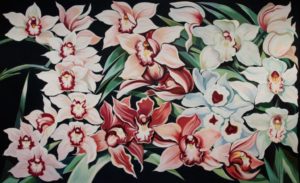 1993 in New York, NY. Today, his works are held in the collections of the Art Institute of Chicago, the Detroit Institute of Art, the National Gallery of Art in Washington, D.C., and The Museum of Modern Art in New York, among others. We are very lucky to have this piece. Sam Morales '21 said "I really like the detail of the flowers, I think that is really special".
Finally, "Modern Print" by Roy Lichtenstein is a color lithograph and screen print located near B101. This is one of the most famous pieces in the school. Roy Lichtenstein was a leading figure in the Pop Art movement of the 1960s. After a three-year stint in the army, Lichtenstein obtained his MFA from Ohio State University in 1949. While there, he met Hoyt L. Sherman, his professor and mentor, who has been credited with influencing Lichtenstein's future work. His art is characteristically marked by highly stylized, comic book-like drawing, bright colors, and precise compositions. This pi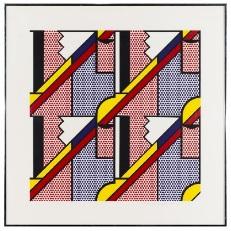 ece uses a palette of bright primary colors Lichtenstein developed the technique of stenciled dotted lines that mimicked and amplified commercial printing patterns, applying dots in this "Modern Print" to a series of repeated geometric shapes. Ben Levis '21 stated, "I really like how the dots create and image of shapes, I think the detail that he put really makes the piece pop out."
Those are the rest of the new additions from this past summer to the museum. If you have any questions about the museum, contact Mrs. Hunt-Blanc at EHuntBlanc@jesuitcp.org.
Stay tuned to The Roundup for more news about the museum.