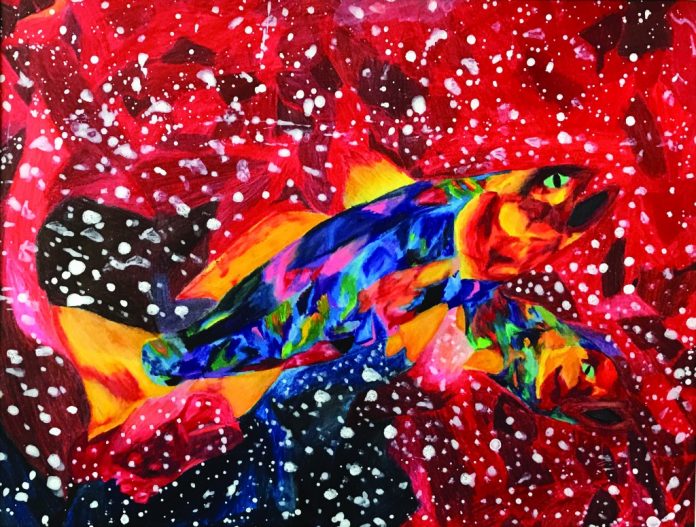 "Art is not what you see, but what you make others see."
In this proverb, Edgar Degas, a famous 18th century French artist, explains that the true beauty of art is found not in the visual appeal of a work, but rather in the messages it conveys or in the revelations it elicits. Art uniquely affects each individual who views it, and it can change or strengthen certain beliefs or feelings one has. As such, many artists utilize their work to allude to certain modern issues or conflicts that plague the world. Here at Jesuit, students are doing just that.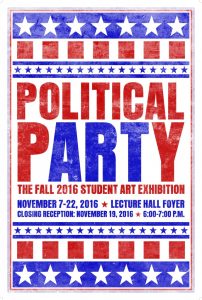 On November 7, the Fine Arts department opened up an election art exhibit in between the A and B hallways of the school. The showcase offers many different types of art, including block prints, propaganda art, collages, caricatures, murals, and personal artwork for students' portfolios. Along with different types of art, the exhibit features pieces with many different subjects, some depicting fictional stories and others picturing colorful landscapes. However, each piece of work is centralized around the theme of social justice. The goal of this massive project was to inspire change or discussion in the minds of Jesuit students, and it accomplished this by focusing on specific issues in the world.
Before the creation of these works even began, the Fine Arts department decided to assign specific topics or subject-matters to each type of art. Integrating messages into their artwork and creating an appealing picture to convey their thoughts through did not prove an easy task for the students, but with determination and hard work, all of them finished and achieved their goals. With the publication of their art, many students provided a brief explanation into the thought process of their work and of the specific techniques they implemented.
One of the most prominent types of art in the exhibit was the Propaganda Art. Students assigned this type of art were tasked with selecting a fictional conflict from any venue of entertainment or literature and depicting an image that inspired sympathy for one side or the other.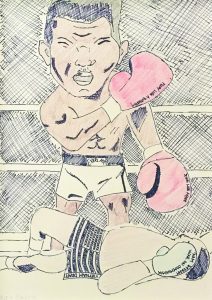 With great appreciation of the techniques he used in his drawings, Alex Garcia '17 said, "I took my inspiration from James Bond, specifically Sean Connery because his films pitted him against the threat of communism. I used two forms of value, stippling and cross-hatching in order to create the image. I also had to establish a vanishing point to create the hallway next to Bond. It was enjoyable to try a different medium and style of drawing."
This young artist decided to utilize James Bond's conflict against proponents of communism to draw support or sympathy to one side of the issue, capturing the purpose of political propaganda perfectly. Additionally, he implemented various different artistic techniques to achieve his goal, a difficult task that ultimately strengthened the appeal of his artwork.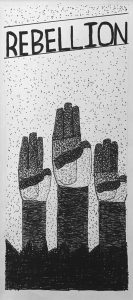 Another student, Kenny Nguyen '19, provided a description of the methods he used in his drawing "Join the Rebellion (Hunger Games)"; "While making this drawing, it was challenging to create the hands and details of the fingers. I mainly used stippling to show the details on the fingers and palm. I used hatching on the arms to show the smoothness."
In his artwork, he portrayed the iconic symbol of the three fingers pointed into the air, a common gesture used in the series "The Hunger Games," to sway viewers into taking one side over the other. Additionally, the attention to detail provided a challenge for the artist, but with certain tactics, he was able to complete his propaganda masterpiece.
Ultimately, both students expertly created artwork that addressed various fictional conflicts, conflicts that allude to many controversies and issues in our modern world.
Another one of the most prominent types of art in the exhibit was the mural. In this section, students designed a 140 ft x 100 ft mural that made a strong political statement and offered thoughts on certain social justice issues. Describing his piece "Capital Punishment," Cole Morin '17 stated, "I knew that a lot of people were affected by capital punishment, and that it is widely debated whether or not it is the right thing to do. Many advocates for the stopping of capital punishment say that only God can choose who lives and who dies, yet the government shows them the full power of their office with their new techniques of execution. Also it was difficult to make the gavel stand out because it seemed to flow into the background too easily." Expounding on the debates and controversies over the death penalty, the artist utilized his drawing to convey his opinion on the matter and to hopefully inspire discussion on the topic.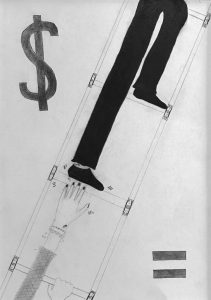 Paul Gramling '18 also provided information on his piece "Wage Equality": "I enjoyed drawing this piece and it required a lot of thought as to what the message would be and how I would incorporate it into the piece. I researched the wage gap and realized the unfairness that occurs in the corporate world so I tried to show how women are behind the men on the ladder of wealth to the top."
Determined to perfectly convey his thoughts, he worked diligently on the piece, providing an image that portrayed his opinion on the controversial topic of wage equality in our society. Overall, these artists provided excellent masterpieces that reflect their own opinions and promoted further discussion on social justice topics.
All the quotes given by artists featured in this exhibit came from the Jesuit Journal (Edition 1, Fall 2016).
These two types of art, and many other types, were all produced by the students, but only through the guidance and instruction from Mr. Howard, one of the many art teachers, were they brought to completion. As a head member in the Fine Arts department, Mr. Howard played a big role in the planning of this art exhibit, including the topics it would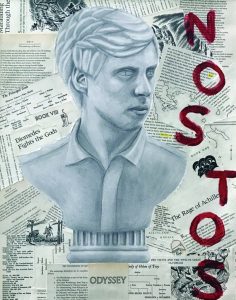 address and the types of art it would feature. Commenting on his favorite style of art showcased, he stated, "I always love the block printing, just because I think a lot of the guys when they start working on it, they don't really know what to expect or how it works exactly. It's not until they do that last layer of the last print that they kind of see how all of their work came together to create an image."
To this teacher, the beauty in this type of art comes from the students' blind journey into their work, and the awe-inspiring revelation it elicits once the student sees their work in its completion. With this, and many other types of art, Mr. Howard hoped to provide an art exhibit with masterpieces that conveyed inspiring messages. This goal was ultimately reached.
The art exhibit, located in an area with high traffic, provided students walking by with interesting images to look at. Some of these students even lingered behind to look at the artwork more closely, impressed by the success of each piece. While not specifically referencing any one piece, Royce Allred '18 gave his thoughts on the exhibit as a whole; "I thought it was good because it allowed students to visualize their views on many of the issues in today's world. I thought it reflected the school's opinions pretty accurately."
This student believed that the exhibit perfectly conveyed messages on various issues, and in addition, he gave his own analysis on the opinions given from the artwork and how they compared to what he thought most students believed.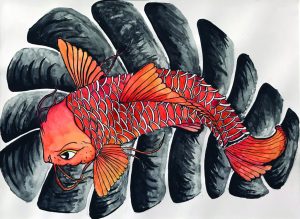 Another student, Alex Reznicek '18, gave his appraisal to the showcase and its art, stating, "I think it's interesting seeing people's different perspectives on issues by means of art. It also allows me to visualize some of them, which can be very useful when I formulate or change own thoughts on the topics." Not only did he find the exhibit intriguing, he explained that the artwork has an effect on his opinions and some of the pieces may even inspire him.
Overall, this art exhibit successfully provided students with the ability to convey their own opinions on views through the mode of artwork, and it achieved its goal of inspiring viewers to reflect on and discuss their own beliefs on various social justice issues that exist within our world. Unfortunately, the exhibit has closed at this time, but hopefully in the future, Jesuit will see another art showcase with such excellence as this one.