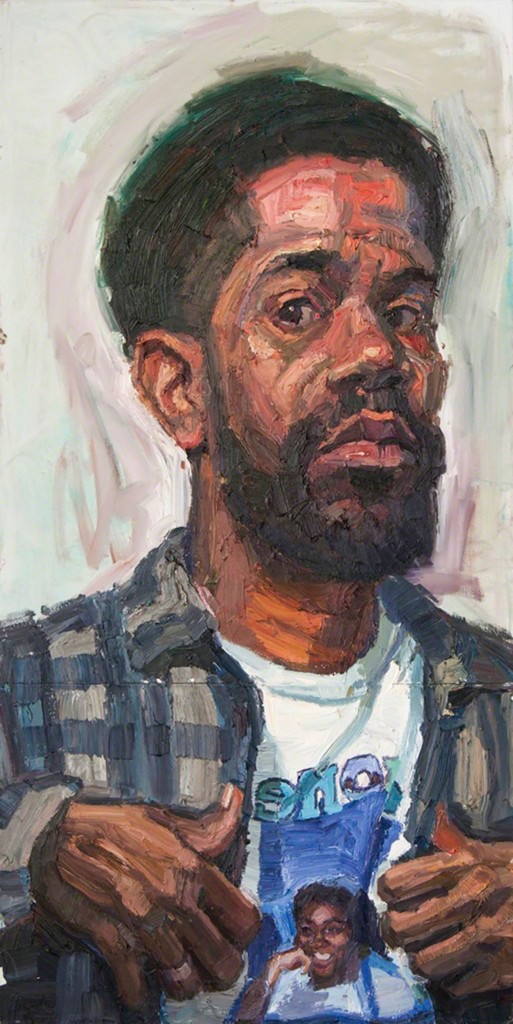 This year, the Jesuit Dallas Museum has been blessed with a very special piece of art from an anonymous donor. This piece named Gone but not Forgotten: Sha Sha 2017 by Sedrick Huckaby was originally supposed to be in the Smithsonian. Instead it was sent to Jesuit before being shipped to the Smithsonian for the "Kinship" exhibit in 2021.
Background
Sedrick Huckaby is an American artist from Fort Worth, Texas. He is well known for his use of thick paints to create murals. He uses the same technique for large portraits that represent his history through images of family members and neighbors. As a child, he spent time drawing characters from TV shows such as Teenage Mutant Ninja Turtles and Battlestar Galactica. While in high school, he attended classes at the Modern Art Museum, where he met fellow artist Ron Tomlinson. Tomlinson encouraged him to pursue art as a career. He then went to study art at Texas Wesleyan University and later earned his Bachelor of Fine Arts at Boston University. Later he received a Master of Fine Arts from Yale University. He is currently an assistant professor of painting in the Department of Art and Art History at UT Arlington. He has been teaching for 10 years.
Huckaby, in a personal statement, revealed that he tries to "aggrandize ordinary people by painting them on a monumental scale" and that he is "most enthusiastic about painting from a live sitter" instead of using a reference. Huckaby's talent has been put on display through an abundant amount of museums across the nation, and we are very excited to have this piece for this time.
Jesuit Museum Remarks
Mrs. Hunt-Blanc, director of the Jesuit Museum, was "extremely excited" when first hearing that Jesuit was receiving such an amazing piece. Mrs. Hunt-Blanc also pointed out that the self-portrait is so large that it had to be placed on two canvases. I asked a couple of students their first reactions and opinions of the piece as well.
Sam Morales '21 stated that it "is absolutely delightful to look at and creates a wonderful dynamic in the hallway".
Juan Esquivel '21 said "I thought the picture was huge and thought that the detail of everything was really what made the piece unique".
Finally Luke Sullivan '21 said "the picture itself is very interesting, and the fact that it is here instead of the Smithsonian is something that I think is very special".
This incredible painting is located near B103 and everyone must check it out. I think it is unlike anything anyone has ever seen.
Please contact Mrs. Hunt-Blanc at EHuntBlanc@jesuitcp.org if you have any questions about the Jesuit Dallas Museum.