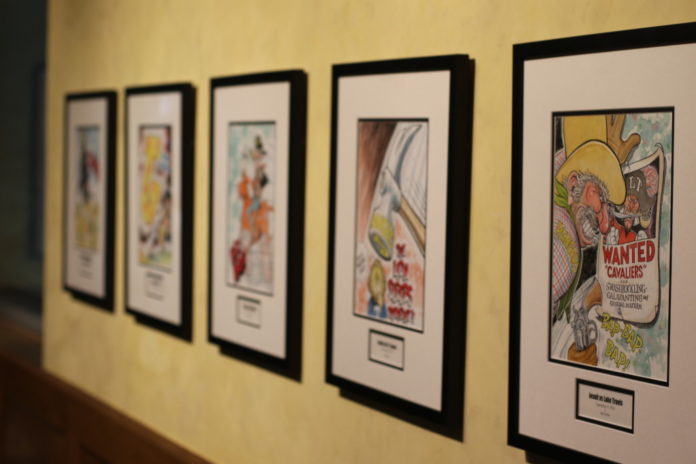 On September 12th, the famous Bill DeOre exhibit opened in the Jesuit Dallas Museum. Bill DeOre graduated in 1965 from Jesuit. He has spent 34 years as an artist, art director, and most notably as an editorial and sports columnist and cartoonist for The Dallas Morning News. You can learn more about Bill DeOre in Connor Thomas '18 article that he wrote a couple of years ago. https://www.jesuitroundup.org/?s=bill+deore.
The Bill DeOre exhibit displays the book Beyond The Big Shootout  which takes a ride through the 1969 football game between the University of Arkansas and Texas. The book's illustrations were done by Bill DeOre and they are "beautiful water colors that we are very excited to put on display" said Ms. Hunt-Blanc, director of the Jesuit Dallas Museum. Ms. Hunt-Blanc also stated that "it is very exciting that the entire book is in the library for everyone to see". The author was actually named Mark McDonald. Mark McDonald, who was a former sports writer for The Dallas Morning News, has been surrounded by football his entire life. After all the football and writing for the newspaper, he now manages and owns a book-publishing team.
The exhibit will be on display from September 12 to December 20th, and it relives "The Game of the Century", a heartbreaking 15-14 loss for Arkansas on national television which was even attended by President Richard Nixon and covered by newspapers from coast to coast. The exhibition will include Bill's illustrations from the book, as well as other works from the Jesuit Dallas Museum collection. For example, there is a ticket from the game back in 1969 as well as pictures of President Nixon at the game and pictures of the game. There is also a short highlight clip of the game on a television in the Historical Library where the book and the other pieces of the collection are located.
This is a very special installation that the Jesuit community is very fortunate to have on display in the Historical Library for these next couple of months. Make sure to check out the book and fantastic illustrations by Bill DeOre '65 while you can. If you have any questions about this exhibit or about the museum in general, be sure to contact Ms. Hunt-Blanc at ehuntblanc@jesuitcp.org.