Because this is a high school publication, most articles on The Roundup feature student events and achievements. However, Jesuit Dallas is much more than just high school boys. Without our faculty and staff, Jesuit Dallas would be a very different place indeed. This article serves to recognize Mr. Williams, a counselor and teacher at Jesuit for many years, and his artistic pursuits and achievements.
When he was 8 years old, Mr. Williams became interested in art and began drawing floor plans for his future house. This passion transformed as Mr. Williams grew older explaining that, "[his] chemistry notes were scribbled in the space between sketches of my hand and an imaginary vase of flowers." Mr. Williams took on a more serious interest in art when he started at Jesuit and he took a few art classes here. Mr. Williams then went on to follow his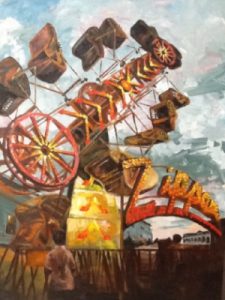 passion and earned a minor in studio art while in college. Now Mr. Williams has come full circle. He teaches drawing and art survey, mentors students as a sophomore counselor, and is a soccer coach.
Three years ago, he began to take art more seriously, and because of a broken leg, painting has become a huge part of Mr. Williams' life.
"I think about art constantly. So inspiration nags me these days. Sometimes it is watching people at a park.  At other times I find an old photograph and can't stop thinking about it.  I even wake up and write things down. My phone and iPad are filled with pictures of stuff: advertisements, color combinations, paintings that are in the background of a TV show. They aren't all good ideas to be sure, but they need to be on a piece of paper stewing with the other bad ideas instead of ping-ponging off the inside of my skull."
Mr. Williams has made so many paintings in the last few months, there just "wasn't enough wall space" to keep all of them. For that reason and others, Mr. Williams started his own website, to display and sell his work. "I wanted to show other people my work, get their feedback, good or bad, and then see if I could earn enough money to buy more supplies. When a gallery asks to see your work it's much easier to just send them to a web address," he added.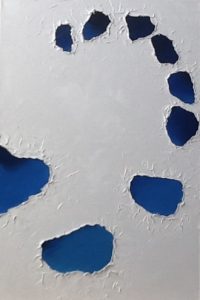 Unfortunately, none of his work is on display at Jesuit. "As a student, I think I underestimated the quality of our museum: but it really is an impressive collection of artists," he explained. So far, he says "my exposure has primarily been limited to family and friends. Because I tend to surround myself with very nice people, no one has yet pulled me aside to explain that my work is garbage. I have, however, been rejected by a couple of juried shows and exhibitions. It stings a bit but it is an important part of the process. The real test will be next month when eleven of my pieces will be hanging right next to work by professional artists in a gallery opening.  
On March 24, many of Mr. Williams paintings are debuting at the Cerulean Gallery in Amarillo Texas. "A lot of my family is up that way," said Williams.  "In the fall I found myself talking to people who knew people and then I was submitting my work to this gallery.  They had an opening in March and said my work might fit in."
Williams explained that the "complete strangers" that will be seeing his work is "a roll of the dice. They can be honest, dismissive, brutal. And sometimes they can be truly moved by something you've created from nothing.  When that happens, it's euphoric."
If all goes well in Amarillo, Williams plans to "show in a Dallas gallery.  The art community here is established and experienced.  To have my work exhibited in my hometown would be a lot of fun. "
Mr. Williams is optimistic and passionate about his work, two vital ingredients of success. "I'll have to keep working at this. Luckily I'm enjoying it!"